First of all let me say I did not come up with this pattern. I got it off the internet. But I did modify it as I didn't like the way rows 30-36 were done in the original pattern (too much tying off and fastening back on 24 pineapples).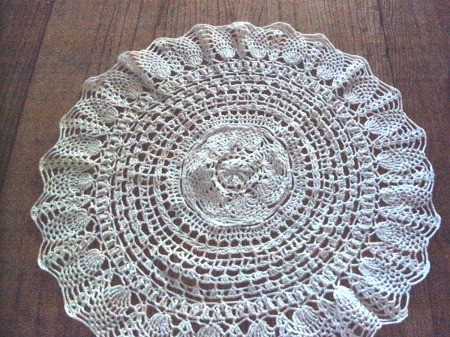 This would be for a moderately advanced crocheter (hooker). I've been crocheting for more than 30 years and made probably 100 of this type of thing and given most of them away. This one goes to my niece that just got married in October. Hope you like it Megan. It was fun to make.
This took me much longer than any I've made in the past as I started it in August, but I was taking chemo at the time, developed neuropathy and couldn't crochet for about 3 months due to stiffness in my fingers. The average crocheter could finish it in her spare time in a couple of weeks.
I'm not going to give you row by row instructions since I got it online. It's available that way. Just type in the title,"lacy accent doily." Mine is not as large as the pattern said it would be. But I crochet tightly and only use a size 7 steel hook.
I will say that for the rows I modified all I did was to keep going in the same manner as the pineapple was started just increasing a couple of chains on each row between the pineapple and the shell to allow the doily to get larger without curling. Questions? email me
This would be pretty in many colors. I chose white to make sure it would go with whatever room she put it in