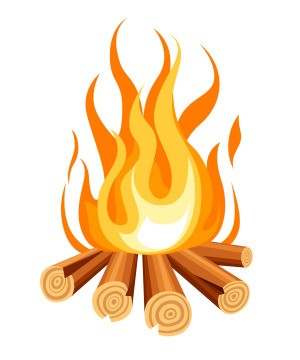 I need to make a fake campfire for my VBS this year. Any suggestions? It will be inside.
Answers

May 19, 2009
0

found this helpful
Best Answer
I think that I would get a large piece of cardboard possibly unbent that you could form into a circle. Maybe a piece from a refrigerator box would do. Use staples or tape to hold it together. Draw "flames" on the cardboard and paint them in various red/orange colors to appear as fire. Cut the flame portions out of the top but leave the base in a circle so that it will stand. I would then get some real logs to place around the fake flames to make it look more like a campfire.
I hope that you get the idea I am trying to give you. I have this pictured in my head and it is difficult to type it. I'd love to know if you take my advice.

May 19, 2009
0

found this helpful
Best Answer
I think the previous idea is a good one and i would add to that use some glitter in like red orange and yellow on the flames to make them look realistic. You could also get one of those witches cauldrons the black plastic pot and then put a piece of oasis (floral foam) in the bottom and then make the flames and paint them glitter them and add a pick to the bottom and stick into the pot(campfire pot add a few logs to make it look like a fire pit and voi`la there you have it good luck!

May 19, 2009
0

found this helpful
Best Answer
You can also make a base for your campfire out of real wood (or use cardboard tubes. Fabric stores usually have tubes from the decorator fabrics that are larger than other tubes. You could paint them and make them more realistic) and use tissue paper to make "flames." Just use a mixture of mostly reds, yellows, and oranges, with maybe a little blue or other colors mixed in. If you add in a flashlight lighting it from underneath, it will make it more realistic.
A small battery type fan will also make the tissue move slightly, if you can get it hidden in there! I like tissue because it keeps its shape, but it's also not expensive, but since it's not as durable as the cardboard idea, you might have to replenish your "flames" as the week progresses! Good luck with whatever you do...what a fun week you'll be having! ;-)

May 20, 2009
0

found this helpful
Best Answer
Have you ever seen those "torches"? They hang from the ceiling, a black bowl with a small fan/light that blows flickering fabric flames up. I remember seeing them on clearance everywhere and at yard sales cheap.
Just remove the hanging chain(pliers) and set in "wood" like the other suggestions. Best wishes.

May 20, 2009
0

found this helpful
Best Answer
You can use real logs, but use a colored saran wrap or florist wrap and wrinkle it real good. then you use Christmas lights underneath the saran wrap. it glows just like a fire.

May 21, 2009
1

found this helpful
Best Answer
When I made a fake campfire, I lightly crinkled aluminum foil and placed it on the bottom, then covered it with yellow and orange celophane. The light from the room reflected against the foil and it looked like real glowing embers! It looked amazing! I used gray styrofoam to make stones to surround the campfire, and glued it all on a large round piece of cardboard.
It was lightweight and easy to move. You can then lay your charred wood pieces on top of the "coals". If you spray paint the bottom of your wood lightly with silver paint, it will also reflect the glowing ember effect. All without using cords or electricity!

May 21, 2009
0

found this helpful
Best Answer
Pile your log on top of a string of christmas lights. they make it look like they are on fire.

May 21, 2009
0

found this helpful
Best Answer
I'd try to find a small, quiet fan, and tape flames made of red, orange, and even some blue tissue paper in various heights to the screen on the front. When the fan is on, the flames will rise and dance. Use Christmas lights or battery operated votive candles to add light and complete the effect. If you could conceal the mechanism of the fan and lights through a stack of logs (real or made from rolled-up construction paper or cardboard painted to look like wood), it would add to the effect. If you want "rocks" around your campfire, crumple up newspaper into various sized "boulders" and use masking tape to cover the exterior with one smooth sheet of newspaper, then spray paint gray.
Once dry, use a wad of paper towel dipped LIGHTLY in black paint to sponge on some texture. This is the method I used to create a faux fireplace in the childrens' room at my old job, and if you keep your "rocks," they're useful for creating faux waterfalls and streams, too.

May 21, 2009
0

found this helpful
Best Answer
You can use rolled up newspapers with a brown grocery bag on the outside for the logs.
Also, the Girl Scouts make an "edible fire" with younger children. It has everything a real fire would need, only edible. You use a small cup of water instead of a bucket of water; a spoon instead of a shovel to clear the area; M&M's for the fire ring instead of rocks; shredded wheat ceral or coconut for the tinder; small pretzels for the kindling; and large pretzles or tootsie rolls for the fuel; and light it with a candy corn stuck on a toothpick instead of a match.
It is a fun way to teach the girls to make a real fire.
I have decorated cakes using the small tootsie rolls as logs and red and orange tie-dye fruit roll ups cut into flames.
Have fun!
Answer

this Question

I need your help again. I want to make faux logs to place beside my gel fireplace that uses gel fuel. I am trying rolled up newspapers and am going to paint them a wood color. What color should I paint them (spray paint) and any other ideas other than newspapers? Not sure how this idea will work out. I want them to look as real as possible
Thank you,
Sherry from Dixie, West Virginia
Answers
By veronica (Guest Post)
September 11, 2006
0

found this helpful
Why spend money on paint etc for fake logs? Go for a walk in the woods and find some real ones - for free!
By Lynda (Guest Post)
September 11, 2006
0

found this helpful
The best ones I've seen appeared to be made of "paper mache" with morter mix as "glue", and heavy on the morter! I'd begin with lengths of real wood. I'd shape the paper mache' for the outside "bark" streaks, recycled flat house-paint streaks of various shades of med. grey brown, browns, beiges, and occasional dark brown specks.
They should be several sizes in diameter from about 5" diameter to 8" and made round but flattened slightly before dry so they won't roll around. There are several websites for good paper mache recipes, but I'd follow the morter mix directions, adding Elmers' glue to the outside to hold GLOSSY newsprint insert paper streak shapes(sites claim glossy works best), to finish the design. Paint them after drying for about 24 hours. Finish in polyurethane FLAT clear paint afte an additional 6 hrs of drying first painting. (Use good ventilation, or do all of this outside, if possible, on cardboard or newspaper) :
Concentrate on the ends which are full of morter only, smoother, and painted in light various colored "rings" to simulate a log. Make them about 20" long if you have room. Spray with any can of polyurethane or Scotchgard in well vented area.
Make about five and place them on an old real fireplace black metal grate, if possible, which are tossed curbside occasionally, usually in the Winter or Spring.
I found brass duckhead andirons (log trimmings to hold logs in a fireplace) once which were damaged on the back fireside, but were heavy and shiny enough that I sold them for a good price in a garage sale.
I'm assuming you have a type of fireplace to place all this inside? Store your logs in a plastic bag/then inside a box when not wanted to decorate, or improve the colors if need be. Good luck and God bless your efforts as His light shines on you.
By (Guest Post)
September 11, 2006
0

found this helpful
geez, just use real ones...wash them, sit them in the sun to dry out good...spray them with a clear spray paint and throw some pine cones in there and it will be beautiful...why do you want fake ones?!??!
I am sure you can find someone that has some...wish you were around here, I have millions I could give you!!
By sherry (Guest Post)
September 13, 2006
0

found this helpful
THANK YOU ALL FOR YOUR IDEAS. WELL, I DID WANT REAL LOGS IN THE FIRST PLACE AND ASK MY BROTHER-IN-LAW TO CUT ME SOME SMALL LIMBS WHILE GETTING HIS FIREWOOD. THAT WAS OVER A YEAR AGO AND STILL NO LOGS......LOL.....SO, I THOUGHT "I'LL MAKE MY OWN". NOWHERE AROUND HERE FOR ME TO GET THEM MYSELF. I DID MAKE SOME FROM ROLLED UP NEWSPAPERS AND PAINTED THEM AND MADE BARK STREAKS ON THEM AND ADDED KNOT HOLES. THESE WILL DO FOR NOW UNTIL I CAN GET THE "REAL THING". THE PAPER MACHE IDEA WAS A REALLY GOOD ONE. I WOULD LOVE TO TRY THAT ALSO......THANKS SO MUCH.......HAVE A GOOD DAY........SHERRY
By Michele (Guest Post)
September 15, 2006
0

found this helpful
Like others have said, you can make them, pick them up around outside. But you can also buy a small package of logs.

September 18, 2006
0

found this helpful
On another site that I used to go to one of the ladies made fake logs using cans. She would make one can the main part and then maybe use a smaller can, like tomato paste, for a knot on the log. Sometimes she would put little animals inside the open end. When she got everything taped and put together she would paper mache' over it to give it texture and then paint it. They looked very nice.
Tonya

September 29, 2006
0

found this helpful
THANK YOU ALL FOR YOUR INPUT. I APPRECIATE IT VERY MUCH.
HAVE A GOOD DAY.............SHERRY
By (Guest Post)
March 18, 2007
0

found this helpful
try carpet rolls (cardboard rolls carpeting comes in) approx 12 foot & cut to size and paper mache (or use burlap & glue) for texture, then painted
Answer

this Question