Judi
Bronze Feedback Medal for All Time! 239 Feedbacks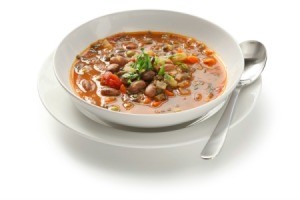 Is there such a thing as a home made dry soup mix that a mother can prepare to send to college with boys who don't want to bother to cook good meals? I've sent ground beef, roasts, and steaks and found them all still in the freezer at the end of the year. I would like to make some mixes that only need a little prep effort. I think I care more than they do about their health!
Judi from Elgin, Oregon
Answers

Marjorie
Silver Feedback Medal for All Time! 290 Feedbacks
November 27, 2007
0

found this helpful
I found this one recipe on thriftyfun.
www.thriftyfun.com/tf690268.tip.html
Do a search on Google, there are dry soup mixes on a number of websites.

November 27, 2007
0

found this helpful
check out www.budget101.com/ for dozens of recipes for soups and other homemade convenience style foods.
By Marna (Guest Post)
November 27, 2007
0

found this helpful
At the risk of starting WWIII, part of the college experience is learning to take care of yourself. That includes feeding yourself. Don't worry, Mom, they won't starve. :)

pam munro
Gold Post Medal for All Time! 519 Posts
November 27, 2007
0

found this helpful
You could also encourage them to use dried miso soup - It's Japanese and very healthy - send them bouillon cubes and try to concoct homemade ramen - Don't forget peanut butter, too!
By tina (Guest Post)
November 27, 2007
0

found this helpful
If you do any canning try making chili, soup, any kind of stuff a person cans in the fall from our gardens. Or the kids can work in the dorm cafeteria.

Judi
Bronze Feedback Medal for All Time! 239 Feedbacks
November 27, 2007
0

found this helpful
Thanks for all the ideas! I sort of jumped the gun and asked for help before I had looked for myself. I've found several recipes. Yes, Marna, I know they won't starve but I raised them to eat healthy and Burger King isn't doing it MY way.
I've been accused of being over protective all their lives and I've decided if that's my biggest flaw, they have it pretty good. I just want to do something nice for them.
Answer

this Question

I'm putting together my earthquake kit, and instead of using store bought (and sometimes expensive!) canned goods, like soup or chili, I want to make dried mixes, that can be made with hot or boiling water.
I'm thinking of a dried tomato and herb pasta sauce or soup, or a potato and leek or vegetable soup -- even a dried chili mix, using dried, already cooked, black or pinto bean chili. Any recipes?
By Dee R
Answers

Elizabeth
Bronze Feedback Medal for All Time! 108 Feedbacks
November 16, 2013
0

found this helpful
I guess you have a generator ready to boil the water for your soup. Usually the electric and water are out for days if it is a bad earthquake.

March 1, 2014
0

found this helpful
Elizabeth, thanks for your comment, but I'm way ahead of you. I will pack either a sterno stove or make a hobo stove, a ;few gallons of bottled water, and some dried cat food for the other household member.
There can be up to a week or even two, without power in some areas (i.e., the San Fernando Valley, CA, after the Jan '94 quake), but I'm really hoping it won't come to that.
I do have some choices...canned soup, canned meat, pasta, with dried or canned vegetables which will make a perfectly good soup. I also have some cup'o'soup...but wouldn't consider it healthy enough to survive on for long.
Answer

this Question