What could be better than rainbows and cake? Both of them together in a jar of course! This cake is sure to brighten anyone's day, and best of all comes in it's own serving container.
Preheat your oven to 350 degrees F. While the oven pre-heats, make your cake mix according to the directions on the back of the box.
Spray the inside of each mason jar well with non-stick cooking spray
Separate the cake mix into each of the four bowls equally. Add food coloring. A lot. The more you add the more vibrant the color, and saturation is the key here.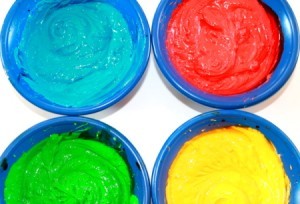 Using your ice cream scoop or tablespoon, carefully scoop the mixes into your jars. It work best to start with the darker color and work your way up to the lightest. Do one color at a time in each jar, washing your spoon or scoop as you go from one to the next. This is the easiest way to keep the colors from running together and ensuring you have the same amount in each jar.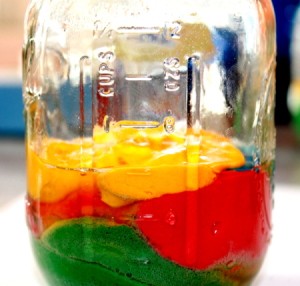 Grab your cake pan and fill it with around 1/2 an inch or so of water. Add mason jars and place in oven. Bake for 25-45 minutes. Mine took 45, but ovens vary so just keep an eye on them.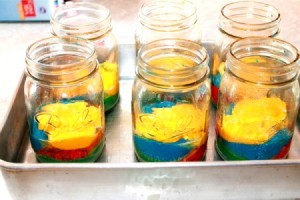 Transfer to a wire rack to cool.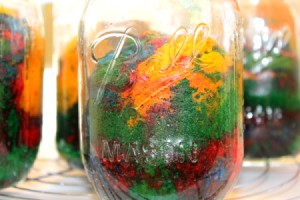 Take a spatula or butter knife and carefully take off the rounded tops of the cakes if you are a perfectionist. If not, just go ahead and slop from frosting in there.