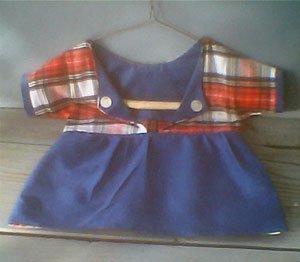 If you have a leftover toddler's dress or buy one at a garage sale, here's a cute way to recycle it into a clothespin holder.
Materials:
old toddler dress
thread and needle or sewing machine
clothes hanger (a child size would also work)
Directions:
All you have to do is sew the bottom straight across and and insert the clothes hanger in top and hang on your clothes line, but don't forget to bring in from the bad weather.
By Sandy from Bluff City, TN.
Read More

Comments

I need something to hold my wooden clothespins and keep them dry outside. I need to be able to easily open and close it and easily get my hand inside to grab a few clothespins. Any creative ideas, e.g. recycling another item? Thanks.
Answers

Lilac
Silver Feedback Medal for All Time! 450 Feedbacks
August 3, 2011
0

found this helpful
In the past you could buy them but a large spider hiding in mine made me throw it away. But here is a suggestion. Make an ordinary apron. Turn the hem up on the outside about 8 inches.
Stitch pockets every 6 inches or so and put your clothes pins in the pockets. Wear it while you hang clothes or bring them in but do not leave it outside.

xintexas
Silver Feedback Medal for All Time! 278 Feedbacks
August 3, 2011
0

found this helpful
I used a large gallon zip lock bag for my pins. I attach one side to the line with some of the pins this leaves the other side open to get your hand in it. Zip it shut when done.
It works well but the bag needs replacing every so often.

August 3, 2011
0

found this helpful
Take an empty milk jug, clean it thoroughly, then cut an opening opposite the jug handle large enough to put your hand through. Use an awl or metal kitchen skewer to put holes in the bottom of the jug for drainage. Put a slit at the bottom of the handle where it meets the jug for hanging on your clothesline.
This is the longest lasting and cleanest device I've ever found to hold clothes pins. Bring inside to keep your clothes pins dry.

August 4, 2011
0

found this helpful
Lilac beat me to it, lol! I love using an apron for the clothes pins, and have made one using pretty much the same directions she gives in her post:)
I got a carpenter apron as a freebie once about thirty years ago and it occurred to me that this would make a very handy clothes pin holder. When it wore out I bought another one because the aprons were $1.99 at Lowes and cheaper than I could make one myself.
Now that I live in the UK I've made one from an old canvas bag my new husband was about to bin because those aprons cost just a bit more than I'm willing to pay here in northern Scotland!
The apron is the best, most handy help when hanging out the washing. No need to remember to carry it in after you hang out the clothes, no need to push the bag along as you hang out the clothes, and no wicked surprises like spiders taking up residence in those cosy cloth/plastic bags!
I hang mine by the washing machine or set it in the basket between loads.

August 8, 2011
0

found this helpful
Thanks everyone for the great ideas! I'm about designate an apron as my clothespin holder. Would like to try the milk jug idea too, but I haven't seen 4L milk jugs lately but will keep an eye out for them.
I like the ziploc idea too, but the ones that I buy have too short a lifespan before the zipper stops working.
Answer

this Question

My mother used to have a clothes bag for clothes pins when she hung her clothes out on the line to dry. Does anyone have a pattern for it? I would really appreciate it.
By jann from Union, OR
Answers

Marjorie
Silver Feedback Medal for All Time! 290 Feedbacks
December 16, 2010
0

found this helpful
www.thriftyfun.com/tf91296742.tip.html
www.allfreecrafts.com/.../peg-bag.shtml

December 16, 2010
0

found this helpful
I don't have a pattern but rather a suggestion I have used for years. I used an old shoulder bag purse. I put the clothes pins in the purse, put the purse on my shoulder and voila.
I am ready hang up all the clothes I desire! Great recycling idea for those "green" minded persons.

Myrna
Bronze Feedback Medal for All Time! 168 Feedbacks
December 16, 2010
0

found this helpful
I used one of my daughter's small dresses she outgrew and sewed the bottom and the sleeves at the shoulders closed. It was really cute and you can modify the skirting to a slimmer appearance if you don't want that much fullness.

cettina
Bronze Request Medal for All Time! 64 Requests
December 23, 2010
0

found this helpful
If you know how to crochet, go to myrecycledbags.com they have a great one to make using plarn(cutting up plastic grocery bags) I made mine a few years ago and its still going strong! I even used the same pattern but using cut up tshirts as "yarn" as well. It came out looking great!
Answer

this Question

Does anyone have a pattern for a knitted clothespin bag that hangs on the line!

Canuckmom

Answers
By Sandy (Guest Post)
March 31, 2005
0

found this helpful
Hi Canuckmom,
I don't have a crochet pattern, but when my son outgrew his size two button down the front shirts, I save two of them, sewed the short sleeves shut and put them on coat hangers. I unbuttoned a couple of buttons and filled them with clothes pins. When my son married, my Mom gave him the well used clothes pin bag. (It is in use in his home!) This year, my mother-in-law gave up her home and one of her treasures was the clothes pin bag. With Mother's Day coming up, this is a great gift for loving Grandmas!

April 1, 2005
0

found this helpful
Thanks Sandy: My mother-in-law would love that, and I'll make one for me OF COURSE! I'm going to post this idea on my mom's group web site to. Thanks again.Pam
Answer

this Question

Is it possible to get a pattern for the old fashion dress clothes pin holder? My mother made many of these as gifts years ago, but she said I lost part of her pattern. I don't remember.
I feel crushed because I know how important this pattern was to her. She made hers from a paper bag. If you can let me know where to find one that would be great. Thank you.
By Lori Lopez from Bellflower, CA
Answer

this Question