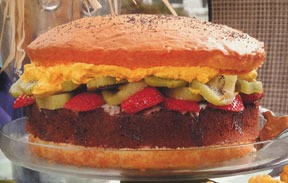 Here are instructions for making a cake that looks like a giant hamburger!
Instructions
Yellow Cake
1 (18.5 oz) box yellow cake mix
3 egg whites
1 egg
2 Tbsp. canola oil
1 1/3 cups water
1 cup confectioner's sugar
2-3 Tbsp. skim milk
Brownie Layer
1 (18.5 oz) box brownie mix
1/3 cup canola oil
1/4 cup water
2 eggs
Fillings/Toppings
1 envelope whip topping mix
1/2 cup milk
1 tsp. yellow food coloring
1 1/2 cups sliced strawberries
4 kiwis, peeled and thinly sliced
1/4 tsp. poppy seeds
Directions
Preheat oven to 350 degrees F. Prepare the cake mix: Use the cake mix, egg whites, egg, oil and water until well mixed. Pour the batter into 2 (9 inch) round pans that have been sprayed with cooking spray (the rest of the batter can be used for cupcakes etc.) Bake for 25 - 30 until cake is done. Let cool in pan for 10 minutes then invert onto a wire rack to let finish cooling.
To do the brownie layer: Mix all ingredients together and bake for 25-30 minutes in 9 inch round pan sprayed with cooking spray at 350 degrees F. until top springs back when touched. Cool in pan for 10 minutes then invert onto a wire rack to finish cooling.
Now to assemble the cake: Place one yellow cake inverted upside down on plate. In a small bowl mix confectioners sugar and enough milk to form a spreadable consistency. Spread half of this onto yellow cake then top with brownie layer. In another mixing bowl mix whip topping, milk and yellow food coloring until well blended and topping is thick and forms a peak. Spread remaining confectioner's sugar mixture on top of brownie layer so the fruit stays in place. Cover with strawberries (to look like tomatoes) and kiwi (to look like lettuce). Top with whip topping mixture (this is your mustard) and make sure some of the fruit is showing on all sides of the cake. Carefully place the remaining yellow cake on top and sprinkle with the poppy seeds and place in refrigerator until ready to serve.
By IMAQT1962
Make a simple box cake into a huge "hamburger" cake by adding a few modifications. I used 9 inch round tins to bake yellow cake and cut them in half to form hamburger buns. I added a few green fruit roll-ups to look like lettuce, white icing for mayonnaise, some red Swedish Fish candies for tomatoes, and some bun-colored icing. It was a huge hit for my friend who detests birthday parties and always says, "Just get me a hamburger for my birthday!"
By attosa from Los Angeles, CA