Making a Reusable Shopping Bag
Solutions
Share on ThriftyFunThis page contains the following solutions. Have something to add? Please share your solution!

I don't know about you but I hate having to unload 20 bags of groceries that only hold a few items each. seems like it takes forever to haul them all in. I love using my own handmade fabric grocery bags. I keep material that is from clothing or scraps from fabric and make my own shopping bags. This way I am using my resources instead of the plastic bags that end up in the dump. You can make original bags that are gorgeous or just plain bags.
I also love the versatility of them. It makes me very happy to put my recycled material bags on the conveyor belt at the grocery store before I unload the groceries. I always ask them to pack the bags full. Also I find it so much easier to handle the groceries once I get home and have to unload.
So don't pitch that material. Make up some one of a kind grocery bags for your next shopping trip. It will make your experience so much easier.
I also use handles from discarded items or ties from clothing to make the handles. It is a breeze just to sew it onto the inside of the bag once it is finished.
By gem from Gordonsville, VA
Here is a homemade reusable grocery bag with matching coupon holder.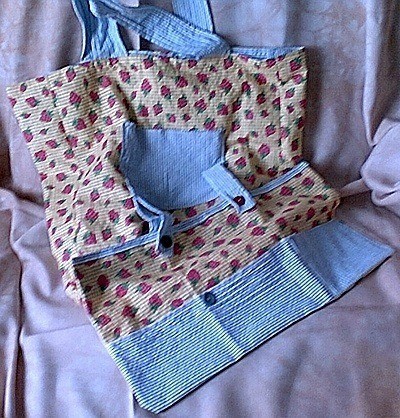 Approximate Time: 2 Hours
Supplies:
one yard material
matching thread
any decorations
applique'
sewing machine
Instructions:
Cut out body of grocery bag: 23x15 inches.
lining: 23x15 inches
strap: 15x4 inches
pocket (if desired) 5x5 inches square
Lay out material and cut out body of bag. With contrasting material cut out lining and straps.
Fold bag, right sides together, sew sides, at bottom of bag, sew corners, 1 inch, cut off access.
Sew lining the same as the body of the bag.
Fold the cut straps of contrasting material, in half, sew along one short end, and along side, turn right side out, press, sew other strap the same.
Leaving body of bag wrong side out, insert into lining, making sure the seams are together.
Insert straps, 5 inches from side of bag. Sew along top of bag, leaving 5 inch opening for turning.
Turn bag, hand sew or machine sew the opening.
The bag is now done.

For the coupon holder

Using 1/2 yard of material, cut 23x20 inch piece of fabric, if desired, use contrasting material.
Sew the front and back together, fold 1/4 way up the front of the piece.
Sew each end, turn, sew up the middle of the pocket.
You have 2 pockets for holding your coupons.

By Barbara from Spring Hill, FL
This is a really simple project that requires no real pattern and once you feel comfortable, you can just cut freehand and "eyeball-it".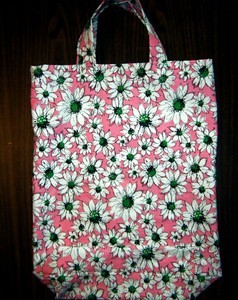 Time To Complete: 20-60 minutes
Materials:
1/2 yard medium-heavy weight fabric (denim, no stretch)
sewing machine
thread
pins
scissors
cutting sheet/ruler and rotary cutter (optional)
chalk pencil (optional)
Instructions:
Lay the 1/2 yard flat to cut. You will cut about 3-4 inches off on the side farthest from fold (there will be 2 pieces). You will now have 2 strips of fabric 3 by 18 inches and a long rectangle of fabric 18 inches wide and length anywhere between 20-30 inches, depending on the fabric you choose. For explaining purposes: the fold of the rectangle is the bottom and the opposite is the top.
Wrong side of fabric must be facing out. Sew from the fold to the top, 1/4 inch with straight stitch. Sewing this way will help avoid fabric slipping, or you could pin it. Now sew the other side the same way.
You need to finish the edges, so that they don't unravel. Use a zigzag stitch.
Now for the tricky part: making the bottom flat. Hold the corner (fold and sewn edge) with the seam closest to you. Pinch the fabric, pulling apart the sheets. You want the sewn edge to lay flat against the fold crease. Pin this down.
For the cleanest corner, measure 2 inches from tip and draw a line with chalk.
Sew on line.
Cut off the excess and zigzag edge. You could also just leave this on, it makes no difference.
Making the handles is simple. Fold edges in about 1/4 inch and then sandwich together. Sew in place with straight stitch, do this with both.
Now it's time to hem the top of the bag, you will need pins for this. Fold down top about 1.5 inches, then tuck 1/4-1/2 inch edge under. Pin all around.
Tuck and pin the straps under the hem, when doing to second side: check to be sure they are lined up (you can feel through fabric).
Sew a straight stitch on open side of hem, catching the handles.
Almost done! The last step is to sew up the handles and add strength. Fold up the handles and sew a square where handle and hem edge meet. Do this to all 4.
Flip inside out and go shopping.
These bags are great for everything! There are so many fun fabrics to show your style and your green living.
By Starchild in VT
Enjoy this easy project and be ready for lots of compliments!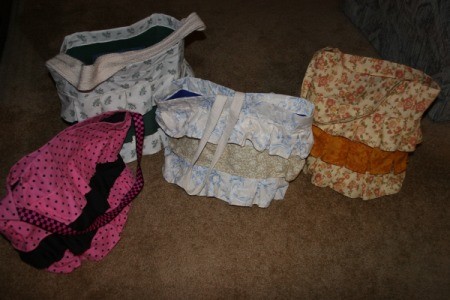 Read More...