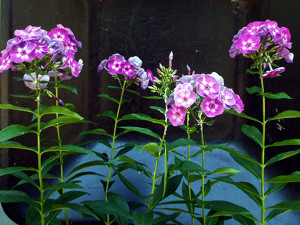 Last year, early one morning, I put together and posted a very nice tour of a few of my flowers in bloom. This tour was not planned, so don't expect anything fancy.
I came out this morning to try to solve a mystery concerning a weeping wisteria. I happened to see a few nice blooms and thought I'd share.
My 'new' purple Flame phlox still haven't fully opened. I found they need lots of water and I hadn't been giving them a lot.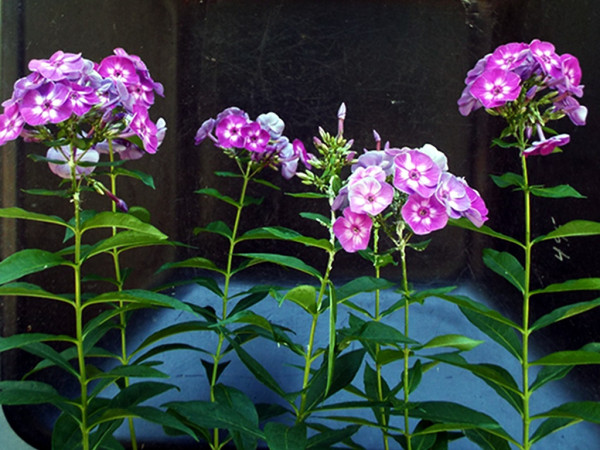 Noticing my 'Knockout' roses was what started this little tour. I am developing a small bed of them comprised of the double red and the double pink.
I am not overly fond of the Knockouts, (that's an uptown way of saying, 'I don't like them'). But, you gotta give credit where it's due. These darlings provide a fabulous nonstop display all season long.
The bush on the right is one I bought two years ago in a quart pot. The bush on the left is one I rooted from the one on the right that same year. They do grow fast.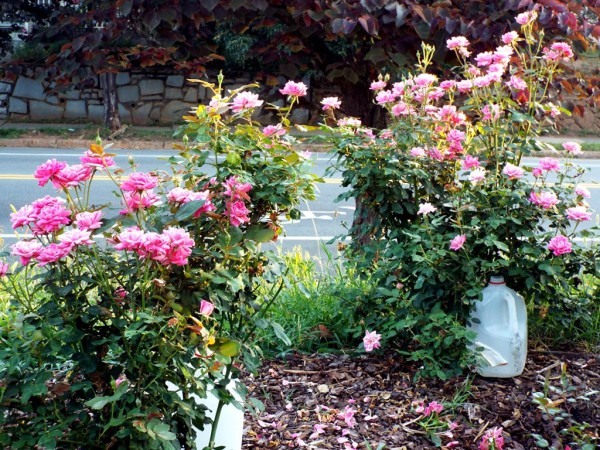 I have 5 double red and 5 double pink Knockouts in this bed, so far. I've laid down landscape fabric and covered it with hardwood mulch. I have more grass to get out and more fabric and mulch to put down. It should look good when I finish.
As you can see, the bed is high on a hill where it can be seen by pedestrians and motorists. They can enjoy the Knockouts I don't particularly care for.
And did you notice the gallon milk jugs? There is a tiny hole in each jug. I fill them with water, sometimes with Miracle Gro added, and let the water slowly drip near the base of the plants. This saves a lot of water and fertilizer as it puts it just where it is needed and nowhere else.
Another advantage of watering roses this way is that soil born pathogens won't be splashed onto the roses with a stream of water from a hose. That and covering the soil with mulch go a long way to keep the plants healthy. And the mulch further conserves water.
I planted a wisteria on that same hill, as well. It is getting huge! Lots of blooms this year. I removed the spent blooms so as to prevent seed pods from forming. This should help the 'tree' grow even faster.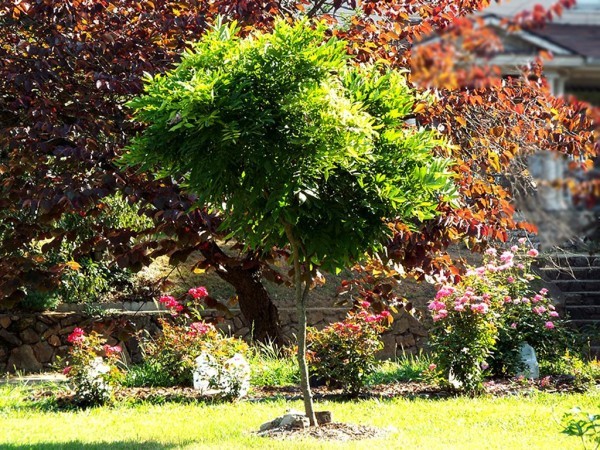 Another reason I removed the spent blooms was to see if it would help in the formation of 'latent' blooms. It did. While nothing spectacular, I did have a 're bloom', of small flowers here and there.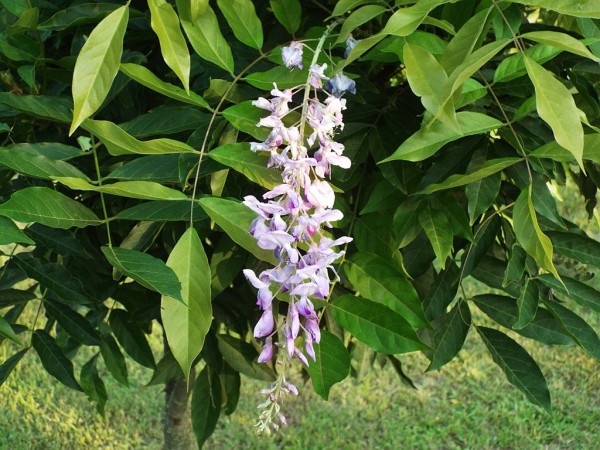 Well, maybe I do like the Knockout rose; at least one, anyway. A newer color is 'Peachy'. It's only sorta peach, though. It's really a nice pink. Much prettier that the regular pink. The one I bought was very small and marked down. $2.00? I'm babying it like crazy. I want it large as soon as possible. I want cuttings as soon as possible for a bed of nothing but Peachy Knockouts. I may mix in Dark Desire, the red rose in this picture.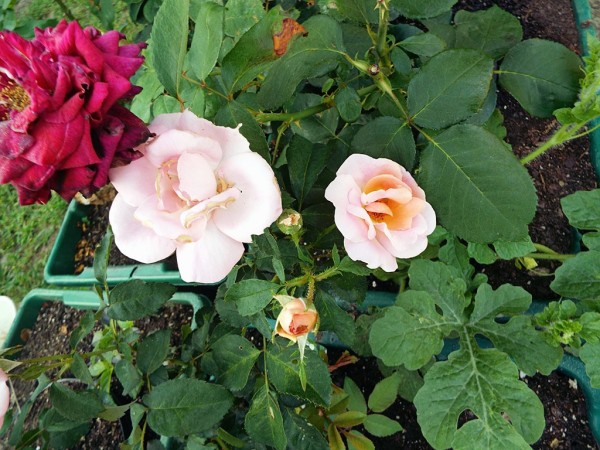 Here is one of my little sanctum sanctoriums, a little 'get away' place. I rigged this up under some trees so I could work in the shade. I grew all those impatiens from seed. They're just sitting there. My beds are full and I can't give them away. Pure D pitiful!
Ha Ha! My tabletop is an old shower door. I have more rigged up this way.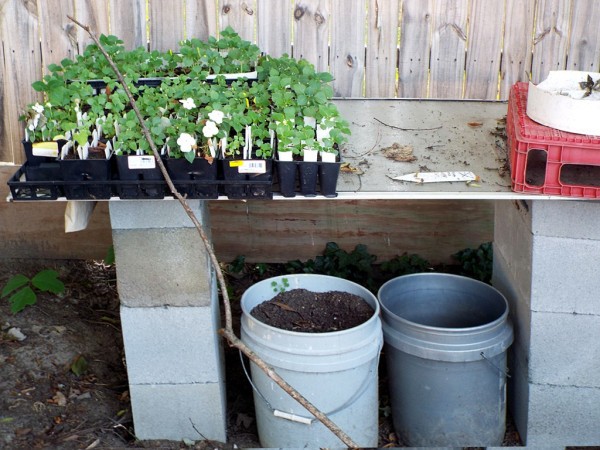 Day lilies I can take or leave. This one was given to me. I have a huge pot full and will give them away. I will keep just one for myself. I can't help it.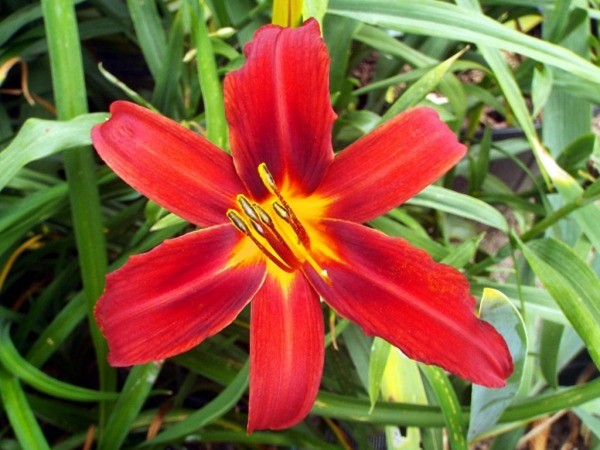 I'm in love with my arborvitae, Y'all. They're growing fast, too. You can't tell from the picture but the ones on the upper end are almost as high as my head. Yippee!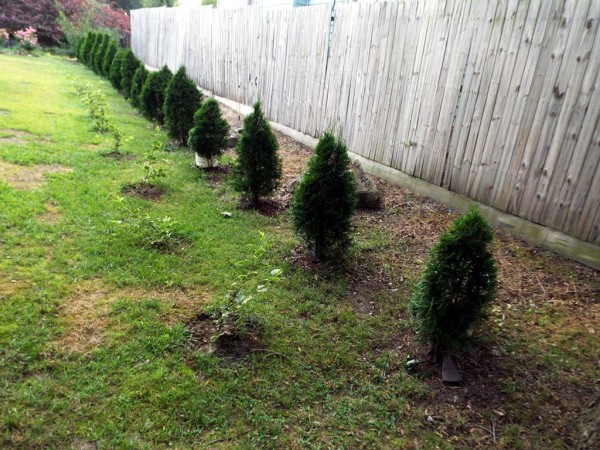 And ending the tour, my weigela. Hard to believe I rooted enough for a 75 foot row just two years ago. From 6 inch cuttings to plants taller than a 5 gallon bucket in less than 2 years. Damn, I'm good. No, seriously, I hope I live long enough to show you a 75 foot row much higher than my head and nothing but one massive, continuous display; a huge wall of pink and white blooms.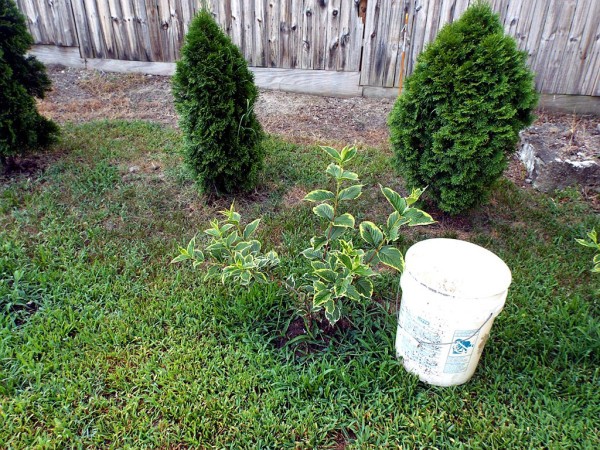 You can drop your tuppence in the little bird bath bowl as you leave.
Thank you.