February 27, 2018
0

found this helpful
I don't know what a wiffle ball is. I'll have to look that up. It stands to reason the glass would stick better to a larger ball because the flat back of the mirrors would make more contact with a larger ball.
If the ball is larger, then you surely would want a lighter material, but I don't know about foam. If you're thinking about styrofoam, I'm not sure it would work with E6000 or similar glue. I believe the glue would melt the foam.
I checked into Aurora Borealis crystals and found them to be too expensive, even for small projects. I'm still looking for alternatives. Right now, I'm using glass drops, a dollar a bag at Dollar Tree.
I'm trying to be creative with them, but it ain't easy.
My latest idea which I think is pretty good, is to crack the drops and then apply gold leaf to the back before gluing to a surface. I've started a bowling ball to be used as a combination gazing ball and sun catcher. I want to post a craft of it but I'll have to wait til I'm far enough along to make sure it will look OK.
I'm posting a picture of the drops, before and after cracking and adding the gold. They look large in the pic but actually are between the size of a dime and a penny.
By the way, where did you get the tiny mirrors?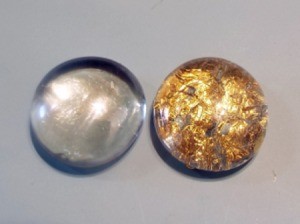 February 28, 2018
0

found this helpful
It's a plastic ball with large holes in it, to play baseball without the hard ball and bat. Younger kids usually play with them before they are ready for softball or baseball.
February 28, 2018
0

found this helpful
Thanks Jess!
And the mirrors are available here.
www.amazon.com/.../ref=nb_sb_noss_1?url=search-alias... (Affiliate Link)
I found a hollow rubber ball at the DT but trying to use a straight needle to hang it with, proved to just break up the little rubber connections. See the photo and you will know what I mean.
So, I just ordered a 4" ball from amazon and they will love it. It's humbling to find you have a great idea but it turns out not to work or too much work.