Well, I'm thinking of getting a Mohawk. I'm not worried about my parents and/or guys. How do Mohawks look on people with full faces? I've had a Mohawk before, but I never shaved my head. Also, I have a pale completion, and I'm about ready to bleach my hair again soon, what color do you think would go best with a hawk that isn't shaved, yet?

Raven

Answers:
Mohawks On Girls?
Back when I was younger (not that long ago), I never got too extreme with my own look, but I did go out with a couple of guys who were punks and had Mohawks, and I still love punk music. I don't think it matters what shape face you have. If you do go for the Mohawk, what about a bold color, like blue? A mohawk is going to make you stand out, so why not go for a cool color? (I also think Liberty spikes look pretty cool, too.) The last post's idea was good too. You really should check with your parents if you're under 18 though. They might freak out if you don't. Good luck, hope it turns out like you want it to. (08/25/2005)
By Lisa Kless
Mohawks On Girls?
Mohawks are good if you are at war, and want to hide in the trees. They look good with face paint, too. They were meant to scare the enemy as well, because they made you look crazy, and who knew what a crazy person would do. They are used with bows, arrows, tomahawks, knives and war dress or regalia.

Women think they're really macho. Warriors who wear them are usually gone a lot, so women don't have to put up with their mishugass (craziness), if you know what I mean. Teenagers who wear them are usually ignorant enough about the significance of Mohawks that they don't know what mohawks mean, thus they don't know how hilarious they look.

In any event, they are a huge laugh to adults and the educated. The nice thing is this is a free country. Since you are a child, there is no serious consequence to this hilarious behavior. A mohawk is not illegal, immoral or fattening, although there may be a dress code involved, or you may insult a Native American if it is part of a special regalia.
I need a good laugh. Go for it. (08/28/2005)

By Carrie
Mohawks On Girls?
You girls sound all worried about it, oh no, how are people going to look at me now, oh gawd. Isn't the point of a Mohawk, that you don't care.
(09/15/2005)

By Jonas
Mohawks On Girls?
I currently have a Mohawk. It's eight to ten inches long. And you know, Mohawks on girls aren't bad. If your a die hard Mohawk lover like me, It doesn't matter what the opposite sex thinks. I love my Mohawk and I would go back to having long hair. I wouldn't change it for the world. I am a chick with a Mohawk and I'm proud. So for anyone above if you want to get a Mohawk and your a female, like myself, don't let it stop you from getting one.

Oh, and speaking of colored Mohawks. Usually blue, green or red always look good, same with pink ones.
(10/30/2005)

By Schitz
Mohawks On Girls?
Get a hawk if its what you truly want. I know this thread is seriously old but still. People ask me why I have a hawk and it's a simple matter of "I can" it's not for attention or to get noticed in the street it's just a style I really love its a style that reflects my personality.
Take care x (09/01/2006)

By Bec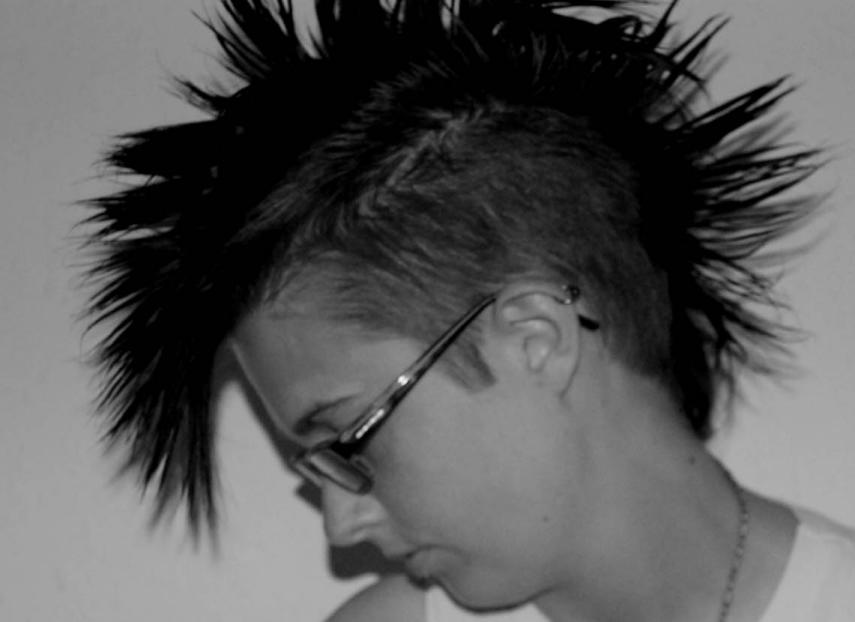 Mohawks On Girls?
I have a Mohawk. It's all a matter of experimenting with the colours and such.
When my hair was short and really heavily layered, I used to have a fauxhawk and I experimented with the colours on that, with the coloured hair-spray.
Mohawks look fine on people (guys and girls) with full faces, but if you're unsure, do your hair into a fauxhawk and gel the sides flat against your head to see what your face will look like with no hair there. (06/26/2007)

By Liz
Mohawks On Girls?
The purpose of a Mohawk used to be its originality. But now, so many people have them it's hardly original at all anymore.
I say faux hawk it, and experiment with color.
(06/29/2007)

By Chelsea
Mohawks On Girls?
One comment on that style, in order for it all to work you have to coordinate your entire look. I once met a designer who pulled it off, but it's harder to do than you would think. (08/03/2007)
By pam munro
Mohawks On Girls?
If I were you I'd go for it. It shouldn't matter what other people think about it. If it makes you happy and if you want a Mohawk then no one is stopping you from getting one besides you. (08/05/2007)

By Heather
Mohawks On Girls?
I just got a faux as a test run, I wanted to see how it would look and I love it, some say it makes me look like a boy though, that's irritating but I still love it. I'm going to go get the sides shaved soon enough, but I wish it had more height, the girl cut it a little short. I think anyone can pull off the style if they have the confidence to do it, it's not like there is a "hawk standard" or anything. That would be a little silly. This is a really old thing and most people probably don't care to post here but I couldn't help myself. (08/11/2007)

By Daemon D.
Mohawks On Girls?
I'm a 26 year old girl and will be getting a hawk in a couple weeks. I'm scared to death as well, but I've wanted one since I was 3 and I've finally decided to just go for it. Only problem is I'm a receptionist and I can't wear it to work. One thing I haven't noticed anyone mention in this thread is the possibility of a wig. I have found a couple that look nice that I'll wear to work and I can have the hawk on my own time.

So as a word of encouragement to anyone who wants a Mohawk, but knows it's impossible to pull of 24/7 for whatever reason, don't forget wigs. Find one that's close to your look and get it cut to fit your face. When worn right a lot of people don't know the difference. I love Mohawks, but won't lose my job over it. (08/23/2007)

By Rebecca
Mohawks On Girls?
I have spikes and I think bright pink and purple are the best don't be afraid to go for something a bright so what, what other people think just be yourself. Half the people that point don't even know you so go for it. (11/30/2007)

By Courtney
Mohawks On Girls?
I don't put mine up. It's too long and my arms are to short to put it up properly. So I just wear it as a Mohawk/ponytail thing sometimes. I dyed it blue and green, too. It's pretty. Mohawks on anyone are sexy. (03/03/2008)

By Asia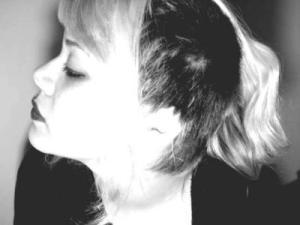 Mohawks On Girls?
I have real curly and frizzy hair and I have a Mohawk. What I do to get it straight is, use soap foam. It gets my hair straight and sticky too. Perfect for a Mohawk and makes it easier to stand up. You might want to try it too, but maybe before you cut it into a Mohawk, I'm not sure if it works on every hair type. Play around with it for a bit, don't use too much water, don't get your hair all wet, just use a little soap foam and blow dry it with a comb. (03/20/2008)

By maru123
Mohawks On Girls?
I am white, but I think Mohawks look better on chicks with color. (04/10/2008)

By Lizz
Mohawks On Girls?
I think Mohawks look good on certain girls but I don't like the ones with the long side burns. (09/08/2008)

By rafa
Mohawks On Girls?
Mohawks are something I always loved and supported. Especially if it's a lady wanting to rock one out. There is so much you could do with it, I had a diagonal hawk back in summer of '06 and I kept a fringe in the front and shaved the sides to a 1 inch, it looked insane. It wasn't as long as expected but 5 inches was still intense.

So to any lady who is hesitating about getting, go for it, but don't be hesitant, be confident about it, because that's what's going to make people impressed and like it. Besides confidence is the most attractive thing I believe. Cheers. (10/25/2008)

By Kristen
Mohawks On Girls?
I have a Mohawk, personally I think they looks best longer than short, mine is short at the moment, as I had a pixie cut pre 'hawk. To pull of a Mohawk, and not look like a boy, I think makeup plays a big role. I think they can be quite feminine, but you really have to have the right face and features something I am struggling with as my face is naturally a little too cute (big eyes, etc) to pull of a Mohawk punk-style.

I hate to say it, but the larger a girl you are, the harder to pull it off. I don't think it's impossible, but it is definitely harder to look good, and feminine. That being said, I think Mohawks in general are rather sex-less. Face wise, people generally look a lot more androgynous than a particular gender, which I think can be a good thing. However, you're body shape will quite obviously make you look like a girl, and not a boy.

Everyone is saying "Go for it!" but, I think it is best to think about it first. You should be prepared for some people to be rude, and assuming things about you if you have one. It's also quite a shock to the system to have shaved sides. Think about it, and be sure you can rock it before you get it. But then again, you only live once, and hair always grows back. Have some fun, and don't not get one just because you're scared of what people say. (01/05/2009)