Before I share my recipe, I want to mention that I have an 8 pound Pomeranian who is hyper-sensitive to fleas. We recently moved into a new-to-us home that was obviously a home to fleas. In desperation, I took my Pom to the vet who gave him a Capstar that did not help, by the way, and has caused him to chew himself raw ever since we gave the pill to him! She also sold me an $80 flea collar which was basically a complete waste of money. Frontline makes my Pom aggressive and since he already has aggression issues, and the fact that it is highly toxic to dogs, I steer clear of the stuff.
Through this process, I learned several things:

Boost the dog's immune system. Fleas won't bother a healthy dog. Our groomer recommended NuVet Plus vitamins to restore my Pom's coat and it made a huge difference.
Eliminate fleas from inside/outside of house. Our vet recommended Beneficial Nematodes for outside. They are microscopic worms that eat flea eggs. We bought a batch and sprayed in October. We'll do another application in the spring. For the inside, I plan to start using Cabin Cove's recommendation (the recipe posted in this topic) to treat our carpets starting today!
Eliminate fleas from pets. In my pursuit of natural alternatives, I found a spray at the local farmer's market that worked like a charm. Unfortunately, the folks who sold it have not been back to the farmer's market so I searched online for a recipe that included the same ingredients. Below is very close, and I believe, even more effective than my original purchase.
The flea spray consists of essential oils that work beautifully. Here's my recipe: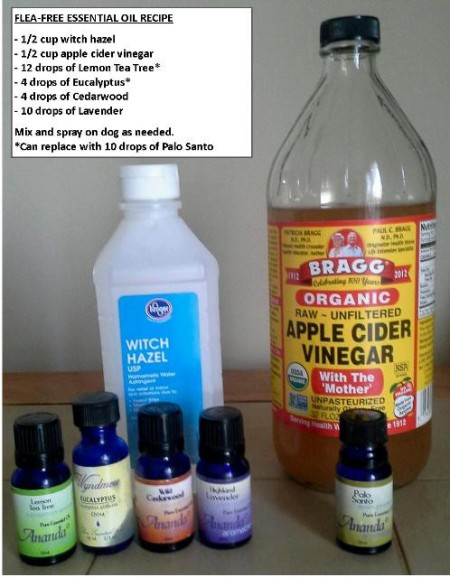 Supplies:
1/2 cup witch hazel
1/2 cup apple cider vinegar
12 drops of lemon tea tree* (kills fleas and ticks)
4 drops of eucalyptus* (flea repellant)
4 drops of cedar wood (flea repellant, skin and coat conditioner)
10 drops of lavender** (anti-bacterial, anti-itch, and calming)
*Palo Santo is also an excellent essential oil. One drop kills ticks dead. My Boxer had a blood-filled tick latched on to him and my husband wanted to pluck it out. I suggested we try the Palo Santo. We put one drop on the tick and it died and fell off our dog. My husband was blown away. In the recipe above, you can replace the lemon tea tree and eucalyptus with 10 drops of Palo Santo instead.

**Lavender is the best oil to use for about all common animal ailments. It is a great first aid oil soothing to skin irritations, such as rashes and hot spots.

We also bathe our pooches with Animal Scents Shampoo by Young Living (I am not a Young Living distributor so I buy it on Amazon) and I add a couple of drops of lemongrass essential oil to the shampoo. I squirt about half a tablespoon into my hand and then add 2 drops of the EO, rub my hands together and the shampoo the dog.


Oh, another thing to mention. I dry shampoo the dog. In other words, I lather him up while he's dry - starting from the top and working my way down - so that the fleas can't climb up to his head or around his ears. I then massage the shampoo for as long as he'll let me - usually around ten minutes to kill the fleas - then I start to rinse slowly, massaging to make sure I get all through his long Pom fur.


The battle to find a natural flea killer for our dogs has been won; however, the battle to kill the fleas in and outside of our house is another story, and this is crucial. I'm trusting that Cabin Cove's recipe will be the winner. (Fingers crossed!)


Good luck yall!