lalala...
Gold Post Medal for All Time! 899 Posts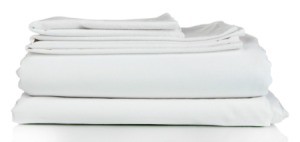 I bought new sheets from Target and washed them before putting them on our bed. I could not even sleep on them, because my skin felt like it was burning when it was in contact with the fabric. I had the same problem with my last set of sheets from Target, too. Eventually, after multiple washes, those no longer bother my skin. Is there anything that I can add to the washer that might neutralize the chemicals that were applied to these sheets when they were manufactured?
By lalala... from Port Orchard, WA
Answers

(Guest)
Gold Post Medal for All Time! 846 Posts
November 9, 2011
0

found this helpful
Chances are that you're allergic to one of the fabric processing chemicals used and/or allergic to one of the dyes. About the only thing you can do is to wash them a few more times until the chemicals dissipate; I am going to guess at least a half dozen times.

November 9, 2011
0

found this helpful
If you go to Target, you can see what was the fabric/fiber contents of the sheets. If you are like me, rayon and acetate make me break out. I have to have all my clothes and bedding at least 95% cotton. You might try it and see if it makes a difference.
I hope this helps. PBP

November 9, 2011
0

found this helpful
Be aware that some permant press fabrics are processed with formalgehydeand should be avoided. Who makes this bedding and where is it made. You should let the maufacturer know of you sensitivity to that particular product.

November 9, 2011
0

found this helpful
Try adding a full cup of vinegar to the washing, wash in the hottest water possible, and run the sheets through at least five washings before putting them on the bed. You might even consider soaking the sheets in a half water half vinegar solution before washing them.
What is probably happening is that you are having an allergic reaction to the sizing (think old fashioned starch) material used to make the sheeting look crisp (and therefore more attractive to consumers) in the packaging.
I teach sewing. One the most important things I teach my students is that fabric needs to be prepped before you sew it or you will be disappointed with the sewn item after the first few washings because it will not look the same after the sizing is gone. (Also, sizing creates a shield on the surface of the fabric, and can literally break your needle or cause skipped stitches!)
This is because fabric (and a lot of ready to wear clothing, bed sheets, towels, and other household items) is coated with a 'finish' called sizing. The sizing makes the fabric hold a shape, and looks 'fresh and crisp', making it look more attractive to the person thinking about buying it.
The sizing is a liquid coating sprayed or soaked into fabrics after coming off of the machines in the mill, is then reapplied after the ready to wear garment or other textile product is created, and is intended to last through several washings. If you know what to look for, and if you put the sheets (or whatever has been treated) through a wash without added laundry soap, you will see a filmy sudsing appear as the sizing is rinsed out of the fabric. The filmy sudsing will continue to appear through several washings until finally it is completely removed from the fabric.
The vinegar soak and wash should break the chemicals hold on your sheeting (or any other fabric).

Nightsong
Bronze Feedback Medal for All Time! 121 Feedbacks
April 26, 2018
0

found this helpful
Try washing with the addition of 1/2 Cup of baking soda

February 7, 2021
0

found this helpful
You can also soak the item in salt ,about 2 cups in dish pan or sink overnight,you wIll sees film form on top that you can lift off with your hand. Then wash the item in plain hot water. Then reWash. it again.
Answer

this Question