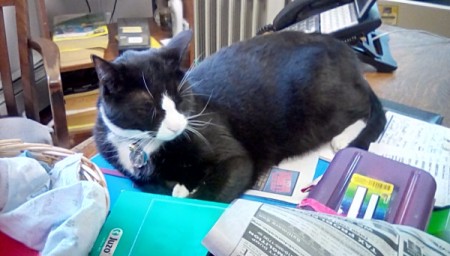 Your Pet's Age
Nicky is about 6 years old.
Your Pet's Breed
He is an unknown breed, but he is black and white all over.
How and when did you get your pet?
This cat is my part-time cat. He showed up sickly at the convent where I volunteer. They nursed him and he has a home with Benny an all black cat.
What does your pet like to do for fun?
He has the run of the convent along with Benny. He hunts and quickly kills his mice. He loves for me to scratch him and then go to sleep. But something I discovered a few weeks ago that the sisters/nuns did not know its that he llikes to be combed with a human comb. They have a cat comb and brush, but he hates that. The house has a window with a pet door on it which he likes to use to go out in his patio and watch the birds. He doesn't try to escape either.
Do you have anything else to share about your pet?
It's amazing that Nicky comes to visit me when in the past I've been allergic and therefore didn't like cats. My dog Ally died 2 years ago and I've been very lonely for companionship. Nicky forced himself in and I'm happy he did. Though he doesn't belong to me I like to think that on Sundays he is my cat.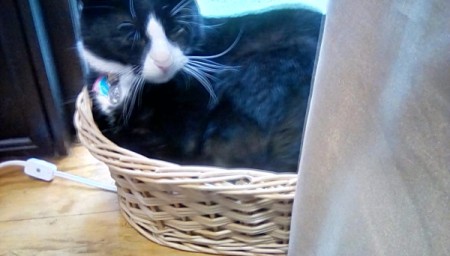 Add your voice! Click below to comment. ThriftyFun is powered by your wisdom!
June 9, 2017
0

found this helpful
That is so neat! We have a part-time cat also and her name is Gracie. She lives at my church and has the run of the building and yard. Everyone loves her so no one is allowed to take her home. I guess there may be quite a few "resident" church cats.
Thanks for posting Nicky's story and nice photos.
Betty
Add your voice! Click below to comment. ThriftyFun is powered by your wisdom!