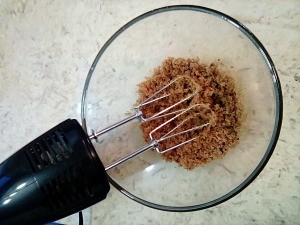 Being frugal isn't complicated. It tends to be just the opposite. Over the years, I've shown appreciation for tips submitted by littergitter, Sandi/Poor But Proud and others, that make things unbelievable simple. Here's one from me.
I'm stewing apples for freezing. Not using a recipe, I add butter, brown sugar and a touch of cinnamon and allspice to taste to the pot while stewing the cubed apples. I freeze these in individual servings to be thawed and heated later in the microwave. And if I wanted to make a pie or fried pies, I can thaw 2-3 or more servings.
When I made the last batch, I was out of brown sugar. Consulting the Internet, I found how easy it is to make your own brown sugar. 1 tablespoon molasses added to a cup of regular sugar for light brown sugar or 2 for dark brown sugar is all you need to know.
Per Internet instructions, I got out the mixer and a deep mixing bowl. I put the sugar and molasses in and blended at slow speed. In about 30 seconds I had a beautiful cup of brown sugar. So simple.
Today, I was out of brown sugar again. No problem. I got out the mixer and my bowl, added sugar and molasses to the bowl and proceeded to make brown sugar.
This time, things went a bit differently. I don't know why. My sugar and molasses would not blend. I had big globs of molasses flying around. I put the bowl in the sink to continue blending, hoping not to get molasses everywhere. It did not work. I had to finish blending the sugar with a fork. I don't know of anything I did differently. The sugar and molasses were the same temperature as the last time.
Then it dawned on me. If a recipe calls for a cup of light brown sugar and you're out, it's sort of foolish to drag out the mixer and a bowl, which will have to be cleaned later.
All you need do is add a tablespoon of molasses along with regular sugar to the recipe. Now how's that for simplicity? No mixer, no bowl.