Tips on making your own brown sugar at home. Post your own techniques here.

Making your own brown sugar is easy and cheaper than buying it at the supermarket; it tastes great on cooked oatmeal in the morning or used in any recipe calling for brown sugar.

To 1 cup granulated sugar, add 2 Tablespoons molasses. Stir together until evenly mixed with a fork. After trying it once, vary it by using 1 Tablespoon molasses, using the dark molasses or the light molasses. We prefer 1 cup sugar to 1 Tablespoon light molasses, but I have made all the other variations. I make a double batch every time.

By Betty

I have made my own brown sugar for years. You use white sugar and add molasses and mix well. I was always running to the store for brown sugar until I discovered this hint. You can make a little or a lot. You can make light or dark depending on the amount of molasses you add.

By Dameemag from Rothbury, Michigan

Make your own light brown sugar at about half the cost per pound of store-bought. Add 2 Tbsp. of dark molasses to 1 cup of white sugar and mix thoroughly. (I use blackstrap molasses, and 1 Tbsp. per cup makes a nice dark brown sugar.)
By Momof1 from Wilkesboro, NC
Comments
October 18, 2005
0

found this helpful
Top Comment
Those snazzy glass jars that nuts come in at Christmas time with the airtight glass tops are perfect for storing sugar, flour, etc. If they're from the same brand (or nut catalogue), they have the same matching pattern.
That's what I store brown sugar in--never the box. When someone wants to know what I want as a gift, thats what I tell them--X brand nuts. It only took one year to get enough jars.
By bill (Guest Post)
March 20, 2006
0

found this helpful
Top Comment
I took one cup of regular sugar and two cups of Splenda, then blended it with 2 tbs of black strap molasses. It came out great and should be a lot lower in calories. Next time I will go down to 1 of molasses as I think it still will work.
September 12, 2007
0

found this helpful
Top Comment
I've also made my own brown sugar for many years now, and not only brown sugar but you can make your own powdered sugar by adding 2 cups of granulated sugar and 2 tablespoons of cornstarch in a blender. Blend on high speed for about 2 minutes and there you have powdered sugar.
Marge from NY
September 27, 2007
0

found this helpful
Top Comment
I have been making my own "brown sugar" for awhile, with 1 cup sugar to 2 Tbls. molasses. I use an airtight canister to store up to 5 cups at a time. It stores good for me, but where I live is pretty dry, especially in the summer. I go through it fast, so it is much more convenient to just make some up when it gets low!
BTW, for S&A's post: it helps to mix it before hand, because of the consistency, and if water comes into contact, it will "clog" up and make it hard to mix. But it shouldn't hurt to try if it doesn't affect the outcome, like cookies.
November 11, 2007
0

found this helpful
Top Comment
Wish I had made a note of this when I read it a few weeks ago. I discovered I was out of brown sugar right in the middle of baking - of course.
I followed the recipe on the jar of molasses which was one cup of sugar to one HALF cup of Molasses - way too much. I now have a batch of very gooey cookies. I will know better next time
By luv2cook (Guest Post)
March 6, 2008
0

found this helpful
Top Comment
Betty, I can't thank you enough for this handy tip! I live in Moscow, Russia and brown sugar is so new here, that it's very difficult to find. We usually bring some over with us from our State-side trips, but run out quickly! I am a teacher at an international school here and I love to make the kids cookies. My students thank you!
If you're out of brown sugar, or just want the fluffiest fresh brown sugar ever, you can make some in a pinch. Just add one tablespoon of molasses to one cup of white granulated sugar and whisk until fully combined.
Want dark brown sugar? Add a tablespoon or more of molasses.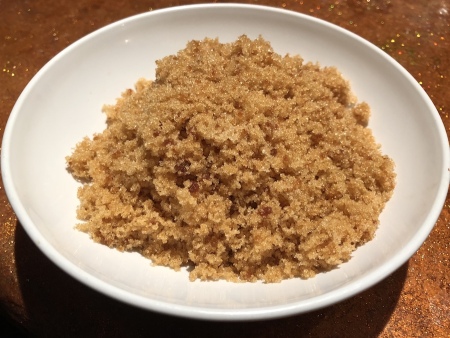 Read More...