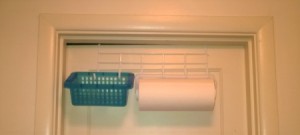 I helped a friend move into her first house since a divorce. To say she downsized would be an understatement. Counter space is of a premium to be sure. So, to consolidate two things, I suggested these two options.
She got a dollar store over the door hook, baskets, paper towel holder, and hot pads/mitts.
I put the hanger over the utility room door. Then, I found that a the paper towel holder hung from the hooks. I said she could either put the little basket or some of their pot holders/mitts on the other hooks. She is going to stay with the basket for little things.
She is happy and that's all that matters.
N-JOY!