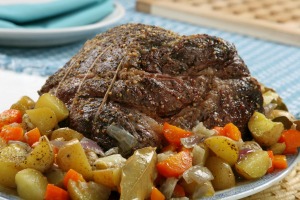 Thanks to those that answered my request overnight for slow cooked roast beef. They were good but I found my recipe which is fantastic. Here goes.
Ingredients:
4-6 lb roast
4 carrots
4 ribs of celery
1-2 large onions
head of garlic
Directions:
I buy the cheapest round roast. Take 4 carrots peeled, cut into 2 inch pieces (I use baby carrots due to laziness), 4 ribs of celery cut into 2 inch pieces, 1-2 large onions (I always use sweet) quartered, an entire head of garlic with just the top cut off. I put the garlic in center and lay vegetables over the bottom of the rest of the pan (I use a 9x13 inch roast pan). Using a 4-6 pound roast, figure 2 1/2 hours per pound. Preheat oven to 200 degrees F.
Dry roast well, salt and pepper roast then brown all sides in large fry pan. Then place roast fat side up on top of veggies and place in oven and turn oven down to 170 degrees F. Do not cook roast beyond 135 degrees, using a meat thermometer. This temp makes med rare roast. Take out of oven and tent roast loosely, resting for 20 minutes. Remove fat and slice thinly across the grain.
This can be done in advance and left alone tented until ready to eat. Reheat at meal time without veggies at 170 degrees F, but not for long so as meat does not over cook. It is so tender!
The gravy with the recipe was awful. Maybe if you added chunked potatoes to the veggies, you would have roasted veggies for the side. You can use the roasted garlic as a spread on bread. The recipe gravy called for 1 cup red wine, 1 cup beef stock adding the roasted garlic and cook down. I'd rather make gravy with a roue and stock and juices. Enjoy!
Source: Delaware News Journal
By Nancy from Wilmington, DE
Editor's Note: If you would like to see the request that Nancy posted, along with the other slow cook recipes, here is the tip:
Read More

Comments

How can I bake a large pork loin roast in the oven overnight?
Answers

coville123
Silver Post Medal for All Time! 433 Posts
December 31, 2017
0

found this helpful
Best Answer
You could leave it on 200 all night then it will be done in the morning.
A slow cooker would work very well makes the meat tender.

Judy
Gold Post Medal for All Time! 677 Posts
December 31, 2017
0

found this helpful
Best Answer
There are recipes for beef, turkey and pork that are in the oven for hours at 200-250 degrees F.

poehere
Bronze Post Medal for All Time! 105 Posts
December 31, 2017
0

found this helpful
Best Answer
Depending on how long you want to cook this will depend on the temperature of your oven. If you plan on cooking this for more than 10 hours, then your oven will need to be set between 180 and 200.
If you only want to cook it for 8 hours increase the oven setting to 200 to 220.

January 3, 2018
0

found this helpful
Best Answer
This is a very good way to safely cook a roast in the oven when you need it to be ready to eat the following day.
Most of your so-called famous "chefs" give these instructions:
Place roast in roasting pan on a rack and start the cooking in a 450 degree oven for about 15-20 minutes.
Reduce heat to 220-250 degrees and cook for 8-12 hours - according to the size of the roast.
To cover or not to cover??
Most cooks say covering with a lid or aluminum foil will hasten/shorten the cooking time and is not necessary.
But if your roast is not done when you need it, you can add a cover to finish the job.
Be sure to check your roast - use a meat thermometer and it should reach 200 internal temp to be safe to eat.
Answer

this Question