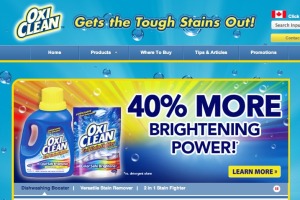 I have been playing with Oxi-Clean powder lately. I used it to clean a badly mildewed life jacket and it came out like new. On clothing, it will remove yellowing. I've tried it on walls, furniture, floors, etc. Great stuff! Just an FYI.
By G-Ma to 5 from Denham Springs, LA
Read More

Comments

Robyn Fed
Silver Post Medal for All Time! 398 Posts
I would like reviews of OxiClean stain remover or any of the Oxy cleaners that come in a jar. Do they work, how well, what stains, etc. I don't want to spend money on this if it does not work really well.
By Robyn Fed from Hampton, TN
Answers

November 28, 2009
0

found this helpful
We have been using oxi-clean for a long, long time. I have heard negative reviews where people claimed one of the products "ate holes in their clothing," but for everyday use, I like oxi-clean.
We have super, super hard water, and all of our whites turn rust colored, so we use oxi-clean to prevent that. Also, our bathtub turns into a rusty mess. I've used many different products to clean it, including very nasty, chemical smelling products, but one day, I decided to use the powdered form of oxi-clean on the bathtub, and "voila," I had the bathtub cleaned in minutes versus hours, and no noxious odors or smells.
I tried looking up oxi-clean on the web, to find out what chemicals are in it, but I haven't found any results yet.
If your water doesn't have a lot of rust, or no rust in it, then you probably don't need oxi-clean. I haven't tried it on carpeting or upholstery yet.
But, for those with hard water, and rust stains, I really do recommend oxi-clean, it is quick and efficient.

December 2, 2009
0

found this helpful
I've used it for years. I let the washer agitate for a few minutes & then stop the washer. Wait an hour or so, then start the washer up again. This helps to get stains & oil out. Of course, you add it to detergent. I thought I had an old container of it, that listed the ingredients, can't find it.
I'll probably find it later.
For those of you that want to get rid of rust easily, use vinegar. Acid breaks up rust. Vinegar is a mild acid. There are others out there, but most people have vinegar. Pour it where the rust is & let set for a bit. May have to be repeated.

December 2, 2009
0

found this helpful
I rely on OxiClean powder for every wash, the spray to pretreat spots, and the little travel spray rides in my purse to treat spots I get in restaurants, etc. I think it's a wonderful product. So far, it hasn't met a stain it can't delete!

Beth
Silver Feedback Medal for All Time! 407 Feedbacks
December 3, 2009
0

found this helpful
Nothing works 100% of the time, but Oxi Clean is darn close!

December 3, 2009
0

found this helpful
It didn't work for me the one time I did try to use it for grease stains on two sweatshirts in 2002. Have never used it again, although I still have the bucket of it out in the garage!

January 10, 2010
0

found this helpful
I sell vintage linens so see lots of very very old stains. While Oxyclean does work well, I think powdered Biz works better. An overnight soak in hot water and Biz will take out even 70+ year old stains on old linens.
Add a scoop of Tide with bleach alternative if the stains are stubborn. Secret is the soak, soak it as long as it takes, even a week if you have to. Does not ruin the fabric either.
Biz makes a liquid but it is blue colored so hard to see if the stains are coming out and if I have to change the water.
The sprays are useless for older stains and for stubborn new ones. I tried them all and they are just too expensive when a box of Biz powder costs $6 (weighs a few pounds) and last a year or longer.

August 4, 2019
0

found this helpful
OxiClean is amazing on set-in blood stains. I have extremely heavy bleeding during my periods. After my last one, I had a pile of stained underwear, jeans, sheets & a dress that I was considering just throwing away.
But after ignoring the pile for over a week, I set them to soak in Oxiclean overnight. In the morning, the blood was gone from everything!! Amazing.
Answer

this Question