Peach Cobbler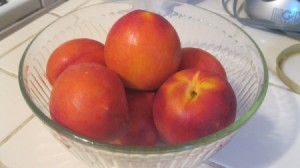 This is a great recipe for this time of year. I've been finding peaches on sale for 49 cents a pound! This recipe is a big hit with my family. My husband's family is from the South and they said it's the best they've tasted. Once you get the peaches peeled and sliced, the rest is pretty easy.
Total Time: About 30 minutes, plus 50 minutes baking time.
Yield: About 8 servings
Source: I saw Katie Lee make this on "The Kitchen".
Ingredients:
4 cups of sliced, peeled peaches
1 cup flour
3/4 cup sugar
1 tsp baking powder
1/2 tsp salt
1/2 cup milk
4 Tbsp butter, melted
1/4 cup sugar
1 Tbsp cornstarch
1/2 tsp salt
1/2 cup boiling water
Steps:
Preheat oven to 350 degrees F. Grease a 9 x 9 inch pan with cooking spray or butter.
To easily peel peaches; score the peach with a knife by making a small "X" in the bottom.
Next put the peaches in boiling water one at a time for 30 seconds.
Remove from boiling water with a slotted spoon.
Give it an ice bath in a bowl of ice and water.
Once cooled, take the peach out and peel. The peel should come off easily. If it doesn't, put it back in the boiling water for about 15 seconds.
Slice peaches, and place in greased pan in an even layer.
In large bowl, add flour, sugar, baking powder, and salt.
Add milk and butter and stir well.
Spread mixture over the peaches.
In separate bowl, mix 1/4 cup sugar, cornstarch and 1/2 tsp salt. Sprinkle evenly over the peach cobbler.
Boil 1/2 cup of water. Carefully pour over cobbler, covering all of the dough.
Bake until golden brown and bubbling, about 50 minutes.
Serve warm or at room temperature. This is really good with a small scoop of ice cream on top.

Add your voice! Click below to comment. ThriftyFun is powered by your wisdom!
Add your voice! Click below to comment. ThriftyFun is powered by your wisdom!
Related Content