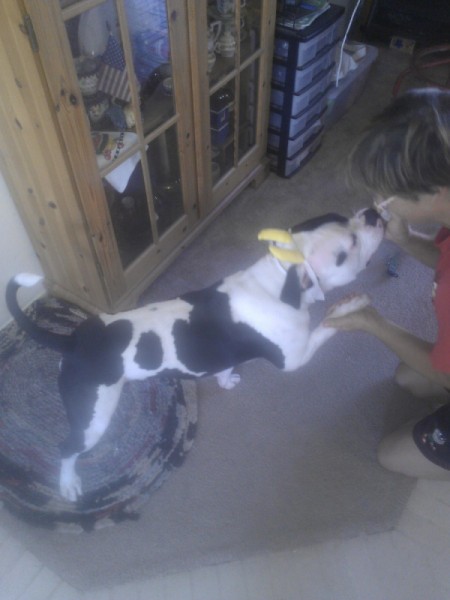 Your Pet's Age
2 1/2
Your Pet's Breed
American Pit Bull terrier mix
How and when did you get your pet?
September 28, 2012 at a shelter
What does your pet like to do for fun?
Chase balls, roll over, go for walks, and make new friends!
Do you have anything else to share about your pet?
The story of "Our Dog Petey":
Petey is a rescued shelter survivor. He is my gift from God. The vet thought he was 1 - 1 1/2. We (my Husband and I) think he is closer to a year. He acts more like a puppy. We don't know his past but you can bet his future is bright! He has found his forever Mama & Papa! The story goes like this, for over 3 years I searched for a Pitty (Pit Bull because I have only ever had great experiences with them). I had looked at hundreds! Then I read that sometimes you don't find the dog they find you!
So I prayed that the Lord would bless me with a dog. Not to big with a sweet personality and disposition that I would someday be able to train as a therapy dog, so that we could go and visit veterans who are recovering from fighting for my freedom!
That is a big order but not for God! I said the prayer on Monday and on Thursday as I looked for a dog on facebook and animal rescue websites there he was! He said, "Mama come rescue me." My hubby was out of town on business, so I sent him the email with the picture of Petey and told him of the prayer and that God had answered it.
We were at at the shelter at 7am. I had my nose against the glass door. At 7:30 the first employee arrived. She said we don't open till 11:00. I responded, I know there is a dog who needs me. I showed her the picture I printed of him. She knew him instantly. Said he had been there 2 weeks and no one had even noticed what a jewel he was. She went to look for him and when she came back she said, he was gone Then at 8:30, Bob came. I shouted, "Pit Pit Hurray!" He was not gone or rescued, he was at the vet getting neutered.
Bob said, "Listen I will get the adoption paperwork, you fill it out come back tomorrow at 10:30 go through an interview and processing and you can be on your way home by 11:30 with him! You are first in line he is yours!"
The pictures are of Petey as a Holstein Cow and the first picture I saw of him!
Add your voice! Click below to comment. ThriftyFun is powered by your wisdom!