Pets and The New Baby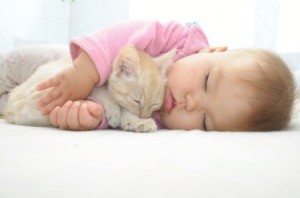 A new baby is an adjustment for everyone, parents, siblings, and pets! Here are some tips to help make the transition easier for everyone:
Before the Baby Arrives:
Bring your pet to the veterinarian before the baby is born for a check-up and routine vaccinations.
If you have never been through obedience classes, you may want to take a course before the baby is born!
Teach your pet not to nibble on people, redirect his attention to appropriate toys and treats.
Teach your pet to sit/stay until invited to join you on a couch or chair.
Talk to your veterinarian and/or your pediatrician if you have any major concerns about your pet and your baby interacting.
Invite friends with infants to visit, supervise your pets carefully around the babies!
Get your pets used to typical baby noises, the creak of the rocking chair, the mechanical swing, you can even play recorded baby cries!
Use baby powder or baby oil on your skin so your pets can get used to the new smells.
Talk to your pets about the baby -- use the baby's name if you have picked it out in advance.
After the Baby Arrives:
If the baby's room will be off-limits to the pets, install a gate or a screen door, your pet will be out of the room but still able to see and hear what is going on. He will feel less isolated this way.
Bring something that smells like the baby home to your pet before the baby comes home from the hospital. Your pet can become familiar with the baby's smell.
When you first arrive home, let someone else take the baby into another room while you greet your pet. Remember, he's missed you terribly while you've been at the hospital! Use your pet's training to keep him calm.
When you are ready to introduce the pet and the baby. Make sure your pet is calm at this point, reward your pet with treats for calm, appropriate behavior. You want your pet to know that being good to the baby is a positive experience!
Don't force your pet to come near the baby if he doesn't want to.
Try to maintain regular routines, if you started each day with a walk before the baby came along, try to stick with it. Keep mealtimes at the same times so your pet's routine isn't too disrupted.
Make sure to spend some quality time alone with your pet every day so he doesn't feel left out.
Some dogs have a natural instinct for mothering; a friend of mine has a German Shepherd who just adores the baby and is always at his side. Please don't immediately dump your dog or cat out of the family if they don't adjust to the new family member right away. Give it time, give everyone attention and affection, and everyone will learn to get along.
By Catherine Forman
Read More

Comments
4 Questions
Ask a QuestionHere are the questions asked by community members. Read on to see the answers provided by the ThriftyFun community or ask a new question.
I'm looking for some advice. I just found out that I'm pregnant, and we have a cat (Destiny). My hubby thinks we need to get rid of the cat, but I can't. She's another baby, if you know what I mean. I love my cat, but do cats and newborns get along? Any helpful hints on what we should do to keep the place clean, etc? Thanks much!
Stacey S. from Eagle Mountain, UT
Answers
Read More

Answers

My dog is 4 years old. He has never been aggressive. However in the last 6 months we have moved cities and I've had a new baby. I had to spend 2 months in hospital with my little guy. Now we are home and my beautiful dog is showing signs of aggression. He nipped at my 6 year old daughter (his best friend) and today when he was caught eating off the counter he growled and snapped at my husband.
Any chance I have I try to spend time with him, playing or walks. I've gotten him a good toy he plays with outside. But my son has to be isolated from germs and I'm unsure about how my dog will be with him so we haven't socialized them much. I don't know what to do. Is it normal that a dog goes through aggression when a new baby is introduced?
Read More

Answers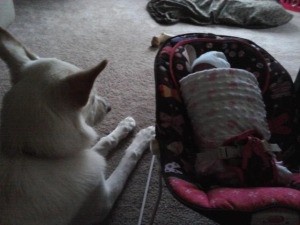 I have a 11 month old female white Shepherd pup who has been house broken since we got her with no accidents. Recently we had to kennel her for 18 days while we were in the hospital having a baby (18 days because the baby was early and had to spend some time in the NICU).
We got home today and introduced her to the baby. She did very well with her. They sat together on the floor, and every time the baby made a peep, the dog got up and checked on her.
Well, I was feeding the baby and the dog came in the living room and started peeing on the carpet. I was so disappointed because she was doing so well with the baby and then we had this accident. Does anyone know why she may have done this? And do you have any advice on how to correct this behavior so that it doesn't happen again?
By Josh from Perry, FL
Read More

Answers
Published by ThriftyFun.
© 1997-2022 by Cumuli, Inc. All Rights Reserved.
https://www.thriftyfun.com/Pets-and-The-New-Baby-1.html