I haven't had camera as long as most of you, and I haven't made a concerted effort to learn how to use it. I've just been picking up bits of information as I need it. For now, I wouldn't know an 'f' stop from a short stop with the New York Yankees.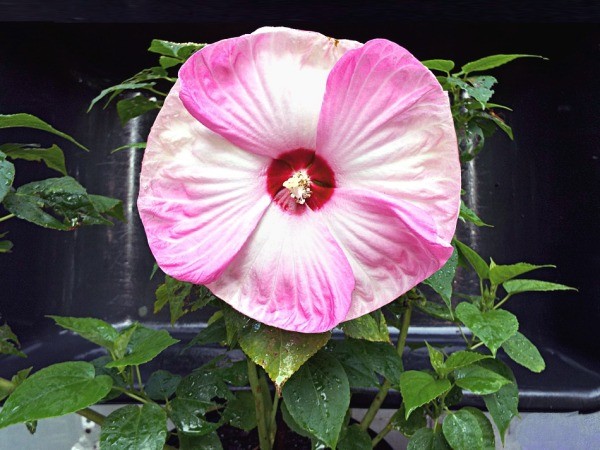 I've always heard though about the wonders of early morning light. I don't know if it's the level of light intensity or the angle of the light rays or both. But early morning, just before the sun meets the horizon, is a great time to take pictures.
The above picture is of Hibiscus moscheutos Luna Pink Swirl. This early morning light permitted me to capture the full intensity of the flower's color without any washed out areas.
Actually, this may not be Pink Swirl. It may be a daughter from seed. I've found that the Pink Swirl, though a hybrid, does come very close to its parent, from seed. And if this is from seed, it's actually an improvement over the original. I'm trying to keep better records and labeling.
Here is a tight bud of the rose 'New Day'. The color of this rose is so intense, I cannot get a good picture during the day. Most detail is lost in its brightness and intensity of color.
With the early morning light, I was able to capture a very good likeness of this very beautiful yellow rose. You might guess, I have several more 'New Day's' in the making.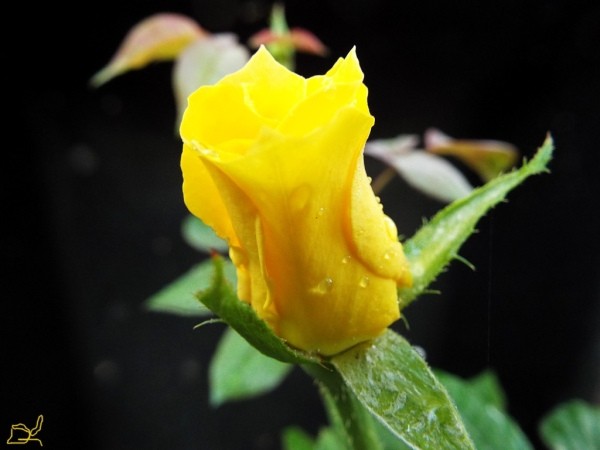 Here, heavily laden with dew drops is a Dark Desire rose. This particular blossom is missing the rose's characteristic violet hue. Instead, we have a very interesting dusky 'wine' effect. I like it very much.
The Dark Desire is said to be a tea rose with a florabunda habit. Whatever the case, and though it is a beautiful rose, its habit is an unsightly, nondescript mess. I guess it could be called a 'sprawling tea'.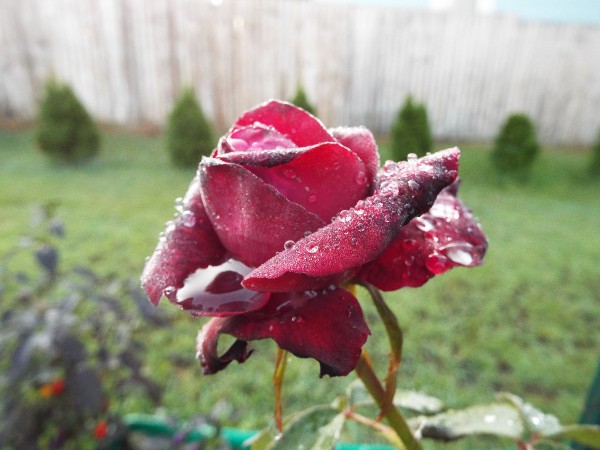 From over my shoulder, and to the left in this picture, I see the sun is beginning to break the horizon. I quickly capture this vinca blossom from a circular bed on a hill.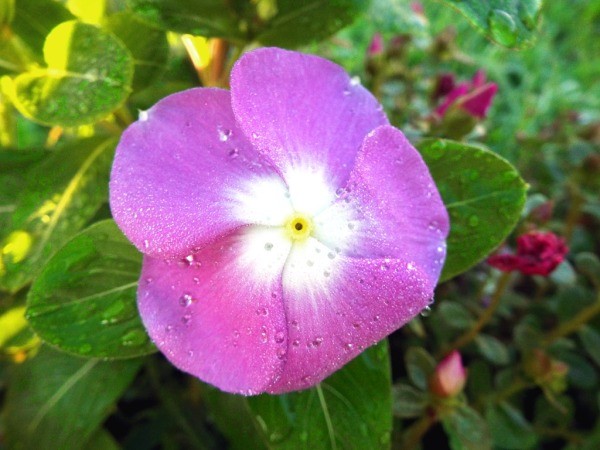 Stepping into the shade, and near a refuse pile, I found an interesting burst of red. Though these tomato vines have been discarded for over a week, the tomatoes are still hanging on to their brilliant pigment.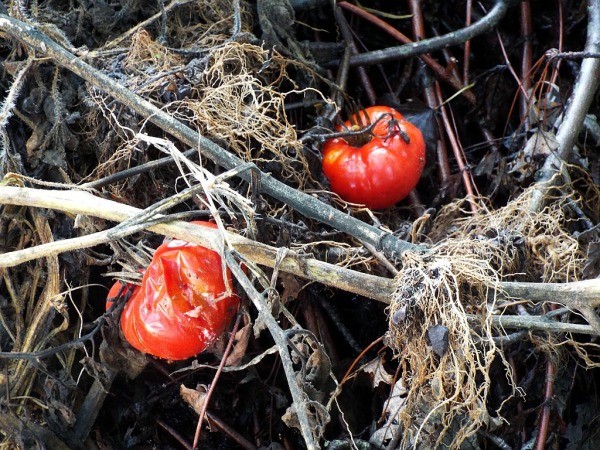 As you can see here, the rising sun is taking its toll in the quality of the pictures. The normally green leaves in the background behind a Buddleia blossom have taken on an eerie shade of yellow.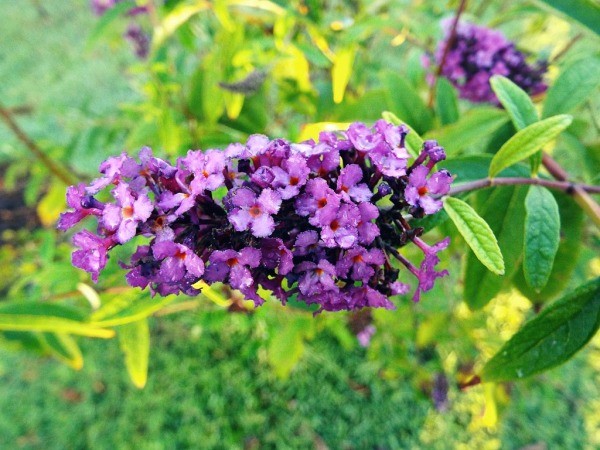 As part of my naturalizing efforts, here is a patch of healthy Millennium ivy and a leftover white begonia to keep it company.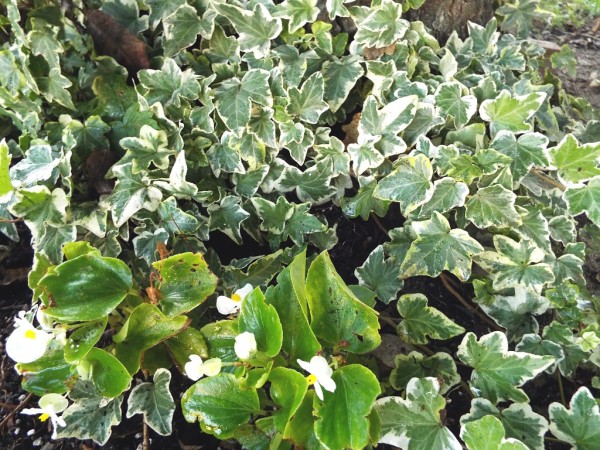 As daylight speeds on, I quickly take my first shot this year of Loco pepper. I'm always amazed at its combination of colors.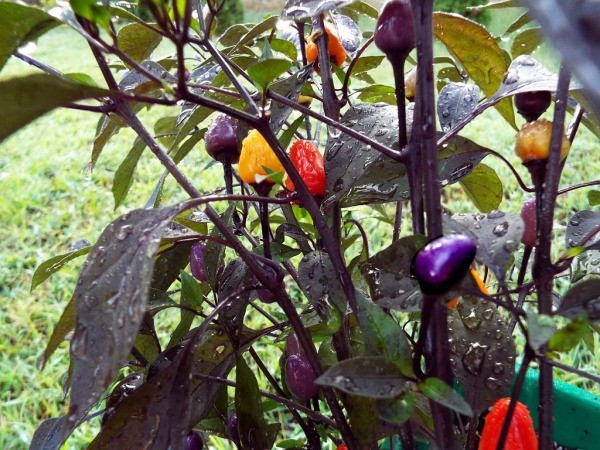 While I don't know the name of this hosta, I divide the plants as soon as they are large enough. It is striking and would make a nice specimen plant, but I hope to have a large area devoted to nothing but it.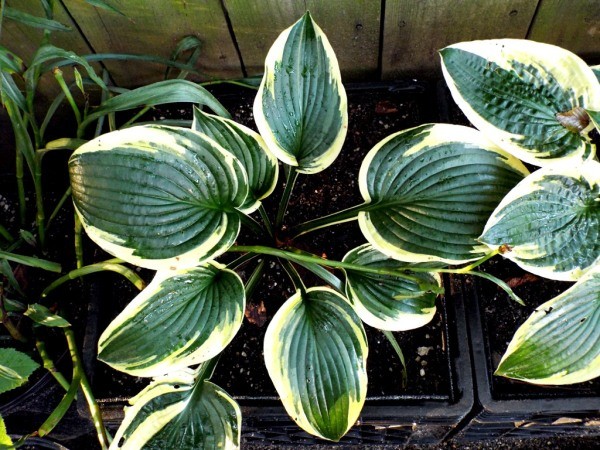 In one of the last remaining areas of shade, I spot a few pink impatiens.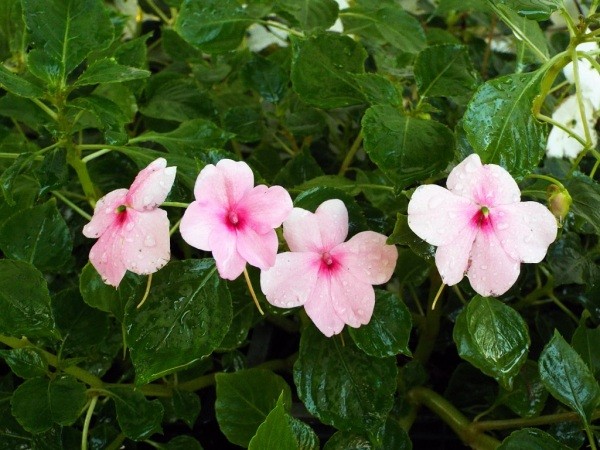 And before returning to the house, I took a couple of shots of Euonymus fortunei Emerald Gaiety rootings. This beautiful plant has a strange characteristic. A single plant may be a solid dark green, but it may produce parts that have white margined leaves and rootings from these margined leaf plants may produce either solid or marginated plants. It's like Forrest Gump's box of chocolates, 'You never know what you'll get'.
With the new day here, I look back before going inside, taking one more glance at my row of arborvitae. These babies get all the TLC I can give them. I want them to grow strong and healthy. In a few short years they will completely hide the ugly fence erected by a neighbor. Yes!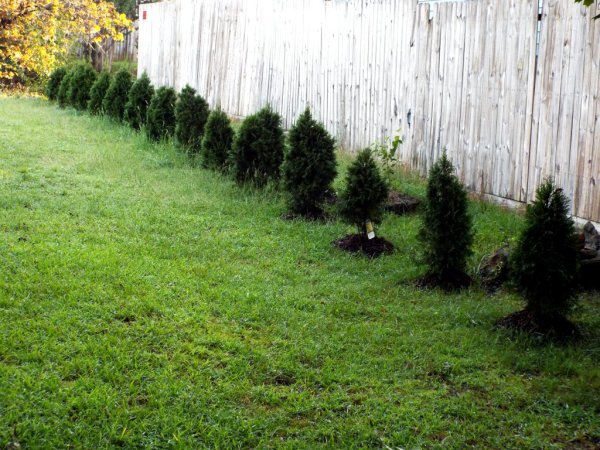 Rise and shine, Y'all. The early bird gets the best pictures!
(And don't forget to post them).
(You're welcome, Barbara)