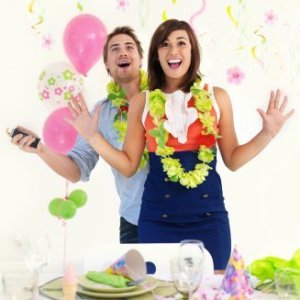 No matter what the age group, everyone loves to come to a great theme party. However, they can cost a fortune to host. Check out this frugal but memorable theme and trust me your guests will have a blast and it will be the talk if the town for years to come.
Years ago, my mother with the help of two others from my Girl Scout troop got together and plotted a surprise birthday party for me. And it was certainly that. It's a "Come As You Are" party theme! It works for any age group and almost any occasion. In fact, the more people invited the merrier.
Literally, you arrive at, say 7 am on a Saturday morning for example. Knock at the door and invite your guests without warning to gather up what they want to participate in a birthday breakfast party for their friend Here's the catch; In the shower? Grab a towel and robe. Shampoo still in their hair? Oh well! In bed sleeping? Too bad, get them up in their PJs. No matter what condition they happen to be in, out the door you go.
Mine was a breakfast party so the guests also bring a food and or drink item they would cook or bake at the party. However, you could have the party favors available.
This was fantastic fun and we laughed for years after this occasion because as you can well imagine the way my guests arrived was a scream.
Some ideas I have could be a nighttime party for the adult crowd. Knock on the door at 10 pm on any given day. Have them bring a choice of music or any item they want to enlighten the party.
It can be as simple as a card playing party, an after the night before New Years day party with your friends, family , coworkers, a neighborhood barbeque, anniversary or pool party, Super Bowl, or any lighthearted occasion you can think of.
No need for expensive props or decorations because, believe me, your guests will be the center of attention. The best part is your party will be unique and the talk for years.
Have fun with this and drop me a line or two and post pictures so we can all have a laugh.