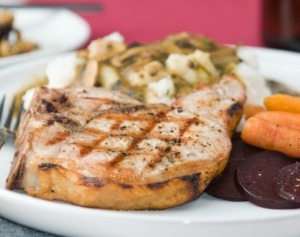 It is delicious and so very easy to prepare. It takes less that an hour to prepare and can be prepared the night before.
Ingredients:
6-8 pork chops, depending on the number of persons
2 regular or 1 large size can of cream of mushroom
4 large baking potatoes, washed and cut to bite size pieces - peeling is optional
Pint of your favorite mushroom, cleaned and sliced
Directions:
Place the prepared potatoes in a bot of boiling water until still a slight bit hard. In the meantime, fry your pork chops 3 at a time using the seasoning that you regularly use for pork chops, plus a little extra that will also provide some flavor for the potatoes.
Layer your pork chops at the bottom of a 9x11 inch casserole dish, next layer your potatoes then keep going with the chops and potatoes until all gone. Mix your mushrooms with the cream of mushroom soup and pour on top of the casserole.
Cover your casserole with a lid or aluminum foil and place in a 375 degree F oven for 45 minutes.
Serve with side salad, corn, beans, and rolls that can be used to wipe up that delicious gravy with. ENJOY! And if you enjoy it hand it down to family members.
Servings:
6
Time:
30 Minutes Preparation Time
45 Minutes Cooking Time
By Demelza Gutierrez from Falfurias, TX
Read More

Comments
Sprinkle pork chops with seasoning salt. In skillet, brown chops on both sides in oil. In large bowl, combine soup, milk, sour cream, salt & pepper.
Read More...