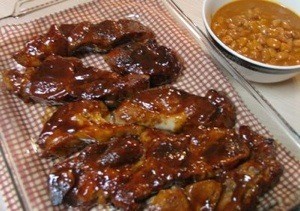 This rib recipe makes the tastiest and most tender ribs you have ever had. Even if you don't like pork ribs I am sure you will love these. This recipe is a fix it and forget it kind of meal, and who doesn't love that! It's prepared in the oven and you can finish up this recipe either by using your ovens broiler or placing them on your outdoor grill.
Ingredients:
country style pork ribs
beer or apple juice
favorite rib rub, or seasoning of your choice
broiler pan
foil
barbecue sauce
honey
brown sugar
and a little patience
Directions:
Take a broiler pan and fill the bottom section of the broiler pan about half full of beer or apple juice. On the top section (the part with the slits) lay out your ribs. You may add a rub or sauce at this time or leave them plain. Use seasoning salt, Emeril Essence Spice or whatever spices you have on hand will work.
Cover the pan with foil and fold edges under to seal in the steam as they cook. Place in a 300 degree F oven for 2 1/2 to 3 hours. Remove foil carefully as steam will be hot. Now all the grease is down in the bottom of the pan with the beer or apple juice, the ribs are completely cooked and tender.
All you need to do is finish them up on the grill or under the broiler with sauce. Add honey and brown sugar to any barbecue sauce. For grill place ribs on grill and coat with you favorite sauce. Grill on each side just a few minutes until crispy. For broiler, Add barbecue sauce and broil for a few minutes on each side. Watch closely because sugar in the BBQ sauce will burn quickly.
By Tina from Mesquite, TX
Comments
July 18, 2009
0

found this helpful
Top Comment
Awesome-sounding recipe, I'm gonna try it! I also bake my ribs. Just cover them with onion and lemon slices and Club House "Spicy Pepper Medley". Then cover with foil and bake at 300 degrees for 3 hours. I brush with sauce afterward.
They're always a favorite at the shelter where I cook for 60-75 women per day.
July 21, 2009
0

found this helpful
Top Comment
This is the best recipe for tender, juicy ribs that I've ever made. I've always smoked my country ribs - but the is the only recipe I'll ever use, now. I'd give it 5 stars.
These are a no fail, fall off the bone good ribs!
Ingredients:
3 lbs pork ribs (baby back or side)
Chili Powder
Garlic Salt
Onion Salt
Liquid Smoke
1 cup ketchup
2 Tbsp. brown sugar
3 Tbsp. liquid smoke
Directions:
Cut ribs into 3 or 4 bone sections and place in a large oven safe pot. Cover with water and put on the stove to boil for a minimum of 20 minutes to a maximum 1 hour. This will cook the ribs, and boil out any excess fat. Drain. Return the ribs either to the pot they were boiled in or dump them in the slow cooker.
Preheat oven to 325 degrees F. Sprinkle the ribs with chili powder, garlic salt, onion salt. Sprinkle liquid smoke over all. Bake for 1 hour in the oven or in slow cooker on low for same.
Prepare the BBQ sauce by mixing ketchup, brown sugar and measured amount of liquid smoke. Brush on to baked ribs and either return to the pot to bake in the oven/crock pot for 1 hour more OR for those BBQ aficiandos out there, similar to my hubby, you can put them on your medium grill to caramelize the sauce.
Servings:
4
Time:
15 Minutes Preparation Time
3 Hours Cooking Time
Source: My ex-step mom, Lois P.
By Shauna from Devon, AB