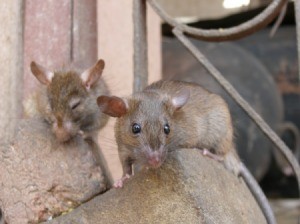 There is a rodent (not sure what mouse, rat, or squirrel), in my car. However, it wasn't under the hood, it was in the hose connected to the gas tank. I had the hose repaired and within a week it chewed it again. What should I do?
By Judith
Answers

April 29, 2012
5

found this helpful
We had the same thing happen to us, two times a row, caused by a rodent (probably a mouse) chewing the gas line. We inquired at a local feed store what we could use to deter rodents, and they said to use fox urine.
Now I know that sounds funny, but they do sell little kits with bottles that are open at the top on the side (so the odor can get out) and they hang on your wheel well. It did the trick.
Couple things to remember: always take them off before driving (!) and don't take them into your house, as in a confined area, the smell is awful, even if you drop a small drop of it. One last note, our homeowners insurance paid both times to have the repairs done (it was over 1200.00) to the vehicle.

February 6, 2019
1

found this helpful
The best news was to call our homeowners insurance as our bill is $1500.

November 12, 2020
1

found this helpful
How does one attach the bottles to the wheel well??
Answer

this Question