My house trained dog has recently started peeing in the house, whether we are home or not. What can we do to stop him? The only thing that has changed is that a month before he started peeing everywhere, we had new carpet installed throughout the house, which now has stains everywhere. But it's not just the carpet, he is cocking his leg everywhere.
Can you please help?
Kaylie Bradley from UK
Answers:
Previously House Trained Dog Has Started Peeing in House
If you have noticed that you have been busier or home less, this could be why. They hate being left alone for long periods of time from their owners. If this is the case, then spend more time at home. Do things like, walking him or her, go to the park, car rides, etc. You could also (if you have been thinking of a second pet) get him/her a friend. Leave a shirt laying out for them to smell as long as they are not chewers as well (kind of a scent memory of calmness). If the dog is getting older, you might need to see if the vet thinks there is a bladder weakening problem. There are online recipes for reverting them from peeing, but you would have to try different ones because all dogs (like people) are different. Hope this helps a little. (01/25/2006)
By Mary Melnyk
Previously House Trained Dog Has Started Peeing in House
Sounds like he is remarking his territory. Now that he doesn't smell himself on the rug (or anyone else) he may feel he needs to remark his territory. My dog has done this when we move to a new house (we ended up taking him outside more to mark the new yard) and make sure he has familiar items like bed and toys around, they won't pee on those. He may just be confused with the new stuff. Get the carpet professionally cleaned (tell them about the dog messes) and in each room or floor put something familiar, like a towel or blanket with his scent, and keep his security items handy. Make sure he goes before you leave. But if he continues, take him to the vet, and check for allergies or bladder/urethra problems, possibly. (01/26/2006)

By camo_angels
Previously House Trained Dog Has Started Peeing in House
Get your dog to the vet. A house trained dog does not become un-house trained. He may have a bladder infection, a kidney infection, or something else.
I have done animal rescue for years, and this is one of the standard questions on our application to adopt a dog from us. (01/26/2006)

By Judy
Previously House Trained Dog Has Started Peeing in House
You didn't mention your dog's sex, breed or age or if he had been neutered. If he is four to six months old he may be getting his hormones, hence the marking. Sometimes young dogs have house-breaking relapses. Go back to what you did when first were housebreaking him. You can also leash him loosely around your waist to keep him close while you work around the house and crate him when he's left. Crate training is great for dogs for many reasons. He may have too much freedom. Correct the bejeebers out of him for marking if you can at that instant. Timing is everything. If you can't correct at that instant, then don't. Dogs live in the now.
You have a real challenge on your hands because you are trying to train after the fact and your house smells wonderful to him. But don't give up. Do investigate crate training.
Also, when out on a walk do not let him mark. Give him a "No!"and move firmly on. He may look confused because he has always marked there. Be clear and consistent, the whole family on the same page.
Dogs are pack animals and you and your family are his pack, so outrank him even as you love him. Work backwards with him until you can trust him again. If you suspect a physical problem check with your vet. Dogs do not need to mark their territory anymore than they need to do their business in the house.
I'm sorry this is so long but dogs are so wonderful and so many end up tragically because of training issues. Please don't give up. (01/26/2006)

By Vicka
Previously House Trained Dog Has Started Peeing in House
Have him checked for diabetes, it's a sure sign. (01/26/2006)
Previously House Trained Dog Has Started Peeing in House
My dog did that and it was because she had a urinary tract infection. (01/27/2006)

By Bonnie
Previously House Trained Dog Has Started Peeing in House
All the above advise is very good. Take your dog to the vet for a check up and if your dog isn't neutered, get him neutered.
The dog probably is responding to the carpet smell and carpets have a lot of chemicals in them. I hate carpets and almost all of mine have been replaced with hard wood floors.
Watch for signs of when he is going to pee, take him out and praise him lavishly. If you catch him in the act, tell him NO! but don't hit him, immediately take him outside and when he continues his business, praise him. It may just be the carpet smell. Maybe your dog is feeling strange because the carpet is new. Sort of like bringing in a new pup or baby. (02/10/2006)

By Anonymous
Previously House Trained Dog Has Started Peeing in House
I have a 1 yr 3 mos Maltese. She was house trained until recently. We moved into a new city and stayed with my brother for 1 month no problems. Then we moved into our own apartment. I started a new job after a three month layoff. One day I had a new visitor over and she kept barking and was very excited and she peed as I was picking her up to put her in another room. Now she goes #1 and #2 in the house when I am at work. Today as usual, when I got off of work I took her out and she went #1 and #2 outside also. I stop feeding her in the mornings and now feed her only once in the afternoon. What can I do? She is careful to do it on any piece of paper she can find or on the tile floor, but not on the carpet. She seems to know that she did something wrong when I come home. Even if I don't say anything to her about it, she gets quiet and timid. What should I do?
Editor's Note: Get some piddle pads and put them in a place she has gone before. Praise her when she goes on it. She is probably a little traumatized from all the changes, the moves, and now you being gone. She'll probably calm down after a few weeks. (06/06/2006)

By kathy lee
8 yr old lab was Previously House Trained Has Started Peeing in House
I have an eight year old lab that has been house trained ever since I housebroke him when he was 6 months old. He is neutered, and I am trying to figure out why he is peeing in the house more often. I will take him to the vet to rule out urinary tract infection ASAP. He has peed from thunderstorms in the middle of the night, and he also seems to pee after I am away for a weekend and then get back. Usually it's not on the rug, but this time it was and I'd like to take care of it immediately. Should I crate him if it isn't urinary tract infection?
Is it possible that I am giving him too much water and he has to go really bad? I used to give him a measured amount of water every day, but since we moved in with my girlfriend she gives him more water than I used to.
Another thought is that our dog walker takes him out at 2 pm. I never take him out at 2 pm. Maybe this is throwing his routine off? Should I try to find a walker that can take him at 5:00? That's closer to the time I take him out normally.
(10/15/2006)

By joe raffone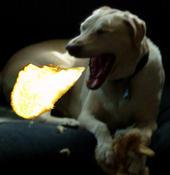 Previously House Trained Dog Has Started Peeing in House
I have a six year old yorkie, at least that is what I think.
We got her from a lady at a vets office. I do not think she was treated so well, she seems very scared. The lady claimed to have 20 plus yorkies. As soon as we got her home she started using the floor but when I would put her outside she would finish. And when I come home from work she will be outside but the floor still soiled. Now I am trying a new routine and putting her out the dog door and making her stay out until she does her business, then praising when she comes back in. We have only had her for about 2 weeks so we'll see how it goes! Thanks to all for the previous answers. Helped greatly. (03/19/2007)

By toughyreader
Previously House Trained Dog Has Started Peeing in House
My 3 year old male chocolate lab was recently neutered before we moved. Now that we have moved from Ohio to Virginia, it has been a week and he has had three accidents in our house. He is a big dog and they are big pee accidents on my brand new white carpet (sniffle). In Ohio we lived in a downtown penthouse where he went out only three or four times a day and he never had accidents. However, in the new house, he has a huge fenced in yard where he can go out whenever he wants and has freedom to pee and poo all the time, which he does. However, he has had these accidents. Maybe it is readjustment issues, or the fact that his activity level has increased so much that he needs more water, and just can't hold it through the night (when the accidents are happening). We have a huge water dish that he and the two cats share that is always available, maybe he is drinking too much because of his activity level? Who knows! But he really acts like he's so ashamed when he does it. I am a psychiatrist and if he were a human, I would prescribe him something for bladder control. Your thoughts emailed to me at michaelhbenz AT hotmail.com are appreciated.
Editor's Note: I'd put the water up late in the day. Because he was used to being walked when you were in the penthouse, he may be confused about when to go. Maybe walking him out on his leash before he goes to bed would help. (04/25/2007)

By mike