My 11 month old Maltese who has been toilet trained for months now has just started peeing inside in the evening. He is also doing it when he gets excited to see people. Does anyone know why this is and how to stop it?
By Jazzmyn from Timaru, New Zealand
Answers:
Previously House Trained Dog Has Started Peeing in House
Just like you said, its an excitement thing! Dogs can't tell they're bladders they're happy! We pee when we laugh! Okay, when you come in the house, ignore him. Give him a minute or two to calm down and realize you're home.
Dogs have no conception of time! When you walk in the door, don't look at him. Say hi, in a calm voice, and walk away with your arms crossed. When he just looks at you after the minute or so, then and only then do you pet him and say hello in a normal calm fashion! Don't ever make a huge deal that you home! It worked with my Chihuahua. Good luck. (04/16/2009)

By ivorylov
Previously House Trained Dog Has Started Peeing in House
I have a 6 yr old Dachshund who has started the same thing after no problems for the past 5 years. I have brought out my old cage that I used to originally housebreak him in, and am putting him in it when I leave the house or go to bed. He's getting the idea again that I won't put up with it!
The most important thing though is to find out why. With mine, I had adopted a cat, but she (for many reasons) didn't work out. The cat had become a great friend to my dog (his best friend is my other dachshund), and now he's upset that he can't find the cat anywhere in the house anymore. I feel sure that it won't take but a couple of weeks and he'll be straightened back out again. Good luck with yours! (04/22/2009)

By Cricketnc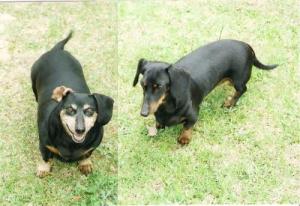 Previously House Trained Dog Has Started Peeing in House
I forgot to add before, both my dogs are trained that the minute I come in the door, the first thing I do is put my stuff down, then it's straight to the back door to let them out. They've gotten to where they say a quick hi to me, (not the other way around), then they take off to the back door. They wait till they come back in to greet me properly! (04/22/2009)

By Cricketnc