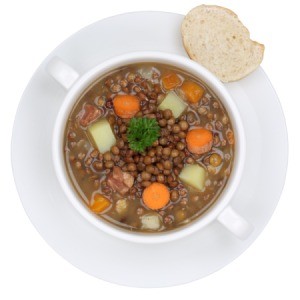 I made these recipes up. One time when my son was a baby, I had a Knorr's baby soup or something with a petrified carrot in it, and so wrote them. They mailed me a year's supply of soup; and voila, those two recipes were born!
Lentil Soup
Ingredients
Package of Knorr's Leek Soup or Vegetable (cheapest at Winco, maybe Costco)
Lentils
onion
potato (1)
carrots
chopped tomatos/tomato paste, your choice
celery
Chicken broth (optional)
Balsamic Vinegar
Lemon juice (optional)
This could be cheaper without the Soup Mix, but if you are working, tired, want an anti-depressant way of making something quick (no work), it's good.
Directions
Saute the carrots and celery and onion (Someone's grandmother did this in Ukraine), set aside.
Cover lentils with water, put in package soup; one envelope. Peel potato, cut and put in soup. Put in sauteed veggies. Cover, cook for 45 minutes to 1 hour. When potato is soft, I add some Balsamic vinegar and, if I want, lemon juice. Cook for another 20 minutes.
Meaty Tomato Soup
Ingredients
Ground Turkey
Ground Meat - Hamburger/Beef
Knorr's Leek soup mix
1 small can evap milk
onion
tomatoes
oatmeal
any kind of tomatoes
bread
The recipe was made up originally with just meat, evaporated milk, and leek soup; and very tasty and rich, but I had everything I have to stretch it. People like it
I think these are both relatively heart healthy as that's my concern and not overall pricey.
By Esther from Pasadena, CA
I am looking for a recipe that used to be on the back of the Knorr Box, the one you would use to make spinach dip. It was called something like country chicken. It was great and I had saved the recipe but my computer died and they don't even have it on their site. Thanks in advance for any help.
Angela from Painesville, OH
Answers
May 31, 2007
0

found this helpful
Best Answer
Here is a recipe that is from Knorr. It is called Savory Dill Chicken but I think the name has been changed over the years.
June 4, 2007
0

found this helpful
Best Answer
This recipe was on the back of the Knorr's Vegetable Soup Mix box. Hope this is what you wanted! Donna
Knorr's Spinach Dip Recipe
1 pkg frozen chopped spinach, drained and squeezed dry
1 pkg Knorr's vegetable soup mix
1 small can water chestnuts, chopped
1 1/2 cups sour cream
1 cup mayonnaise
Mix the sour cream and mayonnaise together in a bowl. Pour in the soup mix, water chestnuts and spinach. Mix thoroughly and refrigerate for at least four hours. Stir before serving.
By Heather (Guest Post)
March 14, 2008
1

found this helpful
Best Answer
I HAVE THE RECIPE! Love it! I alter it slightly, but I will sent it as it appeared on the back of the box. I thought that I had lost it also and did quite a bit of searching through recipe boxes, etc. and finally did find it.
COUNTRY CHICKEN SKILLET
2 Tbl. margarine or butter
1-1/2 lb. boneless, skinless chicken breast halves
1 c. water
1 pkg. Knorr Vegetable Soup Mix
1/4 tsp. dillweed
1/2 c. sour cream
Melt margarine in lg. skillet over med-high heat. Add chicken and brown, turning occasionally, about 5 minutes.
Stir water, soup mix and dill into skillet; bring to boil. Reduce heat; cover and simmer, stirring occasionally, 10 minutes or until chicken is tender. Place chicken on platter.
Remove skillet from heat. Stir in sour cream. Spoon sauce over chicken. If desired, serve with noondes.
Answer

this Question

...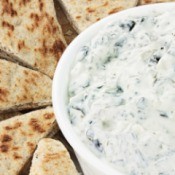 There is a great recipe for a spinach dip. it is on the back of the Knorr's Vegetable mix and, boy is it good. My girlfriend made it for my daughter's birthday party. Now mind you, I do not eat spinach, however with this recipe, it is great. I loved it and so did hubby. She did not put the water chestnuts in. A great way to eat your spinach. My mother also put some in between her sandwich (I had help yourself to sandwiches) and she said it was good.
By Barbara from Shoemakersville, PA
Link: http://www.us.knorr.com/Recipes/6200/1/Knorr-Spinach-Dip.aspx