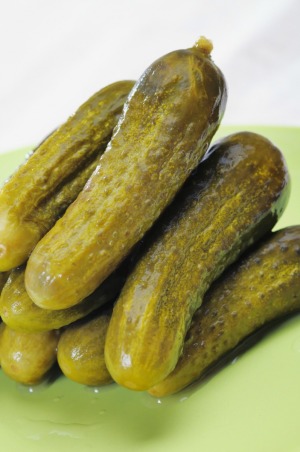 I got this from my sister-in-law and it is a good way to use up your old home canned pickles. If you don't can your own you can buy them and make them.
Ingredients:
2 cups sugar
1 1/2 cups water
1 Tbsp. dry mustard ( I used regular in bottle, didn't have dry)
2 cloves garlic (chopped)
1 onion (chopped)
2 Tbsp. horseradish
3/4 cup vinegar
Directions:
Combine the sugar and water, and heat until sugar is dissolved. Cool. Add the above 5 ingredients to the sugar mixture. Add the sugar mixture and pickles together and put back in jar.
Put in refrigerator for and few days for flavors to blend.
If the pickles are large, it is better to slice them in smaller pieces.
Source: My sister-in-law
By Jan M. from Springfield, MN
I recently received a gift of refrigerator pickles bought from a farmer's market. The hamburger dill slices had originally been purchased in either the gallon or maybe 5 gallon economy size, and drained and packed into small jars. Then a different brine (or maybe the same one with spices added to "kick up" the flavor) had been poured over them.
The jar I was given had jalapeno, sugar, tabasco and garlic added to the new brine. My question is -- does anyone know of recipes for doing this? I have thought about experimenting, but don't know whether to add more vinegar to the original brine, how much spice to add, etc.
Thanks in advance for any recipes you can share with me using this technique. It seems like an easy way to make your own personal style of pickles. Good for gift-giving also.
By Paula W
Answers

April 20, 2005
0

found this helpful
My husband likes sweet pickles but not the dill. He is watching his sugar intake, so I bought whole dill pickles, drained the juice out of the jar, cut them into chunks, and added artificial sweetner. Let them sit a few days in the refrigerator and occasionally shook them to mix. He loves them, he gets the taste of sweet pickles with a bit of dill. He still can have his sweet pickles without feeling guilty.
By Julia (Guest Post)
April 20, 2005
0

found this helpful
Follow these instructions exactly...and you will have
the best sweet pickles that you've ever eaten.
Sweet Dills ( Miss Ettas 4th of July Sweet Pickles)
2 quart jars of Vlasic Kosher Dills
Pour all juice out and rinse pickles in cold water. Drain and pat (squeezing) dry.
Slice in strips, or cut in chunks (any size or shape desired).
Wash and dry jars and put all the cut pickles back into jars.
Boil 1 &frac; cups of apple cider vinegar with 2 &frac; cups of sugar. Add 2 &frac; tsp whole allspice. Pour hot mixture over pickles in jars and put lids on jars. Allow to sit on counter overnight.
In the morning, pour off the liquid and bring it to a boil, then pour it over the pickles again. Replace lids and allow to cool on counter top. When cool, put jars into the refrigerator and allow to cure for 2 weeks before opening. Everyone who's eaten these
pickles says they're the best ever. Enjoy.
Julia in Orlando, FL
By Shirley M (Guest Post)
April 21, 2005
0

found this helpful
My brother gave me this recipe:
Sweet Hot Dill Pickles
Put 1 quart dill pickles, drained, in a bowl.
Add:
1 T. crushed red pepper
1 T. Tobasco sauce
2 cups sugar
Stir. It will make it's own juice. Leave in bowl and stir occasionally til sugar dissolves. Then store in jar.
These are very hot! For less spicey pickles cut back 1/3 to 1/2 on the red pepper and tobasco. Also you can save some of the dill pickle juice to put back on if you want more of the dill flavor. Make to your own taste.
By Paula W (Guest Post)
April 22, 2005
0

found this helpful
Thank you all so much for the recipes. These will give me something to work with. Can't wait to try them -- they all sound SO good! PW

August 16, 2005
0

found this helpful
Recently, Vlasic offered some very tasty "Zesty" Bread & Butter Chips in my area (southwestern Virginia). They were available only for a short time and may have been withdrawn from the market, as they no longer seem to be in any of the Vlasic product info sites and local grocers seem unable to order them.
As I grew very fond of this product, I have had to resort to a "creative workaround"... specifically, I have developed the following "recipe":
1 24 oz jar of Vlasic Bread & Butter Chips/Stackers
or whatever
1/4 t hot pepper flakes (like those found in most Pizza
restaurants)
Drain liquid from pickle jar into a small saucepan, add hot pepper flakes, and bring to a boil over high heat, stirring occasionally. Pour hot liquid back into pickel jar and replace cover tightly. While cover may "seal", it should be refrigerated or (re)processed in boiling water bath for 10 minutes.
After 48 hours, the chips will taste almost exactly like the Vlasic "Zesty Bread and Buttter Chips".
Enjoy!
Answer

this Question