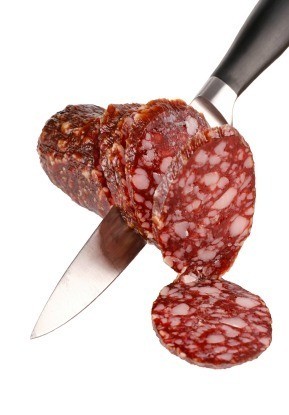 Does anyone have any recipes to use a big Hickory Farms summer sausage? Thanks.
By ralphed from Middletown, NY

Answers
April 2, 2009
0

found this helpful
Have you thought about putting it in pasta salad? I make pasta salad using the rainbow rotini, black olives, baby corn on the cob, diced cheese and sometimes add pepperoni slices or diced summer sausage if I have it. Then pour Italian dressing over it to marinate nicely.
April 3, 2009
0

found this helpful
I do a pot of red beans and rice every month with chopped up Polska Kilbasa and some corn. You might want to think of that? Or, chop it up and freeze them, then when you make augratin spuds or stir fry, you have just some and don't have to thaw them all. Google the meat on recipes.com and you will find hundreds of recipes.
April 3, 2009
1

found this helpful
We like it in hash. Just fry some onion, potato, and add finely chopped summer sausage. I put it in beans when I cook them in the crock pot. I use it in a breakfast bake. Just lay slices of bread in a baking dish. Layer on some thin slices of sausage and pour on enough beaten milk and egg mixture to cover. Bake 350 till eggs are set. You can even use it in soups.
April 4, 2009
0

found this helpful
I have one that I need to use too. Thanks for the suggestions.
April 5, 2009
1

found this helpful
You could make Sausage Stew in the crockpot. My family loves this, and the sausage seasons the stew so well that you don't need to add other seasoning to it. You can if you want, but we don't.
Sausage Stew
1-2 lb smoked sausage, cut into chunks
4-6 med. potatoes, cut into chunks
1 small bag baby carrots
1 med. onion, cut into chunks
1-2 stalks celery, optional
water
flour to thicken
Put chunked sausage, potatoes, baby carrots, onion, and celery (if desired) into crock pot. Add water until 3 inches from top of crockpot. Cook on LOW for 6-8 hours (until potatoes are done), or on HIGH 5 hours. When done, use flour to thicken to your liking.
February 9, 2016
0

found this helpful
Hi! new here, and I was wondering what I could do with hickory farms summer sausage (you know, the little ones everyone gets for christmas, lol). Your recipe calls for smoked sausage. Can I use summer sausage instead?
October 10, 2016
0

found this helpful
I make something similiar but add in a can or two of either tomato soup or diced tomatoes, plus a dried cayenne pepper then serve over rice. It's a common recipe from south america around Guatemala.
December 29, 2016
0

found this helpful
Cut into 1/4 inch slices. Place in skillet with enough of your favorite barbecue sauce to cover and cook for 30 minutes. Delicious and makes great appetizers just by themselves.
June 11, 2019
0

found this helpful
Could you use corn starch instead of flour to thicken the stew ? This recipe sounds delicious...Thank you
Read More

Answers
We got a 26 ounce beef summer sausage for Christmas and I wasn't sure if there is a way to eat this besides snack food? I know it is good to eat with cheese and crackers or kind of like beef jerky, but do people sometimes slice it up and put it in entrees?
It's more than we can eat, I may just take it to my office with some cheese and crackers for folks to enjoy, but I wanted to ask first. It's supposed to be good for a week. I don't think we could eat this in just a week if we were only eating 2-3 slices a day as a snack. I know I am over-thinking this.
By Janice C.
Answers
January 22, 2012
0

found this helpful
You could cut it into sections and freeze them for later use. Try using it like you would make a grilled cheese sandwich, or you could even add a slice of cheese if you wanted to. Try using some of it on a homemade pizza. I would think that would work as well as some of the other meats that pizza places are using now. But for using in a week, your best bet would probably be to share it at work, or dividing it up and freezing it. I always have several packages of sandwich meat in my freezer in case of a power outage.
January 23, 2012
0

found this helpful
You can dice and use in a pasta dish or in soup. You can also try this recipe and refrigerate some of them and freeze the rest for future snacks:
Summer Sausage Crisps
These are great to dollop with your favorite cheese topping or for dipping. Some tasty seasoning ideas for these crisps are cayenne powder, garlic powder, lemon pepper, onion powder or just about any seasoning mix such as Creole, Greek or Italian.
Ingredients:
Summer sausage, sliced no more than 1/4 inch thick
1/2 tsp per oz of sausage of your seasoning choice
Directions:
Preheat the oven to 425 degrees.
Lay the slices in a single layer on a baking sheet, evenly sprinkle with seasoning and bake for about 8 minutes.
Remove from the oven and press the chips with cloth or paper towels to soak up any grease, return to oven and continue to bake until the slices are very crispy, about 2 to 6 minutes, cool and place in an airtight container.
January 24, 2012
1

found this helpful
You can make a breakfast sandwich out of it slice 4 pieces of it heat it in a pan or microwave and then toast some bread. Make a egg and put cheese all on the sandwich that's what we do or if you don't think you can use it up cut off what you would in that week and then put the rest in the freezer it can keep well in there till you use it again!
Answer

this Question