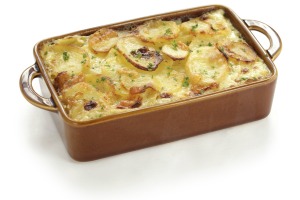 If anyone has recipes that have only 4 or 5 ingredients in them and they want to share with me, please let me know.
By Pati Mishler from Tribune, KS

Answers

Robyn Fed
Silver Post Medal for All Time! 398 Posts
March 21, 2010
0

found this helpful
Cornbread Stuffing/Corn Casserole
Box of Cornbread Stuffing
Can of Cream Corn
Can of Regular Corn Drained
Make Cornbread stuffing according to directions. Add drained can of regular corn and add whole can of creamed corn. Heat and serve. This is our favorite corn casserole at my house.
Robyn
Read More

Answers

I love three or four ingredient recipes or recipes that are easy to remember like the 1-2-3-4 biscuit recipe just published. Do you have any more like that?
By eve from MS Gulf Coast USA
Answers

January 9, 2010
0

found this helpful
Crazy Easy Peanut Butter Cookies"
Ingredients:
1c PB (Can be creamy or crunchy)
1 Large Egg
1c Sugar
Mix sugar, egg and PB together until well mixed. Roll dough into 1/2 to 1 inch balls, if you like, roll balls in extra sugar to coat. (If dough is too soft to easily roll, allow to sit for a few minutes.
It will thicken with time.) Bake at 350 degrees until the tops have cracks (about 15 minutes) and the house smells like PB cookies. Cool and try not to eat too many (I dare you)!

January 9, 2010
0

found this helpful
Yeah, like that! Thanks. I'll try this. Peanut butter cookies are one of our favorite cookies.

January 10, 2010
0

found this helpful
I just read an article about a book of cooking with ratios instead of recipes. I was going to see if our library had it or could get it to check it out.
Michael Ruhman's
Ratio: The Simple Codes Behind the Craft of Everyday Cooking
www.nytimes.com/.../29book.html
A few mentioned there are:
Pie dough = 3 parts flour: 2 parts fat : 1 part water.
Roux = 3 parts flour : 2 parts fat.
Sausage = 3 parts meat : 1 part fat.
Bread = 5:3 ratio of flour to water (plus yeast and salt)
...plus a few different cookie dough ratios.
Classic vinaigrette = 3 parts oil to 1 part vinegar, or 3:1
A pound cake = 1 part butter to 1 part sugar to 1 part egg to 1 part flour, or 1:1:1:1.
Authentic shortbread = 3 parts flour, 2 parts butter, 1 part sugar for a ratio of 3-2-1.
or a 4-2-1 shortbread cookies:
hubpages.com/.../4-2-1-Shortbread
Here is one for muffins:
2 parts flour to 2 parts liquid to 1 part egg to 0.5 part fat
prohowtos.ipower.com/.../cooking-ratios-perfect-muffins-and...
Pancake recipe that is easy to remember as it is basically 2 cups s.r. flour, 2 cups milk, 2 eggs and 3 TBs butter:
www.taste.com.au/.../traditional+pancakes+with+maple+syrup...
Or the 2 ingredient recipe for muffins or scones:
allrecipes.com/.../detail.aspx
allrecipes.com/.../Detail.aspx
There are also various cookbooks/recipes out there using 3 ingredients or less, 4 ingredients or less etc but they rely on a lot of prepacked foods instead of basic pantry staples, plus you end up getting a lot more artificial ingredients that way.
www.google.com/search?hl=en&q=%223+ingredients+or...
(just change the number if you want more choices...3, 4, 5 etc ingredients)
(And 'theammons' PB cookie recipe posted below is addictive to say the least!)

January 10, 2010
0

found this helpful
Kaelle, that is fascinating. This is exactly what I am looking for. I knew there had to be people out there who had come up with formulas for cooking or easy to remember recipes. I have been using a cookie recipe for years based on ones.
1 stick butter
1 cup sugar
1 cup flour
1 egg
1 tsp. flavoring
Put one Tbsp. on sheet, giving plenty of room to run, bake about ten min at 350 F. These are really lacey cookies and need room to spread but they are Billy's favorite and I don't have to worry about forgetting such a simple formula.

(Guest)
Gold Post Medal for All Time! 846 Posts
January 11, 2010
0

found this helpful
Beer-Battered Fish
1 lb fish fillets such as tilapia, cod or snapper
1 cup plus 4 tbls flour
1/2 cup beer
1 egg
Vegetable Oil for frying.
Heat the oil in about 1 1/2 inches of oil in a skillet or deep fryer to about 350 degrees.
Lightly coat the fish with the 4 tbls of flour.
Mix remaining ingredients until smooth. (Add a tiny bit more beer if batter is too thick for your liking)
Dip fish into batter and fry for about 2 minutes on each side or until golden brown; drain.

January 11, 2010
0

found this helpful
Thanks deeli, I've never tried beer batter before.

January 12, 2010
0

found this helpful
There's a cookbook called Cooking With 3 Ingredients by Ruthie Wornall. I bought it at a bookstore several years ago and absolutely love it!
Read More

Answers