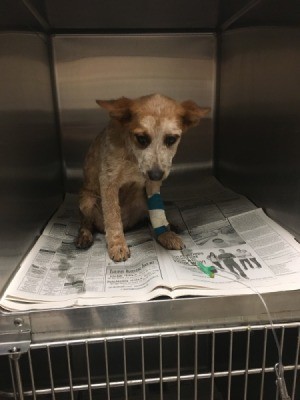 I noticed last week that my almost 4 month old puppy was vomiting. I figured she had gotten sick due to my 7 year old feeding her old lunch meat out of the fridge (she doesn't get human food) so I didn't think anything of it. The next day she seemed completely normal. No vomiting no diarrhea. I wormed her that night also not thinking anything of it since she was eating and drinking. It wasn't until Wednesday that I noticed she was sick and vomiting profusely.
I sat for hours pushing chicken broth, Pedialyte, and water, but she kept puking. She finally started drinking around 11:30 that night on her own and drank a lot, but didn't keep anything down. Her gums were still pink and she was still urinating. The next morning I started giving her salt water enemas to get fluids to the colon.
Around 11:30 yesterday I took her to the vet and they started IV fluids and meds immediately. Today I called and checked on her and they said she was really lethargic today, but hadn't gotten any worse. They also said that she had several big blowouts which is to expected I know, but no vomiting.
Even with being so lethargic do you think she'll be OK? Not being able to see her or know 24/7 how she's doing scares me and gets my belly knotted up. They were kind enough to send me pictures of her and she looks so sad. I'm just worried about her being so lethargic, but not sure what to think of that.