Recycled Shot Glass Candle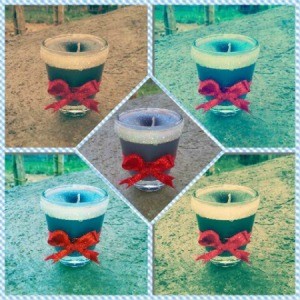 Aside from making children's crafts from scraps I also learned how to make a candle souvenir from leftover candles. Here's a sample of a simple souvenir I made from melted candles. If you are going to make more pieces for souvenirs you'll just have to buy the raw materials. It's cheaper than buying the ready made ones and you can decorate it as much as you want.
Supplies:
leftover candle melts/wax
candle wick
shot glass
glitters
ribbonets
coloring (optional)
essential oil
hot glue
Steps:
Remove the burnt wick of the used candles. Chop the melted wax into pieces.
Melt the wax over low heat.
Add your desired color and stir well so it blends into the wax. Or you can combine different colors of wax as you wish.
Remove that from heat and pour in a drop of essential oil.
Next, get your shot glass and pour just the right amount of the melted mixture.
Take 2 inches of waxed candle wick and tie it in a piece of stick. Place it in top of the shotglass where the wick goes thru the center of the candle.
Sprinkle some glitters on top for a sparkling effect.
Let it cool and wait until its completely set.
Decorate the shot glass with ribbonets. And place them in transparent boxes. Then it's done.
Add your voice! Click below to comment. ThriftyFun is powered by your wisdom!