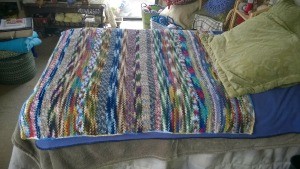 I have made so many afghans for others I decided it was time to make one for me. With a linen stitch, it took me about 60 hours so I just worked on it when I was watching TV.
Chaining what I wanted for width, I made a single crochet in the first chain, chained 1, and skipped 1 chain and made another single crochet in the next chain across. Turn and chain 1 repeating this pattern for the entire project. I love variegated yarn so I stayed with that throughout.
This project doesn't have many photos of the stages, so I am just going to share it. I hope you are inspired to make a smaller version, pillow top, lapghan (3' by 4' to cover a lap), or even hot pads. This is my favorite stitch and who knows, it might be yours too!