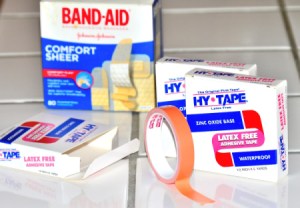 This product "Hy-Tape" is a great alternative any time to Band-Aids when we get a cut that we need to protect so it can heal correctly and be aesthetically pleasing.
They use to think that allowing a cut to get "air" was best, but, over the years, the medical society, (NIH) etc. has learned that keeping a wound covered is best for the cells to regenerate and heal the wound with less scarring.
When we get a cut, our body goes to work to close that cut up as to keep out germs, which is what that's all about. But, the appearance isn't actually cared about (as far as the body goes) since the body only knows one thing, open door, must close it now!
Many times we're left with a scar, which is because the regenerating cells were exposed to air, which actually kills them, and then the wound will still close up and heal, but not necessarily in a pleasing way aesthetically.
A doctor years ago is the one who educated me on this product called HY-tape. It's flexible, easy to use as you cut it to any length you want, you can shower with it, sweat with it on, it stays put until you remove it. It's air and water impermeable.
The best part is, besides giving your skin every chance available to heal perfectly, the underside of this very soft flexible tape that touches the actual wound on the skin is a zinc oxide based tape which that helps promote healing, as our body loves zinc oxide as it's an aid in healing.
Band-Aids don't actually keep air out either, as they have that small pad that touches the skin, and air goes in and out all day long, which is not proactive in reducing any scar formation when it's healed.
This tape comes in many sizes, but for the last 15ish or so years, I've personally found that this size works best, as it can be cut to size with a pair of scissors, and if the cut is wider than 1/2 inch then you just cut more strips of the Hy-tape to cover it completely and overlap the strips.
It comes in rolls that are 1/2 inch by 5 yards, and sells for about $2.50 ish per roll. I've only found this product on the internet at places such as Allegro Medical. But, there are other medical supply stores that might have it too. Be careful though of knockoffs that are imitating this wonderful tape.
It's called the Original Pink Hy-Tape.
It's comfortable to wear anywhere on your body you might have an injury, and it heals the skin so incredibly well too.
I don't know about you, but my hands get so dry from washing them 1,000x a day, and on my knuckles (on the outside of my hand or top of it) I will sometimes like right now, get actual cracks where the skin will split 1/4 of an inch just because they're that bone dry!
Another great advantage to this tape is, because it's so soft and flexible, it doesn't matter if where you are applying it on the skin is flat or not, like a knuckle on the outside of your hand, a small "mountain" this tape will go up and over and around and about without hindering your movements.
There's much to read about zinc oxide (topically) and it's sort of funny reading medical studies (with rats) that are available, but plastic surgeons have been using this Hy-tape for quite a long time now because it works so well in reducing the chances of scarring after a cut or wound finally heals.