While I like the Lysol No-Touch Hand Soap Dispenser, I do not like the price of the refill. My husband drilled out a large hole on the top of the original dispenser so I could use my own recipe of the hand soap. The refill is made of hard plastic so he drilled a number of holes to make a circle and then cut it out. I remove the dispenser off the base when refilling.
The Lysol dispenser I use at the kitchen sink is a diluted liquid dish detergent. I fill the dispenser with three quarters of very warm water and the rest with the detergent. Add both slowly so it doesn't bubble up much. I stir it slowly and thoroughly using a handle of a fork inside the container. It is a watery mixture but you can add less water if you want it thick. Since the detergent is concentrated it still cleans well even if the mixture is thin.
I cover the hole on the top of the dispenser plus down the sides with one piece of tape . The tape I use is a white plastic type tape. I use this tape because it's what I had and it is easy to lift off when I need to refill plus it doesn't leave any residue. You could use electrical tape instead, I just liked the color. Make sure the top of the dispenser is dry before applying the tape.
I like this dispenser in the kitchen because there are times when I need a bit of dish detergent on my kitchen dish cloth to wipe counters, etc. and it dispenses just enough. I also use the dispenser as hand soap. I must add that I do buy a good quality dish detergent, Dawn Hand Renewal, that is easy on the hands.
For the bathroom, I use the same recipe except I substitute the detergent with liquid hand soap, bubble bath or shampoo. You don't have to dilute the hand soap. If using antibacterial soap, it won't have any antibacterial properties if diluted. I don't believe the antibacterial soap is necessary for our household. Also, when our kids were young we didn't use any antibacterial soap and they were healthy. I just made sure they washed their hands when needed.
I have read that others have pried off the bottom of the original refill container to refill it but I didn't want to take any chances with it leaking. The Lysol No-Touch Hand Soap Dispenser uses four double "A" batteries. They did not have to be replaced for almost a year in our house.
By it's.only.me from NE PA / USA
I enjoy using the electric eye Lysol hand soap dispensers, but did not want to pay for the expensive refills. So, I used a one half inch spade bit drill and put a lovely hole in the top of the dispenser.
I fill it up with whichever generic hand soap I find on sale.
Read More...
How do you refill foming soap?
By Angel
Answers
May 24, 2013
0

found this helpful
I read somewhere that you can refill the bottle with any liquid soap. It's the pump that makes it foamy. I haven't had a chance to try it yet though.
May 24, 2013
0

found this helpful
I've put 25% liquid hand soap in the foaming soap bottle and then filled the rest with water. Shake well. Works just fine.
May 24, 2013
0

found this helpful
I tried the liquid soap and water and it didn't work for me. Maybe I didn't put in enough water or soap. I used to buy the large refill bottle at WalMart but they must have stopped carrying it.
Guess they figured out they'd make more money selling the individual bottles. Another reason why I hate WalMart and just about stopped shopping there but that's a whole different topic.
May 24, 2013
0

found this helpful
Remove the top (if possible) from a store bought foaming soap container,pour in your foaming soap refill to near top. Then use. If you want to try making your own from liquid hand soap, try this: put in about an inch of liquid soap (more if the container is tall). Add water to about 1/2 to 1/4 inch from the top (space is needed to pump).
Shake gently and leave for awhile. To make foaming soap the liquid soap needs to be thinner, hence the added water. If the pump of your container is non-removable, you'll have to get new. A regular liquid soap dispenser does not work well as the opening is usually smaller than that of a foaming soap dispenser.
May 24, 2013
0

found this helpful
If you have Castile liquid soap where you live (or you can order it online), you can refill your foaming soap container with very little of it and add water. It foams up quite a bit so a bottle lasts a long time. Also, the soap can be used for anything, such as hands or dishes or even cleaning.
May 24, 2013
0

found this helpful
I use any liquid soap. About an inch or so then fill nearly to top with warm water. Shake it up leave it sit for bit.
Answer

this Question

...
Can you refill the Lysol battery operated dispenser without buying another bottle?

By Karen from Winona
Answers
October 19, 2010
0

found this helpful
Yes. I refill mine. The thought of paying $4-$5 for a refill just makes me cringe, but I just love the dispenser itself! I will say that is quite difficult to remove the lid to the original soap container that comes with it, but well worth the trouble. When I first purchased the dispenser it came with the soap and I purchased a refill at the time because I got a great coupon with purchase and got the refill practically free. I am glad to have 2 soap containers since the lids are hard to remove. That way I always have an extra on hand and can grab from underneath the sink and pop it in when the other runs out. What I do to remove the top is use a butter knife and slide the end of the butter knife under the edge of the lid and slowly proceed to "pop" off.
It is a little difficult the first time or two until you get the hang of it. Be careful when popping the lid off that you do not do it to fast and break the tabs on the inside of the lid that hold it on and keep it from leaking into your dispenser. Once the lid is off refill with your favorite liquid soap. Pop the top back on and place the container back into dispenser. Test it a time or two. Remove the container just to make sure there is no leaking into the dispenser itself. Another tip I have is adding 2 tablespoons of white vinegar to your soap. It will help your soap last longer and also vinegar is a natural disinfectant and makes the soap easier on your hands. I just love my soap vinegar mixture in my kitchen No Touch dispenser because the vinegar in the soap also helps with strong food smells such as garlic and onion. I have been refilling mine for over 6 months now and still use the same 2 containers I originally started with. And I can tell you with 3 sons ages 13, 9, and 13 months I use mine a lot! Good Luck to you!
March 15, 2013
0

found this helpful
I cut the top off a cheap water bottle and cut a hole in the top of our lysol bottles. Just remove the lids to refill with soap and close when done. No tape or random holes. Just make sure you leave enough plastic on the bottom of the neck part of the water bottle that it can get shoved into the hole.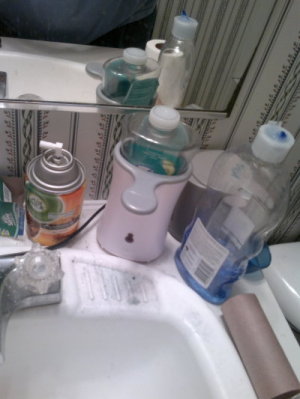 Answer

this Question

...