Can I Refill a Lysol No Touch Soap Dispenser?
Can you refill the Lysol battery operated dispenser without buying another bottle?

By Karen from Winona
Add your voice! Click below to answer. ThriftyFun is powered by your wisdom!
October 19, 2010
0

found this helpful
Yes. I refill mine. The thought of paying $4-$5 for a refill just makes me cringe, but I just love the dispenser itself! I will say that is quite difficult to remove the lid to the original soap container that comes with it, but well worth the trouble. When I first purchased the dispenser it came with the soap and I purchased a refill at the time because I got a great coupon with purchase and got the refill practically free. I am glad to have 2 soap containers since the lids are hard to remove. That way I always have an extra on hand and can grab from underneath the sink and pop it in when the other runs out. What I do to remove the top is use a butter knife and slide the end of the butter knife under the edge of the lid and slowly proceed to "pop" off.
It is a little difficult the first time or two until you get the hang of it. Be careful when popping the lid off that you do not do it to fast and break the tabs on the inside of the lid that hold it on and keep it from leaking into your dispenser. Once the lid is off refill with your favorite liquid soap. Pop the top back on and place the container back into dispenser. Test it a time or two. Remove the container just to make sure there is no leaking into the dispenser itself. Another tip I have is adding 2 tablespoons of white vinegar to your soap. It will help your soap last longer and also vinegar is a natural disinfectant and makes the soap easier on your hands. I just love my soap vinegar mixture in my kitchen No Touch dispenser because the vinegar in the soap also helps with strong food smells such as garlic and onion. I have been refilling mine for over 6 months now and still use the same 2 containers I originally started with. And I can tell you with 3 sons ages 13, 9, and 13 months I use mine a lot! Good Luck to you!
March 15, 2013
0

found this helpful
I cut the top off a cheap water bottle and cut a hole in the top of our lysol bottles. Just remove the lids to refill with soap and close when done.
No tape or random holes. Just make sure you leave enough plastic on the bottom of the neck part of the water bottle that it can get shoved into the hole.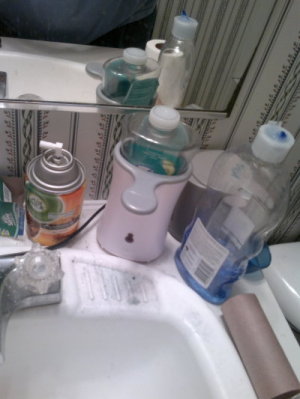 Add your voice! Click below to answer. ThriftyFun is powered by your wisdom!