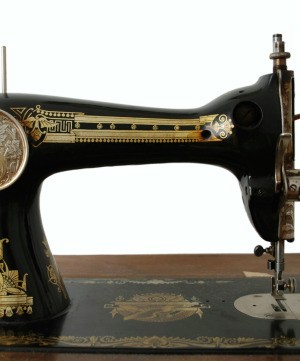 I have a 1939, 201 Singer machine head housed in a #48 cabinet. There is a knee control lever that when pressed hits what appears to also be a foot pedal. If I'm correct I would like to dismount it from the inside of the cabinet, but I can't quite figure out how it comes off, or if it comes off.
I looked on the internet, but found nothing of any help.
Answers

November 26, 2012
0

found this helpful
I have serious vintage sewing machine envy! What a beauty of a machine you have there:) Try these links for the info you need, I know it's been done but although I have several antique and vintage Singers, this is not one of the models I have, and it's not one of the cabinets I'm familiar with. Someone at one of these following links should be able to help you find an answer. One is for a sewing forum based in the UK but they have international members, and are an absolutely fabulous bunch of sewers who are incredibly generous with their expertise!
www.thesewingforum.co.uk/index.php (The UK site, and you don't need to register to ask a question)
www.singerco.com/.../instruction-manuals (Try this link to find the original owner manual scanned to the site, most are a free download, and the instructions re the knee lever should be in the scanned manual)
vssmb.blogspot.co.uk/ (this one may take a while to dig through to find the info you need, but then again, there is a ton of great info and history on this blog so it wouldn't be wasted time)
oldsingersewingmachineblog.com/ (Another UK blog but Sid and Elsie have followers all over the world. If Sid can't help you, no-one can!)
www.ismacs.net/.../home.html (A lot of vintage and antique Singer enthusiasts consider this the premiere info site!)
WARNING: info seeking re vintage Singers is an addictive activity:)

November 26, 2012
0

found this helpful
In looking at mine, I would slide the plastic box part, in the direction of the end where the cord exits. The foot control is held into the mounting bracket on the cabinet with clips and slides into these so that the power "button" gets pushed by a lever -- which is pushed by a lever connected to the bar that comes down to be pressed by your knee. I have two different cabinets with this knee mechanism in them and a spare, that are alike. I'm not familiar with how a pedal that is a whole flat piece that is pressed with the foot, if that is the type you have, would be held in similarly.
Look for clips that would let the pedal base slide in. By the way, I love having the knee control to make my machine "go", so that I can have both hands to control and guide my fabric, and remove pins. It took a while learning, but I seldom need to use the hand-wheel to give it a boost to get going, just the knee control.
Happy sewing.
OrahLee

August 3, 2019
0

found this helpful
On the front of the metal frame holding the classic sewing machine pedal in place for the knee controller to work, there is a little wire tucked behind a teeny weenie bit of metal that's been cut out of the metal frame. Loosen this wire (my honey broke off the bit of metal; oh well) Loosen this wire.
It has a half-moon curve that sticks into the pedal, keeping it in the frame. Once you've loosened that wire, it's a matter of wiggling and pressure to get the pedal out of the frame.
Answer

this Question

The foot pedal on my vintage Singer sewing machine is seated in a cradle under the cabinet, so that the knee pedal works the foot pedal. I need to free the foot pedal and power cord from the cabinet.
But it seems to be stuck in the metal holder under the cabinet. Is there a trick to getting it out? Do I push/pull one direction or another? Is there some release mechanism I'm not seeing?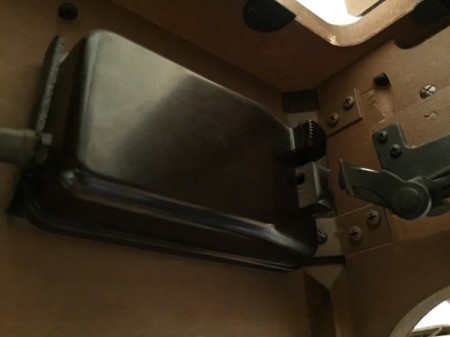 Answers

Pghgirl40
Bronze Feedback Medal for All Time! 196 Feedbacks
February 21, 2019
0

found this helpful
When I had my first knee sewer (I loved that thing literally to death I used it so much) it could not be converted to foot. It just wasn't build to be converted. It had short wires, and it was, like you said, affixed firmly to the stand.
You had me curious about this, so I went to YouTube videos and there are videos, like this one, that talk about how you can take it off and rewire it to be a foot pedal.
Here is one of them:
www.youtube.com/watch?v=mz-rjmlIDrk
If this one isn't helpful there are a lot more of them. Just put convert foot to knee pedal in YouTube's search.
My singer knee machine may not be the same one you had (I have no memory of the model number it was so old), so maybe yours really was designed to be convertible. Mine was not.
Best wishes for happy stitching!!!

November 3, 2019
0

found this helpful
I have a Singer 101 in the Queen Anne Cabinet. If you look down from the top you will see a bracket with a metal frame holding it in from the top and two sides but NOT at the bottom. So from above I just watched and wiggled it out going downward. I did stick a small flat screw driver in the far side to lift the thin metal bracket just a 1/8 of an inch to get it started.
So look to see where the brackets are holding it in. Should on be on 3 sides the are very thin, long and only hug the foot pedal about a 1/4 of an inch. I found them by feeling around the foot pedal from the bottom. But take a flashlight from the top you will see them. Let me know if this works :-)

April 5, 2020
0

found this helpful
I just recently (Apr. 2020) was trying to figure out how to remove my control from inside the cabinet and while looking underneath the control, I noticed 2 channels in the plate that was attached to the cabinet. It looked like the control box needed to be slid "down" (towards the floor). Pushing down hard on the top of the control box, it slid down out of the bracket...no problem. Take care not to put a thumb between the front of the box and the inside of the cabinet....pinch/ouch point!
Answer

this Question