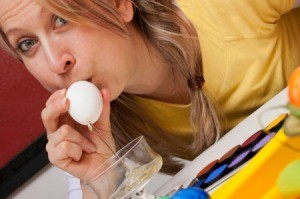 How do I get the inside of an egg out, without breaking the egg or boiling it?
By Katherine Main from London, UK

Answers

Myrna
Bronze Feedback Medal for All Time! 168 Feedbacks
April 2, 2009
0

found this helpful
Best Answer
Stick a hole in each end of the egg with a needle being careful not to crack the egg as you slowly get the hole started with the needle. You then blow on one end of the raw egg and the egg will go through the other end if the hole is as large as the head of a pin. Hold over a bowl. You can use the eggs to make scrambled eggs if you are doing a lot. This is the only method I know of how to remove raw eggs and then you can place a sequin with glue over the small hole.

April 6, 2009
0

found this helpful
Best Answer
The hole at the end where you blow in can be very tiny. The exit hole for the egg contents will have to be the size of a peppercorn.
Start as above, blowing hard, and enlarge that exit hole as needed. Bake the eggs in a 250' oven to dry the insides.

April 11, 2009
1

found this helpful
Best Answer
We used a simple safety pin un-bent and poked tiny holes in either side. Then we stuck a larger safety pin, un-bent inside to break the yoke. Bought an infant nasal aspirator at Walmart for $2 and used it to blow the contents out. That way there were no germs on the eggs, so we could use them for cooking, and no possiblity of salmonella by using our mouths on raw eggs. We then put the shells in boiling water for a minute to steralize them before decorating. If you do not want the tiny holes to show, they can be covered with decorations or with a spot of glue.

April 6, 2009
0

found this helpful
After piercing both ends with the large needle and picking 1 hole a little larger be sure that you break the yoke on the inside before you try to blow the inside out you can use a Bamboo shish kebob stick to mix up the insides really well then they should blow out quite easily then enjoy a scrambled egg, omelets make a cake or cookies.

Grandma J
Silver Feedback Medal for All Time! 270 Feedbacks
April 7, 2009
0

found this helpful
Use a big darning needle. This is something we used to do FOR FUN growing up. Yikes! Now the kids have other toys!
Many girl scout projects were done this way. Then you would accidentally crush it and have to start all over!

Louise B.
Silver Feedback Medal for All Time! 337 Feedbacks
April 8, 2009
0

found this helpful
Authentic Ukranian decorated Easter eggs are neither boiled nor blown. They are raw eggs that are dyed and decorated. The contents just dry up. Of course, there is the odd one that will "explode" 5 years later for no particular reason, but I have had them last over 20 years. Handle them carefully when they get old.
March 13, 2016
0

found this helpful
Use a leather needle for the holes! They are like a 3 sided
pyramid drawn to a sharp point, with each corner of the
pyramid sharp enough to cut thick leather. You can twirl
it like a drill and grind a hole into the shell. There is
no strain on the shell and never a crack. Once you have both
holes needle size, you can use a cheap 3/16" drillbit to
enlage the exit hole. Just twirl it between thumb and
forefinger, like you did with the leather needle.
Have FUN!
DearWebby

March 14, 2016
0

found this helpful
The USDA and the Centers for Disease Control warn not to put your mouth on a raw egg. Raw eggs contain salmonella. Michaels sells blown and clean raw eggs, a dozen in a package.
Answer

this Question