Rice Pilaf Recipes
Solutions
Share on ThriftyFunThis page contains the following solutions. Have something to add? Please share your solution!
Ingredients:
1 cup lentils, washed
1/2 cup rice (or 1/3 cup wild rice)
1 bunch green onions, chopped
3 cup chicken broth or bouillon
2 Tbsp. butter
1 tsp. powdered thyme
1 can sliced mushrooms
1/2 cup sliced toasted almonds (opt.)
Directions:
Saute lentils, rice, onions, and mushrooms in butter until onions are golden. Add thyme and chicken broth. Bring to a boil, reduce heat, cover, and simmer 30 minutes until tender. Add almonds and serve.
By Robin from Washington, IA
This is an Indian rice side dish with green beans, carrots, peas and cauliflower. It calls for cardamom pods, which can be difficult to find in regular grocery stores. Look at an Indian grocery or health food store, such as Whole Foods. I was able to buy just what I needed in the bulk section.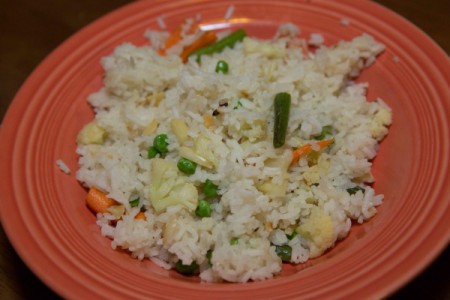 This recipe was from a recent Costco Connection magazine about Indian cooking. It was relatively time consuming and the rice to veggie ratio was lower than I expected. Next time, I will probably double the veggies.
Total Time: about 40 minutes
Yield: 8 servings
Ingredients:
2 cups long grained rice, such asJasmine)
1 Tbsp butter
1/2 cup blanched slivered almonds
4 Tbsp canola oil
1 large carrot, cut into sticks
1/2 cup green beans, cut in 1/2 inch pieces
1/2 cup cauliflower, chopped to 1/2 inch
1/4 cup frozen peas
12 whole cloves
20 black peppercorns
10 cardamom pods
4 bay leaves
1 tsp salt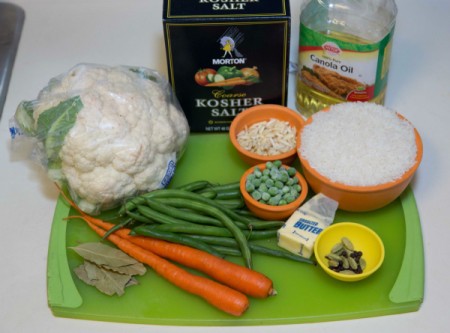 Steps:
Rinse two cups of rice until clear, 2-3 water changes. When the water runs clear, soak rice for 20 - 30 minutes then drain.
Use a large skillet or wok. Saute the slivered almonds in the butter for 3 to 4 minutes. They will start to turn quickly so don't walk away. It is easy to burn them. You could also use toasted slivered almonds or toast them in the microwave to eliminate the extra butter. These will be used to garnish the rice at the end so set aside.
Turn up the heat to medium-high and add 2 Tbsp. of canola oil. When oil is hot, add in all veggies (except for frozen peas). Cook until everything is crisp-tender and the edges are starting to brown. Remove from pan and set aside until later.
Add another 2 Tbsp. of oil, turn down the heat to medium and heat spices in the oil for a minute or two. They should start to smell good. Add in the rice. Increase the heat back to medium-high and cook the rice in the pan for about 5 minutes, stirring regularly.
Add 3 1/2 cups of water and the salt to the pan and bring to a boil. Reduce heat to low and cover. Cook for about 12 minutes, until rice is soft.
Uncover rice and fluff with a fork. Carefully stir in cooked veggies and frozen peas. Cover and cook for an additional 5 minutes then turn off heat. Let sit another 5 minutes.
Pull out any large spices that you can pull out easily. Sprinkle toasted almonds on top of the rice before serving or on each individual serving.
Whole peppercorns, cloves and cardamom pods are mixed into the final dish and are difficult to pick out before serving. I told my family to eat at your own risk. Powdered spices might make this dish easier to serve but it will change the flavor.
Make rice according to package directions. Meanwhile, melt butter in medium sized skillet. Saute mushrooms, onion and almonds 5 minutes.
Read More...
We use a lot of brown rice, and this is a great recipe in which to use it. Brown rice is more versatile than a lot of people think, and our family thinks it tastes better, too.
Read More...
Brown sausage; drain off fat. Add celery, onion and green pepper; cook until tender. Combine remaining ingredients except bread crumbs and margarine. Pour into 1 1/2 qt. casserole dish.
Read More...
Melt butter in 3 qt. Dutch oven. Add scallions and rice. Cook until rice is golden brown, stirring frequently. Stir in broth. Bring to a boil. Bake, covered, at 375 degrees F for 45 minutes.
Read More...
In medium saucepan, heat oil over medium heat. Add spaghetti; cook and stir until golden brown. Add rice and onions; cook and stir until onions are tender.
Read More...
In butter, fry onions and celery. Add other ingredients except raisins and nuts. Cook (simmer) between 15 to 20 minutes. Add raisins and nuts once rice is cooked.
Read More...
After the pasta and onion are sauteed, the oil is drained to minimize the fat content of this interesting pilaf.
Read More...
This pilaf combines brown rice and numerous vegetables to make a delicious side dish.
Read More...
Videos
This is an Indian rice side dish with green beans, carrots, peas and cauliflower. It calls for cardamom pods, which can be difficult to find in regular grocery stores.
Look at an Indian grocery or health food store, such as Whole Foods.This recipe was from a recent Costco Connection magazine about Indian cooking. It was relatively time consuming and the rice to veggie ratio was lower than I expected. Next time, I will probably double the veggies.View the full recipe here:
Indian Vegetable Pilaf With Almonds
Read More Comments
Advertisement
Published by ThriftyFun.
© 1997-2020 by Cumuli, Inc. All Rights Reserved.
https://www.thriftyfun.com/Rice-Pilaf-Recipes.html