Rice Pudding Recipes
Solutions
Share on ThriftyFunThis guide contains the following solutions. Have something to add? Please share your solution!
This is my mother's recipe for a super simple rice pudding. In this version I ended up adding raisins, almonds, and cinnamon but that is all optional. I'll show how to alter simple, yummy rice pudding into this cinnamon, almond raisin goodness!
Cook Time: 30 minutes
Total Time: 30 minutes
Yield: 6 servings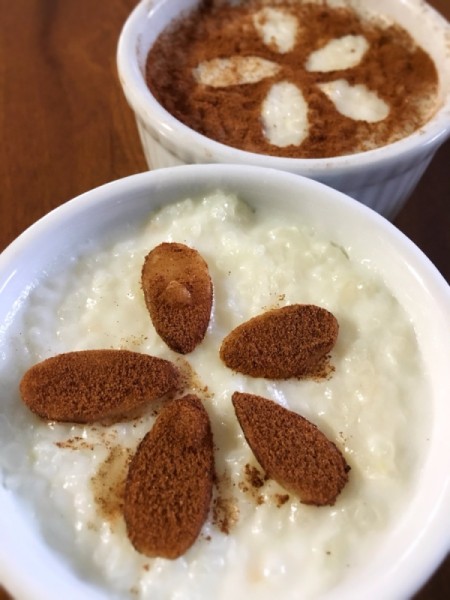 Ingredients:
1 cup uncooked white rice
1 cup water
2 cups whole milk
1/2 cup sugar
3/4 cup raisins (optional)
slivered almonds for designs (optional)
cinnamon for dusting (optional)
Steps:
Put the water and rice in a large saucepan over medium-high heat. Bring to a boil, uncovered, and cook until the rice is tender, about 15-20 minutes. Most of the water will be gone and rice will be cooked through.
Add whole milk and bring back to a boil for about 5 minutes.
The rice will start to lose shape and get pasty. Add sugar. Stir constantly so it does not stick to the sides or the bottom of the pan. Remove from heat. If you are keeping the pudding simple, refrigerate as is for a couple hours and serve. To add the raisins, almonds and cinnamon, follow the next steps.
In little cups or bowls, add some raisins. Spoon pudding on top. Stir.
Lay slivered almonds on top of pudding and dust with cinnamon. Remove cinnamon-covered almonds and put on other bowls of pudding for alternating designs. Let set in fridge for a couple hours and serve.
Extra credit! Don't throw them away the pudding crisps that stick to the pot! They're like delicious little freebie crepes! Yum!
I was raised on this rice pudding. Us kids would beg Mom to make extra rice when she made it so we could have this wonderful Rice Pudding Delight.
Ingredients:
2 cups Rice uncooked OR 4 cups left over cooked rice
1/2 cup Powdered Sugar
1 (15 1/4 oz.) can Pineapple Chunks, well drained
1 cup miniature Marshmallows
1 (14 oz.) jar maraschino cherries, well drained
1 (2 oz.) box dream whip OR large container of Cool Whip
Directions:
Cook Rice (or heat up left over rice). After rice is cooked and partially cooled add sugar, pineapple, cherries, and marshmallows. Mix well. When Rice is cool add whipped topping. Refrigerate for 1 hour to over night and serve.
Servings:
6-8
Time:
10 Minutes Preparation Time
20 Minutes Cooking Time
Source: My Mom just made it one day when we were little and begging for something sweet after dinner. Don't have a clue where she got her idea from.
By Roxanne from Terre Haute, IN
Always turns out smooth and creamy, just perfect!
Read More...
Wash rice; place in 2 quart dish. Add sugar, butter, salt and cinnamon. Bake in a very slow oven (275-300 degrees F.) for 3 hours, stirring 3 times during first hour to prevent rice from settling.
Read More...
Gradually stir milk and egg into pudding mix in saucepan. Add rice and raisins. Stir over medium heat until mixture just comes to a boil. Cool 5 minutes, stirring twice.
Read More...
Questions
Ask a QuestionHere are the questions asked by community members. Read on to see the answers provided by the ThriftyFun community or ask a new question.
I am looking for an easy, creamy rice pudding recipe. All the recipes I have tried are too dry to enjoy. Thank you in advance for any help.

jmz2005 from Illinois
Answers
By guest (Guest Post)
May 6, 2008
0

found this helpful
Best Answer
1 cup minute rice
1 tsp/ vanilla
2 1/2 c. milk
1/4 tsp cinnamon
1/2 c. sugar
1/2 c. eggbeaters
In a saucepan, combine rice, milk, sugar, cinnamon, vanilla. Heat to boiling. Reduce heat, simmer 15 to twenty min. Stir occasionally. Slowly pour hot rice mixture into eggs, beating well. Fold in raisins if you like them. Sprinkle lightly with cinnamon. I make this frequently. Hope it works for you.
Answer

this Question

...
I would like the recipe for this pudding. I've checked the internet and can't find the exact one I am looking for. The rice turns out all caramel colored, but it doesn't have any brown sugar or cinnamon in it.
The ingredients are white rice, milk, water, raisins, white sugar and baking soda. I don't have the measurements though and I can't figure out why it turns a caramel color. You bake it in the oven. That's all I know. Doesn't anyone have this recipe? I don't believe any eggs were used. Thanks. GailDarlene
By GailDarlene from Toronto, Canada
Answers
May 21, 2009
0

found this helpful
Best Answer
Make a rice pudding the normal way, add raisins. These are what turn the pudding a caramel colour. You don,t need to add anything extra. If you make it in a slow cooker this also makes it extra caramelly and creamy. I hope this helps. Good luck. Jan UK
May 31, 2009
0

found this helpful
Best Answer
I have actually found the answer to my query, so I thought I would share it with all those who tried to help me. The caramel Recipe is:
2 cups milk
2 cups water
1 cup sugar(white)
1 teaspoon baking soda
1/2 cup rice ( I used instant, but long grein or anykind you usually use in baked rice pudding is fine.
raisins ( as many as you want or omit if you dont want.)
stir all together. and pour into casserole dish ,make sure that its large enough so pudding wonted boil over.
Bake at 400 degrees for 1 1/2 hrs. stirring after each half hour. If you never liked rice pudding but love caramel you will love this recipe. Thanks for all your help. GailDarlene
Answer

this Question

...
May 12, 2013
0

found this helpful
I am looking for an easy recipe for stovetop rice pudding.
By Rosie
Answers
May 16, 2013
0

found this helpful
Best Answer
2 cups water and 1 cup long grained rice/cook till rice is soft and absorbed. Add 1 can evaporated milk to 2 cans water/1 cup sugar, 1 c raisins, 1 T cinnamon. Cook till thick. When partly cooled add 1 t vanilla. This is my Moms tried and true recipe all of us sisters use. If you think it's too thick you can add some more regular milk to desired consistency...as this sits, it drinks up the liquid.
Answer

this Question

...
I am looking for a very simple stovetop rice pudding recipe.
By Rosie from Canada
Answers
May 16, 2011
0

found this helpful
Best Answer
Cook the rice as usual but add a little more water so that the rice becomes softer. Then add sugar, cinnamon or nutmeg to taste. Add enough milk (evaporated is really good) to make it to the texture you like and you have an easy rice pudding. Maybe not as creamy as regular rice pudding, but faster and still pretty tasty. You could also add raisins or other dried fruit to the rice while it is cooking.
Answer

this Question

...
I would like a recipe for rice pudding, but this one I want to make with Minute rice. Thank you folks, you have all been so helpful.
By jamish
Answers
July 16, 2009
0

found this helpful
Two rice puddings from the Minute Rice cookbook called:Minute Rice Fast and Fabulous Meals
1. Old Fashioned Rice Pudding
4 cups cold milk
1 cup Minute Rice
1 pkg (4 servings size) JELLO Vanilla or Coconut Cream Flavour Pudding and Pie Filling
1/4 cup raisins(optional)
1 egg, well beaten
1/4 tsp ground cinnamon
1/8 tsp ground nutmeg
Combine milk, rice, pudding mix, raisins and egg in medium saucepan. Bring to a full boil over medium heat, stirring constantly. Remove from heat. Cool 5 minutes, stirring twice. Pour into individual dessert dishes or serving bowl. Sprinkle with cinnamon and nutmeg; serve warm. (for chilled pudding, place plastic wrap directly on hot pudding. Cool slightly; chill about 1 hour. Stir before serving; sprinkle with cinnamon and nutmeg.) Makes: 10 servings
Old-Fashioned Fruited Pudding: Add 1 can(17-1/2 oz) drained can of fruit cocktail after cooling 5 minutes. Garnish if desired. Makes: 14 servings
2. Creamy Low-Calorie Rice Pudding
1 pkg (4 serving size) Jello Vanilla flavour Sugar-Free Pudding and Pie Filling
3 c. skim or low-fat milk
1/2 c. Minute rice
1/4 c. raisins
1/8 tsp ground cinnamon
Combine all ingredients in medium saucepan. Bring to a boil over medium heat, stirring constantly. Pour int 1 quart casserole or individual dessert dishes. Place plastic wrap directly on the surface of the hot pudding. Chill 30 minutes; remove plastic wrap. Sprinkle with additional cinnamon if desired. Makes: 8 servings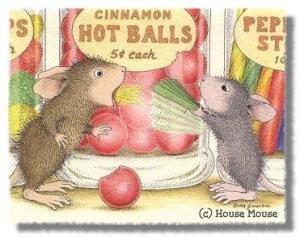 Answer

this Question

...
Archives
ThriftyFun is one of the longest running frugal living communities on the Internet. These are archives of older discussions.
May 5, 2008
0

found this helpful
I am looking for a recipe for a creamy rice pudding. All the recipes I have found are more like a custard. Please help!
littlemamadee from Marion, NY
Answers:
Creamy Rice Pudding
You separate about 5 eggs. Whip the whites with sugar and vanilla and fold into the cooked creamy milk, sugar and egg yolk and the separately cooked rice. You first mix the sugar and milk, bring to a boil, take off the heat and add some of the mixture to the beaten egg yolks so as not to let them separate and become as scrambled eggs but as to thicken the mixture. You fold all back into the pudding, you might add a few tablespoons of corn starch to the sugar and milk until you get the hang of it, then fold everything together, adding the raisins and cinnamon last. (02/23/2007)

By judy
Creamy Rice Pudding
I found this recipe on a Carolina rice box and made some revisions: 6 cups of Whole milk, pinch of salt, 1 cup of sugar, 1/2 cup of Carolina rice, 3 eggs, 1/4 cup heavy cream, 2 tsp. vanilla extract. 1 tbs. butter.
Put a little butter in your saucepan then add the rice and over medium heat cook the rice by swirling it in the pan until it becomes opaque (this prevents the rice from sticking together). Next heat the six cups of milk in the microwave; does not have to be boiling just heated so there is not too much difference in temperature when you add it to the hot pan. Next add rice sugar and salt. Stir. Cook over medium heat until it boils-Watch the pot, it will be messy if it boils over. Reduce the heat until the mixture just simmers. Let the rice cook uncovered for about 90 minutes, you'll have to stir occasionally and watch if you think it is getting too thick. Turn off and remove from heat. Next separate the 3 eggs. To the yolks add the cream and vanilla. Take about 1/2 cup of the hot rice mixture and add to the egg mixture to temper the eggs, then add to the pot and mix together quickly. You can now either make a meringue with the egg whites or cool and refrigerate the pudding for a couple of hours. I think the meringue keeps the pudding from drying out. To make the meringue: whip room temperature egg whites until soft peaks add about 2 tbs. of sugar continue whipping until hard peaks, spread over pudding that's in an oven proof dish and place in a very hot oven 500 degrees Fahrenheit for 3-5 minutes it should look golden. Good Luck! (02/23/2007)

By KATHY
Related Content