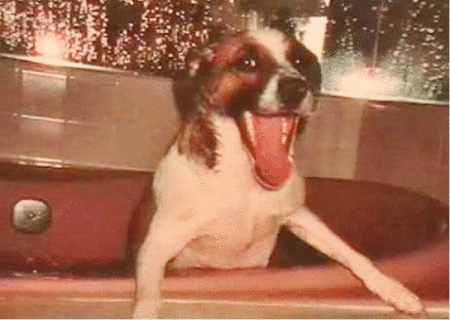 Your Pet's Age
12
Your Pet's Breed
Jack Russell Terrier
How and when did you get your pet?
In 2002 a neighbor's dog had several Jack Russell puppies, and the moment this little dog's eyes met mine, I knew it was true love forever. Russell loves to watch TV with me and when he sees a dog on a commercial, he'll run behind and all around the TV to try and find the dog. His favorite show is Animal Planet, which he goes wild over, as he thinks those animals are somewhere in the house.
Sometimes I think he feels the TV set is one big window to the outdoors!
What does your pet like to do for fun?
Russell loves to play in the water. He swims and carries his favorite toy with him everywhere.
And, he never minds taking a bath, as you can see, he has a blast in the bathtub too, so much so that he always seems to have a smile on his face when he's in the water! He makes me smile and happy just seeing his happy face.
Do you have anything else to share about your pet?
Russell is just so special, and he's such a joy.
Add your voice! Click below to comment. ThriftyFun is powered by your wisdom!