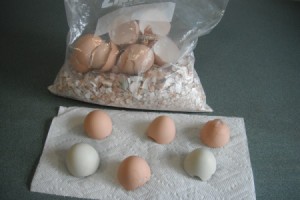 To prevent blossom rot, I put a handful of egg shells in the hole with the tomato plant when setting them. This gives the tomatoes calcium and it works.
For 2 dozen tomato plants, I use 2 gallons of crushed egg shells. It takes me a year to save up that many.
Whenever I use eggs, I rinse the sticky stuff out of the shells and set them on a paper towel to drain. After they dry, they are ready to crush and add to the bag. I usually let them build up in the bag and then put them in a bowl and crush with my hands and fingers. (This also buffs my rough skin and makes it smooth.) I store the bag in the pantry until spring planting time.
If you want to try this, you need to start saving your egg shells.