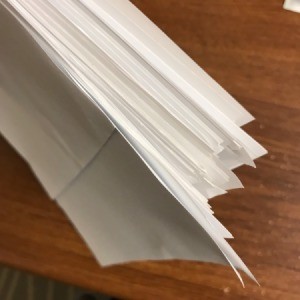 Clipping coupons can save money but, at the same time, it sometimes wastes paper. I only print out coupons that I will definitely use and sometimes that's just 1 coupon or 2 so, I'm left with a good amount of paper left!
Everything I print, I will try to salvage as much clean/white paper as I can and use a metal binder clip to clip all the scrap paper together that way it is less messy.
Perfect scrap paper for the kids to doodle on, write grocery lists, or jot notes. If the paper is big enough, you can print a coupon or two - but I don't usually because the paper can cause your printer to jam (This has happened to me a few times).