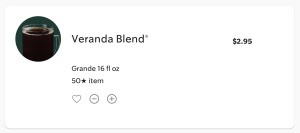 I'm a coffee drinker so when I go to Starbucks, it's often to get a drip coffee. I ordered this one day and the man behind me in line turned to his wife and said, "See, you can just order coffee." Black coffee drinkers definitely save money at Starbucks but there are some strategies that can make your Lattes and Frappuccinos less expensive too.
Note - The prices here were looked up on Starbucks website for a mobile order at my local cafe. Prices vary by area and even by store but the general trends should be applicable to any location. A grande 16 oz size is used throughout.

Customization Costs
Starbucks charges for customization. The base price for a Caffe Latte at my local restaurant is $4.65. A pump of flavor syrup is $0.80. Caramel drizzle is $0.60. Soy milk is $0.70. The extra shot of espresso is $1.00. A triple shot vanilla almond milk latte with caramel drizzle comes to $7.75. A full suite of extras can double the cost of your beverage.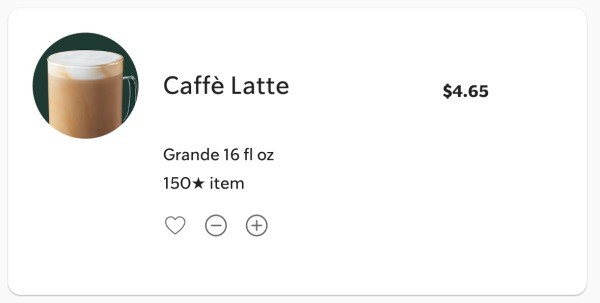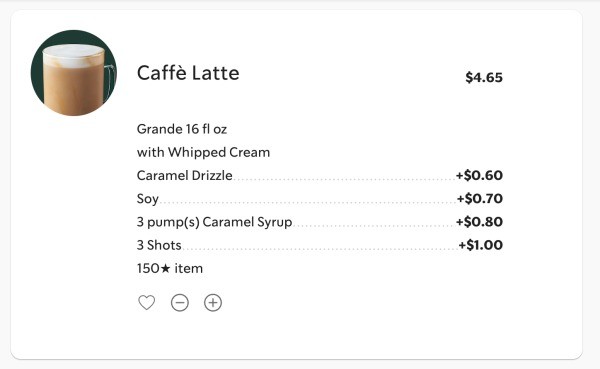 Signature Drinks
You can save a little money by ordering a named beverage off the menu. A Caramel Brulee Latte is $5.75. Customizing a Caffe Latte to be the same costs $5.95. If you want a seasonal beverage it is often better to order it directly rather than trying to customize a beverage to match.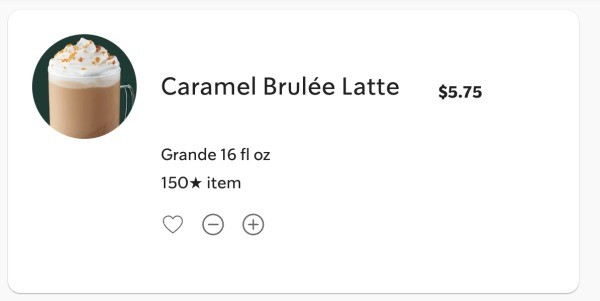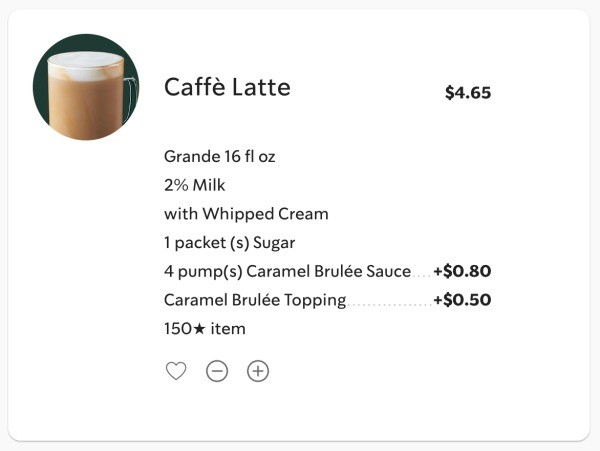 Frappuccinos
The same basic rules apply to Frappuccinos. A basic Coffee Frappuccino is $4.95. A Caramel Brulee Frappuccino is $5.75. Customizing a basic Frappuccino with the same sauce and topping costs $6.25. You're generally better off ordering one of the signature Frappuccinos from the menu rather than customizing a drink. Some add-ons are free for Frappuccinos as well like whipped cream.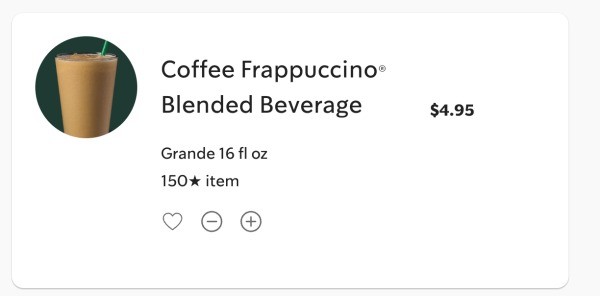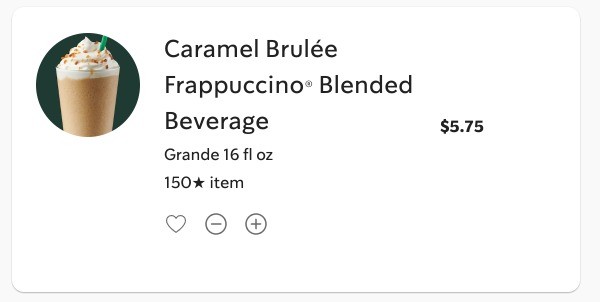 Free Add-Ons
Some of the traditional add-ons can be added without additional charge. Customizing the milk from 2% to Skim or Whole is generally free. Adding Sugar, Splenda, or other sweeteners is generally free. Some toppings like Cinnamon Powder and even Whipped Cream can be added for free. A double shot, added sugar, whole milk latte with cinnamon powder and whipped cream costs the same $4.65 as a regular latte.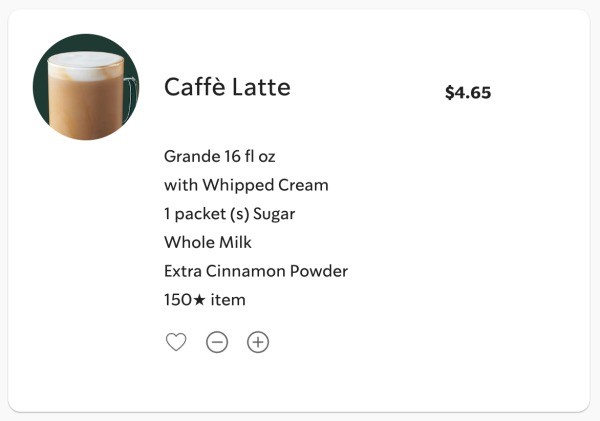 Iced Coffees
Many Starbucks locations now have three iced coffee options. At my Starbucks the traditional Cold Brew Coffee is $4.45. The Nitro Cold Brew which is drawn from a beer tap is $5.25. And the Caffe Americano is $3.65. I actually prefer the Americano because I like the taste of Starbucks espresso roast, plus it saves me some money. You can add cream or even extra cream to an American for no extra charge. You can also add sugar or other sweeteners and even whipped cream for free.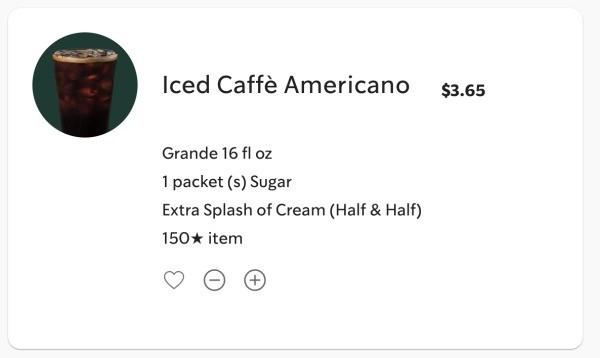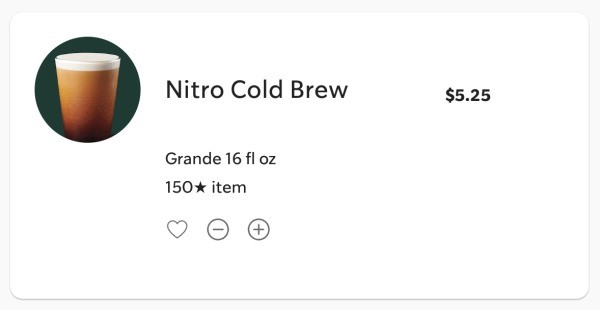 Star Rewards
If you're going to Starbucks it's definitely worth it to join their rewards program. This works particularly well if you're ordering drinks for friends or coworkers since you can gain stars on larger orders and then use them to get free drinks. In the current program 50 stars can be used to get brewed coffee, tea, or a bakery item. 150 stars can be used to get a handcrafted espresso drink or Frappuccino. The reward generally applies to any standard menu-sized items. It should work fine on an extravagant Venti size Frappuccino. I would often save my rewards for when I someone with me who would appreciate a special treat like that.

Conclusion
Customization costs. Try to order a drink off the menu rather than starting from scratch and customizing. Certainly don't be afraid to order drip coffee or an americano. You'll save some money and greatly reduce your sugar intake.

And of course, Starbucks is among the more expensive coffee shops. You might save money simply by going to a competing chain or a local coffee shop or drive thru. Making coffee at home is always the most frugal option.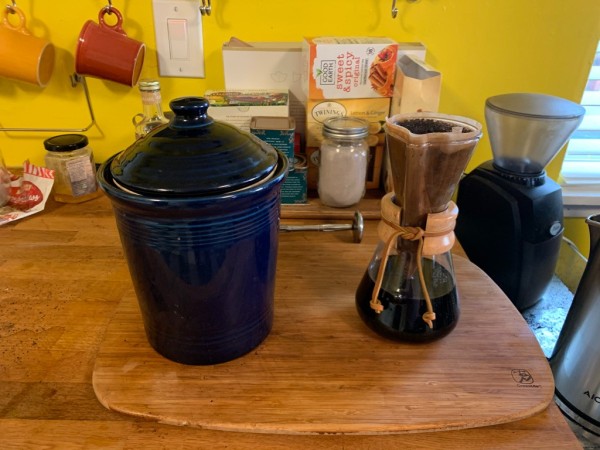 What are your strategies for saving money at Starbucks or other coffee shops?