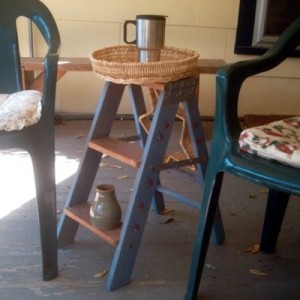 Beverage table for porch or patio.
Approximate Time: 15 minutes
Supplies:
two or three step wooden stepladder
flat bottomed shallow basket, or a flat piece of stiff wicker with no sides
long plastic twist ties, saved from the packaging of electronics and toys, etc.
paint, stencils as needed
polyurethane finish if the table will be exposed to weather
Instructions:
Paint and/or stencil your little stepladder if you like. Mine was already painted for use as home decor.
After allowing to dry according to directions, spray or brush on the polyurethane if needed, according to package instructions. Use on the basket as well. Be sure to allow plenty of time for the finish to dry.
Thread the long twist ties through the natural openings in the bottom of the basket, using the width of the top of the ladder as a guide for where to insert the ends. Pull them tight and thoroughly flatten to the bottom of the basket. Place the basket on the ladder top, turn the ladder over so you have access to the underside of the top, tightly twist the ends to hold the basket firmly. Tuck ends in. If necessary, place thin pieces of wood under one side of the basket to level it. My ladder top was tilted forward just a little bit, so needed this step. Yours may not.
The star on the back side of the ladder is also woven wicker. It was an insert in the basket, which was easy to remove and attach with twist ties to the ladder.
The cost of this craft was $1.29, for the thrift shop basket. I had been looking for an inexpensive, small, weather resistant beverage table for our covered porch, and just couldn't find what I wanted. I noticed a little stepladder like mine in the thrift shop, and had a !Eureka! moment that sent me to the basket section.
By Shirley Darby from Topeka, KS
Read More Comments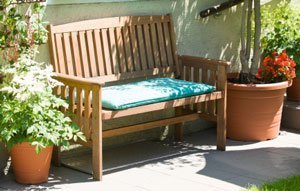 Tips for saving money on outdoor furniture as suggested by the ThriftyFun community.
Use a Regular Table Instead
As you know, outdoor dining tables with their umbrellas cost a fair piece of change. Instead of purchasing something so expensive at the height of the season, why not just put a nice oval sized kitchen table outside on the patio like I did.
If you can wait until about August or September, you should be able to buy one of those all around enclosures with the netting for a much marked down price. One of these tables could probably be picked up at the local swap meet pretty reasonably. Also, check your bargain section of the classifieds.
A request can be made to your local "Free Cycle" as well, after joining for free. Just check out http://www.freecycle.org/. Then again, you could get lucky like I did and find one set out in the yard that had a "Free" sign on it. It was in excellent condition. Sure can't beat the price on that! But, then God has blessed me many times over. Thank you and God bless.
By Mary
Buy Off Season
Fall is the perfect time of year to buy outdoor furniture. The retailers are marking them down to make room for all the holiday stuff. Just buy it now and keep it until next year.
By Jess
Take Care Of It
Don't leave your patio furniture outdoors all year round. Store it away until the weather is nice again. This is true for your barbecue, portable fire pit or any children's toys. Stored properly, they should last for seasons.
By Maisie
Garage Sales
Garage sales are a great place to find good deals on outdoor furniture. Wood furniture can be fixed up, cushions can be replace and metal can be painted. Even worn furniture can be reconditioned to match your outdoor decor and style.
Read More Comments