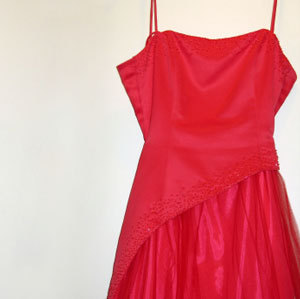 Thrift Stores, Consignment Shops and Ebay
Prom can cost a fortune but it doesn't have to. You can find nice prom dresses at thrift stores, consignment shops, and department store clearance racks.
You could even try your luck at buying a dress online. You can find good deals on sites like eBay, but if the dress doesn't fit, you are out of luck.
Look into whether your local school or church has a dress swap. Ask your older cousins, sisters, or friends. Since many fancy dresses are only worn once, they make great hand-me-downs.
By ThriftyFun
Wedding Stores
In need of inexpensive prom or winter formal dresses? Go to wedding stores, check the clearance rack and the samples rack (usually favoring the smaller sizes) - checking both the most casual bridal dresses AND the bridesmaid dresses.
In addition, you can check your local garment district (L.A. has one downtown), thrift stores, consignment stores and the local newspapers - and stores selling quinceniera dresses (a 15th birthday party in some cultures).
By Lydia in CA
Macy's Clearance Rack
I got my dress at Macy's for $18 on clearance. It had a small rip in seam, I sewed it and it looked great. (Original price of dress-$280) Try to find big places like Macy's that have clearance sections and you can get some real bargains!
By Misty
Advertise
Put an ad in your local paper. Many social organizations require formal dresses for meetings. Members don't know where to get rid of them if there are no local places to sell them. Indicate size. You now have a pipeline to someone of the same size who uses them.
By the Oracle
Freel free to post your ideas below.
Read More

Comments
"I want to go to prom but I can't afford a dress!" Helpful hints from the ThriftyFun community. If you have advice on frugal ways to get a prom dress, please post them below.
Note: Please do not post requests for buying or selling specific dresses here. Ebay, craigslist and freecycle are good sites in which to post that information.
Answers
By Darlene (Guest Post)
March 1, 2007
0

found this helpful
Have you tried freecycle? It's a free site where people give things away they no longer need or want or they request items. Type in freecycle on your computer and see what comes up.
There may be a site near you. I hope this helps. Good luck and believe...it will happen.
By Smith Family (Guest Post)
March 1, 2007
0

found this helpful
One of the best places to look, besides want adds, would be thrift stores like Salvation Army or Goodwill. Not everything they get is in the best quality, but if you look around, and keep checking back, often times people will donate things that just don't wear anymore. Even if you find something thats a bit "outdated" you could always get someone from the high school sewing class or a family member/friend to alter it a bit for you.
Ugly bows on the shoulder or sleeves leave something to be desired? Snip it off from just below the shoulders, hem it a bit, and wear it as a strapless :p
By txcatlover (Guest Post)
March 2, 2007
0

found this helpful
Ebay also has some beautiful dresses at very inexpensive prices. You can even go to the department stores and try on different brands to see what size you need in a specific brand, then search ebay by brand and size.
Or just browse by size on ebay!
By grammaoftwo (Guest Post)
March 2, 2007
0

found this helpful
Check on Ebay,my Sister got a couple of Bride's maid dresses that had actually been Prom dresses for only 97 cents each!!!!! If we knew your size,the style you are looking for,and your favorite color would help people reading this too. Maybe somebody has one that they would be good enough to just send to you for the cost of postage,or kind enough to just send to you. Good luck

March 2, 2007
0

found this helpful
our local dry cleaners does a service for this, people donate the dresses, and the cleaners have a thing for girls who sign up to choose one. Check with South Bend Indiana Zykers cleaners and see if they can maybe persuade a cleaner in your area to do the same?
They get publicity on TV and help kids who dont have the money to buy a new dress.
By Dede (Guest Post)
March 2, 2007
0

found this helpful
You could also try places that rent Tuxedo's and stuff for weddings, or Halloween rentals may have some gowns that aren't related at all to Halloween.
By Marna (Guest Post)
March 2, 2007
0

found this helpful
Check on Freecycle.org for the Freecycle group in your area and post your request there.

pam munro
Gold Post Medal for All Time! 519 Posts
March 2, 2007
0

found this helpful
For economy you might think about a gown that is shorter - like the one Helen Mirren wore at the Oscars & show off your legs! It has the advantage of probably being a dress you could wear again sometime...Some here mentioned the 15dollar clothing site online & I looked & they had nice short formal dresses for $15 - so you could then focus on your hair and accessories - borrowing from your elders - an evening purse, a wrap & getting Payless shoes that look like designer ones -Luckily vintage is in style -so if your grandmother has rhinestones in her jewelry box, bring them out.
I think all those slip dresses are boring, anyway. And can't be worn again for anything....
By jennifer castell (Guest Post)
March 22, 2007
0

found this helpful
if you know any one who sews it is very inexpensive to make one, you can find patterns at wal-mart or any where fabric is sold, I am trying to start a business making wedding gowns and prom/bridesmaid dresses, home made is better anyway because it is a custom fit to your measurements. email me if ican help you in anyway jencastell @ mail.com
Read More

Answers
Tips for saving money on prom dresses. Post your ideas!

Answers

August 30, 2004
0

found this helpful
I recently found formal gowns on sale at Hechts for as low as $11.00, yes $11! They are beautiful and if you have an event coming or even a prom next year, you should check it out. These gowns had been in the $240 range, so now they are an absolute steal!
Samantha in NC

August 31, 2004
0

found this helpful
WOW !!! THAT WAS A GREAT DEAL !!! I THOUGHT I DID GOOD, ON JULY 30 I BOUGHT A $150.00 PINK PROM GOWN FOR $12.72 INCLUDING TAX. I WAS SO EXCITED ! AND SO WAS MY DAUGHTER, THAT IS GOING TO HER JR. PROM IN NOVEMBER. I BOUGHT THAT AT JC PENNEY'S !! AMY FROM NEW YORK
By Bridge (Guest Post)
September 1, 2004
0

found this helpful
Check your Salvation Army Store or other Second Hand stores. Also some Wedding Apparel Stores have great clearance racks

September 1, 2004
0

found this helpful
Also check Filene's Basement which has fantastic deals on prom and wedding and event dresses. I got my wedding dress the day before I got married there for 39.99 and it was better than the one I picked out in a magazine for $650.

February 18, 2005
0

found this helpful
Check online- they have lots of sites devoted to finding prom dresses.
I would stick to a dress that is simple and play it up with accesories. Fancy gowns with intricate beading are a fortune.

August 16, 2005
0

found this helpful
Thrift stores forever have prom dresses. Since you're buying them that cheap, you can afford to have them altared to fit you just right.
Read More

Answers

Where can I get a free prom dress?


Answers

March 4, 2008
0

found this helpful
* You could borrow one, however courtesy would dictate you pay to have it professionally cleaned prior to returning it.
* Check with your church.
* You could make one yourself fairly inexpensively. Choose a pattern with simple lines and an attractive but inexpensive fabric. If you cannot sew, see if you can barter services (cleaning, windows, etc. etc.) with someone who can sew.
* Try your local Freecycle group (go to Yahoo groups and search "Freecycle" and your area.
* Check out http://www.craigslist.org
* Don't forget to check your local thrift stores.
* See if there is a group like the following near you:
Read More

Answers