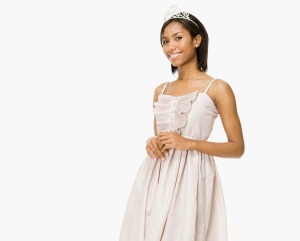 I was wondering if anyone knew of a place that sells cheap prom gowns. I'm disabled and my 16 year old daughter would love to go to her prom, but finding a dress on my budget is hard.
Thank you.

Bonita

Feedback:
Bridal Shop
You could go to a bridal shop and ask to see their discontinued dresses or those simply "left behind". Many of these dresses are between $15.00-$30.00. If your daughter is so inclined she may want to pick one out and add something she likes to make it more her own and more to her taste, like beading which can always be found at craft stores.

Or simply ask around for a "once worn" bridesmaid/bride's dress to borrow or buy. It is a big time within most girls lives if they can have fun and look lovely so involve her in the choosing process so the dress she picks becomes more her's than a "second hand solution." Best of luck and beauty to you both!

By Karaof4
Consignment Shops
Try Consignment and thrift stores. They usually have really nice dresses for half the price.

By Aimee
Ross
I paid 30 dollars for my dress at Ross. It was peach, but they had a huge selection to choose from. It's a discount clothing store, but their clothes are usually in good condition.
By Velvet
Buy Last Years Dress
Try looking at the last few years' prom and other formal photos. See if there isn't a dress that really stands out to you and approach that girl and ask to buy her dress. They will never wear it again and know they won't get any money for it other wise. My best-friend wore the Prom Queen's dress from the year before and she only paid $25 for it.

Guidance Counselor
A good place to start is with a school guidance counselor. They have contacts and know of places that give and lend dresses.

By Leisa
Kohl's, TJ Maxx and Deb's
I find really good dresses at places like Kohl's and TJ Maxx and Deb's, but not their online stores, those aren't very good for dresses. I'm low income, so I know where to go for a cheap dress.
By Courtnee
eBay
Try eBay. I am selling my prom dress on there for around $60. You can get many different styles too.

By Zara
"I want to go to prom but I can't afford a dress!" Helpful hints from the ThriftyFun community. If you have advice on frugal ways to get a prom dress, please post them below.
Note: Please do not post requests for buying or selling specific dresses here. Ebay, craigslist and freecycle are good sites in which to post that information.
Becca's Closet And Other Sites
I don't know if you are a underprivileged high school student but thought this info might help.I live in Hollywood, Florida and know of Becca's Closet.
http://www.beccascloset.org/
While searching for this information online (I thought it was Rebecca'a Closet), I found these as well. It seems they all have the word "Closet" in their title. Good Luck.
By pictom
Ebay
My daughter got a nice dress on Ebay one year. I can't remember exactly how much it was but it was a vintage dress and it was very nice and not too expensive. Good luck!
By Inga
Salvation Army
One place you might want to check out is a Salvation Army store, most states have them. They usally have some nice things, you just have to look a bit. Plus every week, they have a half off color tag so you just might find something great. I often find a lot of name brands and they still have the tags on them. A lot of the dresses I have seen in my area are things taken and left at a drycleaners who then sends them to the Salvation Army. Check out all the resale shops, you would be surprised at what you find.
By mrsfreese
Dillards Sale
Hi, last week we were shopping for bridesmaid dresses and went into Dillards. Believe it or not, Dillards was having sale after sale and they had racks of PROM dresses, beautiful beautiful dresses! The dresses were marked down to $20 or lower! So if you have one in your area, don't hesitate to check it out! I couldn't believe the prices and they also had jeans, T's and all other kinds of clothes for rock bottom prices.
By Kathie
Have Your Dress Made
If there is a fashion design school in your area, one of the students might make your dress for a school project. You can also check out professional seamstresses. Sometimes they have dresses that people ordered and never picked up, or dresses they made as samples and they will sell them cheaply. Good Luck!
By Annie
Buy A Used One
You might want to think about buying a used one. Prom dresses are rarely worn more than once, so they are in great condition. They are also very expensive, so many girls will sell them to consignment shops to earn some of that money back. Ask around, check out local classifieds, and consignment shops to see if anyone is selling these dresses. I did this one year for a Valentine's dance. I got and extremely expensive satin dress for next to nothing, and tons of compliments all night long on how gorgeous it was.
By jhawkgrl19
Borrow Or Trade With A Friend
For my Senior Prom, I wore my friend's Junior Prom Dress. It was white lace and I liked it better than most of the things in the shops. No one ever wants to wear their dress again. If you have a friend or relative that goes to a different school, no one will be the wiser!
For my first formal dance, I had a dress made for me by a older friend who loved to sew. I bought all the materials and helped where I could and it was beautiful! I hung onto that dress longer than I did my wedding dress, it had that much sentimental value.
By Jess
RE: Need an Inexpensive Prom Dress
I read in a Reader's Digest article about an organization that donates prom dresses to girls who can't afford them. With a little reseach, in the Reader's Digest web site maybe you can get a free dress. Good luck, have a great time and drive carefully!
By Joanne
Glass Slipper Project
Also there is the glass slipper project. A little search on google should bring it up. It is somewhat like Becca's closet.
Editor's Note: It is located at: http://www.glassslipperproject.org. It seems to be for the Chicago area.
By Megan
Upscale Online Prom Dresses and Gowns
We at
http://www.best-promdress.com
believe that all women are beautiful, talented, smart, funny and savvy and we give them the opportunity to show it off! By shopping at www.best-promdress.com for beautiful Prom Dress, Prom Gown, Cocktail Dress & Evening Gown. So foray into the world of fashion with www.best-promdress.com.
By Anna
Look For Resale Or Outlet Stores
Why not go to a resale shop or an Outlet Store. In Seattle, we have stores like "Nordstrom Rack" or "Ross" plus many, many resale stores. You can even post on Craigslist. One more idea, you could have an old wedding gown dyed at the dry-cleaners. Simply look under "resale" in the yellow pages. The resale shops are FULL of prom dresses. Near here there is even a store that just resells formals! I guess it depends on how big the town is where you live. My son's date had a family member sew her dress. It turned out great!
By Cyinda
Tips For Dressing Fabulously For Cheap
Please do not spend money you can't afford on a prom dress! Check out my article
Find An Elegant Formal Prom Dress (For Cheap)
about frgual ways to go the the prom cheap! And look at
Gala Glam vs. Prom Dress
about me dressing for a recent gala attended by movie stars. I did it for very little out of my wardrobe adn the key piece was a brocade jacket I got for $80 at a resale shop. And I can wear that over and over.
By pam munro
David's Bridal
You should go to David's Bridal and see their dresses. They are beautiful and so not expensive!
By janaee
Shop Thrift Stores
If you just go to a thrift store and look for bridesmaid dresses, like three or four months ahead of time, they're usually on sale for pretty cheap. It depends on how much time you've got.
By sam
Hot Ticket
Try Hot Ticket, google to find one near you. It's amazing with cheap wide range of prom dressses.
By
NBC
If you are really desperate for a prom dress, the best place to go would be to NBC (name brand clothing). It's half off half and almost everything is like brand new! It's the best place, honestly. I won't say how much I got my dresses for but they were VERY VERY cheap! Good luck and I hope you find one near you!
By amber
Resale Site For Dresses
There is a great new place for Like-New used Prom dresses and it is
Free
to sell your dresses there. I read an article online somewhere that they are a Brand New website and they will be advertising their site alot next month. I would check them out.
Oh yeah, the website is http://www.FormalCloset.com
Good luck!
By Dan
NextEve.com
I'm going through the same dilemma right now. I got an absolutely beautiful Prom dress from
http://www.nexteve.com
Their dresses are just amazingly beautiful!
By Leeann
Cybergowns
Hey, I got a great prom dress from http://www.cybergowns.com this past year and it was gorgeous and wasn't expensive at all good luck
By JessicaNmississippi
Try ShopShop
By Sarah
Editor's Note: shopshop.com is also know as cybergowns.com
Craigslist or Ebay Instead of ShopShop
Do not use shopshop.com or cybergown.com. They are a rip off, scam artist. If you are looking for a prom or wedding dress, try craigslist or ebay.
By S
Beware of CYBERGOWNS
Buyers beware i have been ripped off by cybergowns! They stole $636.85 From me! These crooks have used many aka's such as milano gowns, hira gowns, cybergowns and possibly the newest is cybernet. Please check out what I say for yourself. The BBB report is free, easy to get, can be gotten online. Cybergowns has had so many bad reports and aka's, it's frightning. The lists just go on and on ! Oh my gosh, I almost forgot the best aka they also have is Atwood Financial. Now, that's a laugh! These people are real crooks! And need to be stopped!So buyers beware!! Read BBB's report (Better Business Bureau) before buying anything from anyone on line, there are some real loser crooks out there! Cybergowns seems to be at the top of that list! I have no gowns! And all my money is gone! From what the BBB has said, they have done this same thing to hundreds of others!! These people have changed their company's name at least 8 times that I have found so far! And I think they may now be doing business under Cybernet Plaza, I am not 100% sure of that yet so please check them out for yourself carefully. sSme things look very very similar to cybergowns shipping policies, etc.All I am saying if you're going to buy anything online, check out the company you want to do business with carefully. The BBB has been very helpful with my matter but they do not collect the money or products for you! They only report the problems with the company to the public after the fact! You will have to collect what they took from you on your own. I have collected nothing to date and we are almost at a year now! So please buyers beware, check out your online merchants carefully before anything!
By Heather
Editor's Note:It is a good idea to use a credit card for online purchases, one with buyer protection. This will assure that you will not lose your money if something unfortunate does happen.
Answer

this Question