February 27, 2009
0

found this helpful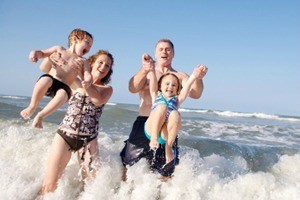 Tips and advice for saving money on bathing suits as posted by the ThriftyFun community.
Buy Off Season
Look for suits in discount outlets slightly out of season. I got a suit at the Saks outlet one winter. There are also deals at places like Ross.
There are suits at thrift shops! Just wash them well!
Haven't tried it, but there are suits for reasonable prices advertised by mail.
By pam munro
Check eBay
Depending on who they are for and if you want new and don't mind used ones, you can not beat eBay. Sometimes people sell them in lots of 2 or 3 at a time, especially for kids.
By Julie
Match Sale Bottoms With Athletic Tops
My sister and I stayed at a hotel with an indoor pool in the middle of winter. So, of course, we didn't bring a bathing suit. We went to Walmart and they had swim bottoms on clearance for $1. We bought a bottom and a tank top to match which was also on sale for $1. You can think about bottoms and an athletic tank top (the stretchy swimsuit material). I don't see a problem with buying swim tops at a thrift store but bottoms...
I would steer clear of!
Like the other post mentioned, Ross! I love their clothes. Always name brand and cheap! I bought numerous name brand hoodies for $10.99! Not to mention several jeans for as low as 49 cents, yep 49 cents!
By Becca25
Extend The Life of Your Suit
The only advice I have on this topic is in extending the life of your suit. If you're prone to spend a good amount on a really good suit, perhaps one with all of the hip-slimming bells and whistles, go down the pet isle in the grocery store and get a bottle of water de-chlorinator. That's not the official name of the stuff, but it's the what you put in tap water for fish bowls.
When you come in from swimming, soak your suit in cold water with a few drops of this. You only need a few drops for a sink-full of water. On the back of the bottle it gives the correct proportions. It will take out the chlorine and help preserve the color and life of the suit.
By Corene
Post your own ideas below.
I'm looking for swim wear for my husband. He needs to have water therapy and doesn't have anything appropriate to wear. He has to wear suspenders with his slacks to keep them up so we know that swim trunks would slide right off. I haven't been able to find a wetsuit to fit him because he's very large and they don't make them that big. I was wondering if anyone has seen swim trunks with suspenders built in or where I might find the old-fashioned swimsuits that had the over-the-shoulder straps. Thank you for any help you can give us.
Terri from Indianapolis, IN
Answers
January 30, 2009
0

found this helpful
Why not just sew wide elastic to his favorite big size shorts as criss cross suspenders. If you think they are see through too thin, sew in some under wear as well.
January 30, 2009
0

found this helpful
What about reguler suspenders with his swim trunks? He could put an old T shirt over them if he doesn't like the way it looks.
January 30, 2009
0

found this helpful
Have you thought about a sleeveless leotard-type thing worn over smaller trunks?
January 30, 2009
0

found this helpful
Take a "wife beater" tank top or a T-shirt & hand or machine sew 4 (or more) pieces of Velcro on to the area where the shirt hits the top of the swim trunks. You should put the Velcro on to the area about where his hips would be (in front) then in the back about an equal distance apart.
* I'd first sew the Velcro on the outside of the swim trunks then have him put them on. Next have him try on the tank top then pin the Velcro inside the tank top & making sure they match up exactly before your sew the other matching set on. To make the T-shirt more durable, sew a double hem on the bottom of the shirt where the Velcro will go.
#2) Find suspenders that have not metal parts but attach with plastic.
#3) Use an old pair of suspenders & attach them to the swim trunks waistband with strong Velcro. They also make a SUPER strong Velcro. Ask for it at any fabric store.
#4) Buy Black elastic (in place of suspenders) that is about 1-1/2 or 2 inches wide & attach this with snaps, or Velcro or those figure 8 type interlocking hooks
---> OR, better yet, just sew the elastic DIRECTLY on to the swim trunks & criss-cross it in the back & sew (tack) the area where it criss-crosses. Ask at anyone at a fabric store, they will gladly help you! Buy these swim trunks at a thrift store to sew the black elastic to & remember the elastic may stretch a bit when it's wet so make it fairly tight. First try these on with strong safety pins. Black Elastic sewn on to black swim shorts would look very nice!
Don't worry if you can't sew. All you need to know how to do is thread a needle. Your sewing should be on the back side of the fabric (inside-out).. Buy a strong matching thread like one that's made to sew buttons on with.
By (Guest Post)
January 31, 2009
0

found this helpful
A regular bathing suit with an elastic waist or drawstring will do fine. They, unlike conventional pants, are more adjustable. Your husband will not be able to move as freely through the water wearing suspenders. Speedo and Tyr (pronounced "Tier") also make mens racing suits that are full bodied, but you may have difficulty finding it in his size. Try shopping online. Also, wetsuits are made for cold waters, or extended periods of water activity with minimal movement (scuba diving, waiting to catch waves surfing). If he were to wear a wetsuit while swimming he would not only have difficulty swimming, he would overheat. This is of course, not to mention that in a wetsuit or suspenders your husband would look absolutely silly while in the water.
By (Guest Post)
January 31, 2009
0

found this helpful
Wrestling trunks used in high school wrestling teams?
January 31, 2009
0

found this helpful
Thank you all for your responses and suggestions. I've done some searching and found some things that have over the shoulder straps that he may be able to use for water therapy. They are called unitards. Who knew! They must be the wrestling uniforms the guest poster suggested. Thanks again for all the suggestions.
February 3, 2009
0

found this helpful
I am a distance lap swimmer and see a variety of kinds of suits for all ages. Wearing plain elastic waist shorts (not undies) with a tank top shirt, full tshirt, depending on if you are indoors or outside. I myself wear a full tshirt in the summer outdoors and cut if off at the midriff. Want coverage on the shoulders from the sun.
The unitard could be ordered online, google swimsuits, swimwear. My 3 sons were all life guards and we would find many styles for them to choose from.
Answer

this Question

...
Does anyone have a method for keeping the chlorine from eating away at the fabric of your swim suit? I recently started swimming as a past-time and in a few short months, my suit has begun to shred, even though I wash it in my machine at home after swimming. I've heard something about white vinegar and water but don't know the proportions. Thanks for any help with this!

Mary Jo Eckholm from St. Paul, MN
Answers
February 21, 2007
0

found this helpful
Any suit, no matter the quality will shred from constant use and chlorine. Here are some good tips from Linda Cobb, Queen of Clean.
Soak suit in cold water for 15 minutes or so with a little liquid fabric softner. Rinse in cool water, then wash in cool water with mild deter, rinse again and dry in shade. I do know that a machine is really too harsh for the fabric, hand washing is better. Good luck!
By Sandee (Guest Post)
February 22, 2007
0

found this helpful
I think that rinsing off asap after getting out of the pool helps alot and hand washing the suit with soap and water asap helps ,too.
By pamphyila (Guest Post)
February 22, 2007
0

found this helpful
I agree - washing it with a machine is harsh & will only help the suit on the way to shredding! Rinse off the suit by hand after swimming and leave to dry. That will help - but swimming regularly in a chlorinated pool is hard on swim suits - so be prepared to get a few - Mine last 6 months to a year. (Go to discount places like Ross, etc. for deals on swim suits...)
February 22, 2007
0

found this helpful
Go to a fish aquarium supply and buy a product that removes chlorine from water and rinse your suit in that. You don't have to machine wash it as that wears the suit out even faster.
By Estella (Guest Post)
February 22, 2007
0

found this helpful
Swimming is such good exercise, don't make it so much trouble you don't want to do it. Just rinse the suit after each use and hang to dry. I put up a line just inside the basement door, on the first floor, so it can drip but is totally out of the way. I find that no matter who makes the suit, it lasts a matter of months, I just pay no more than $20 and don't worry about it. They make special rinses but the price is high and it's another step.
February 24, 2007
0

found this helpful
I was going to suggest what Rascal said: Go to a fish aquarium supply and buy a product that removes chlorine from water and rinse your suit in that.
However, I'd rinse it on delicate cycle to make sure it's thoroughly clean and then always drip dry it.
I wash all my clothing on delicate, turned inside out, to prolong fiber stability.
A trick my mother taught me was to put very delicate items in a pillowcase that was zipped or pinned shut with diaper pins, wash it on delicate and then drip dry by laying the clothing flat on a mesh drying rack out of the sun.
May 23, 2007
0

found this helpful
I always rinse my suit out at the pool so its not sitting in my bag rotting away!
Answer

this Question

...